What is the national anthem? It is a song that officially symbolizes a country or nation and tells about its past, people, and pride. Most of these national songs are marches with fanfare. You can hear them on a wide variety of occasions, and usually, you need to stick to a certain etiquette. The main national song usually has lyrics in the most commonly used language in the territory of the country.
In most cases, lyrics are very poetical and beautiful, so you can hardly decipher them if you don't know the language well enough. The Russian anthem can be easily recognized by the strong and hard-to-forget music and its Russian lyrics. Many people, even not knowing the Russian language, think it sounds very powerful.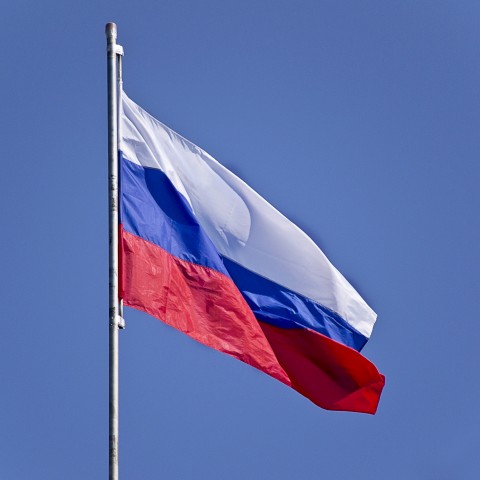 The lyrics for the National Anthem of Russia were written by Segey Mikhalkov
Let's take a look at the lyrics of the modern Russian national anthem, look into difficult parts of vocabulary, learn how it was written, and when it can be heard in everyday life, interesting facts about the songs that acted as main national songs in today's Russia and its past.
Table of Contents
1. Russia's Anthem Lyrics
Actually, most Russians can't remember the whole lyrics, but about half of them can sing the first verse off the top of their head. What is the name of the Russian national anthem? Here it is:
| | | |
| --- | --- | --- |
| Государственный гимн Российской Федерации | Gosudarstvennyy gimn Rossiyskoy Federatsii | "Russian Federation National Anthem"  |
The Russian anthem lyrics are the following:
Verse 1
Россия – священная наша держава,

Россия – любимая наша страна.

Могучая воля, великая слава –

Твоё достоянье на все времена!
Rossiya – svyashchennaya nasha derzhava,

Rossiya – lyubimaya nasha strana.

Moguchaya volya, velikaya slava –

Tvoyo dostoyan'ye na vse vremena!
"Our Russia is our sacred state

Russia is our beloved country

Mighty will, great glory are

Your heirloom for all years to come!"
Chorus
Славься, Отечество наше свободное,

Братских народов союз вековой,

Предками данная мудрость народная!

Славься, страна! Мы гордимся тобой! 
Slav'sya, Otechestvo

Nashe svobodnoye, 

Bratskihk narodov soyuz vekovoy, 

Predkami dannaya mudrost' narodnaya!

Slav'sya, strana! My gordimsya toboy!
"Glory to our free Homeland

Centuries-old union of sister nations

Peoples' wisdom given by the ancestors

Be glorious, country! We're proud of you!"
Verse 2
От южных морей до полярного края

Раскинулись наши леса и поля.

Одна ты на свете! Одна ты такая –

Хранимая Богом родная земля!
Ot yuzhnykh morey do polyarnogo kraya

Raskinulis' nashi lesa i polya.

Odna ty na svete! Odna ty takaya –

Khranimaya Bogom rodnaya zemlya!
"From southern seas up to the polar land,

Our forests and fields have spread.

You are one in the world! You are one of a kind –

Protected by God darling land!"
Chorus
Славься, Отечество наше свободное,

Братских народов союз вековой,

Предками данная мудрость народная!

Славься, страна! Мы гордимся тобой! 
Slav'sya, Otechestvo

Nashe svobodnoye, 

Bratskihk narodov soyuz vekovoy, 

Predkami dannaya mudrost' narodnaya!

Slav'sya, strana! My gordimsya toboy!
"Glory to our free Homeland

Centuries-old union of sister nations

Peoples' wisdom given by the ancestors

Be glorious, country! We're proud of you!"
Verse 3
Широкий простор для мечты и для жизни

Грядущие нам открывают года.

Нам силу даёт наша верность Отчизне.

Так было, так есть и так будет всегда!
Shirokiy prostor dlya mechty i dlya zhizni

Gryadushchiye nam otkryvayut goda.

Nam silu dayot nasha vernost' Otchizne.

Tak bylo, tak yest' i tak budet vsegda!
"A wide space for dreams and for living

The coming years open to us.

Our faithfulness to the Fatherland gives us power.

That was and that is and that will be forever!"
Here is a link to a video of people all over the country singing the anthem supporting the Olympic team.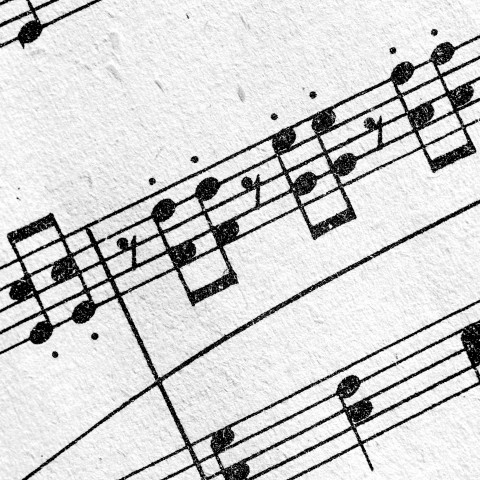 The national anthem represents the tradition, history, and beliefs of a nation and its people
2. Russian Anthem Vocabulary and Phrases
The first difficult word to translate in Verse 1 is:
Держава. – Derzhava. – "State." 
It can be translated as state, because «держава», firstly, means independent state and, secondly, globe or orb, a symbol of power.
Могучая воля. – Moguchaya volya. – "Mighty will." 
Достоянье. – Dostoyan'ye. – "Heirloom." 
Отечество, Отчизна. – Otechestvo, Otchizna. – "Homeland, Motherland, Fatherland." 
The word «Отечество» is formed from old russian «отец» (farther) and actually «Отечество» can be Literally translated as Fatherland.
Грядущие года – Gryadushchiye goda – "Coming years". 
3. History of the Russian Anthem 
There are three components of political symbolism, and it is the anthem that was changed quite often in the past and does not have centuries of history. The idea of the necessity to have this song first appeared in the Russian Empire, and the song itself was changed during imperial history a few times.
In the period of the Soviet Union, the government evaluated numerous options, and, finally, in 1944, has chosen the Anthem of the Soviet Union. The music was created by A.V. Aleksandrov, Sergey Mikhalkov and G.L. Registan have written the words. In 1977 the original author of the words revised the anthem, replacing, for example, all references to Joseph Stalin, which were found in the original version.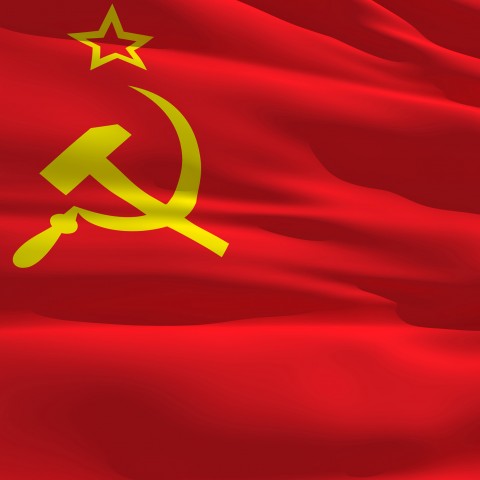 USSR was made up of 15 countries in Eastern Europe and Asia and lasted from 1922 until its fall in 1991
In 1991, the USSR ceased to exist, and the modern Russian Federation started to look for a new anthem. The new country started singing it in 2001. And before that, for 10 years, "The Patriotic song" was used as the anthem. It was composed by Mikhail Glinka in the 19th century. And during the 80s-90s, «perestroika», this music sounded in the intro of the Vremya news program. So, society knew this music, and it became the new anthem. But it was just music, there were no words in it, although the competition was announced for the best lyrics. Out of six thousand poems, the committee has chosen the twelve best options, but none was approved.
This wordless anthem was replaced later, in 2001. Sportsmen complained to the president that there was nothing to sing on the podium. The tribunes again sang together at sports competitions after the new anthem was introduced. It was not composed from scratch, but the government took the anthem of the Soviet Union as a basis. The music of Aleksandrov remained, but the lyrics were changed. The author of the new words was, again, Sergey Mikhalkov. He also wrote the text of the Soviet anthem under Stalin.
4. Occasions when you can listen to this song
At present, according to the Law on the anthem, it must be broadcast twice – at the beginning and at the end of TV broadcasting, or at 6 o'clock and at 24 o'clock if it broadcasts non-stop. It also can be turned on during sports competitions, military rituals, the opening of state monuments, the first lesson on the first day of the school year, and at "ceremonial events" held by non-governmental and government agencies and organizations. Also, Russians listen to the anthem on New Year night after the president's speech, after the clock on the Kremlin's Spasskaya Tower strikes twelve.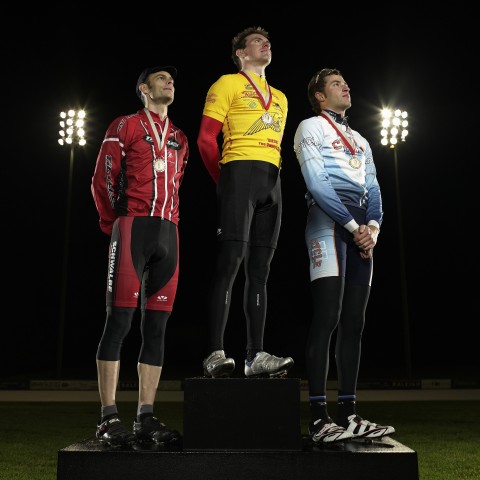 National anthems play a big part in the Olympic Games. Starting with the 1924 Games, the winner's national anthem for each event is played as their flag is hoisted in celebration.
5. Interesting facts about Russian Anthem
In 1816, the Russian Empire adopted the music of the English anthem "God Save the King" as its own, but lyrics were changed to Zhukovsky's poem "Prayer of the Russians".  
After the 1917's February Revolution, the French Marseillaise became the anthem of Russia, the lyrics were, of course, in Russian. They were not translated from French, but were written by Russian philosopher Petr Lavrov.
In the 20th century, Russia had the largest number of main songs — there were six in a hundred years. Firstly, before the revolution, the Russians sang "God Save the Tsar." Then there was the Marseillaise from France followed by The International song in October 1917. Then, in 1944 there was the Soviet anthem praising Stalin, followed by 77's "non-Stalin" song, in the 90's – Glinka's "Patriotic Song". And finally, it is 2001's modern national anthem of Russia.
After the Revolution, The International, created by the French composer, became the new anthem of Russia. "The International" as a national song is a unique phenomenon. There is nothing national or Russian in the lyrics nor in music, there is not a single word associated with a specific country, let alone Russia.
On September 1, 2019, in St. Petersburg at the Gazprom Arena stadium, 8,097 musicians performed the Russian anthem at once and set a world record recorded by representatives of the Guinness Book of Records.
Gazprom Arena serves as the home stadium for FC Zenit
Very often the modern Russian anthem is mixed up with Patriotic song" by Glinka. Many organizers of competitions of various levels around the world made this mistake. For example, at the awards ceremony, when the "wrong" version of the anthem suddenly sounded, the Russian biathlon team did not lose their heads and performed Sergey Mikhalkov's verses without the right music.
6. Conclusion
Now, you have learned the essential information about the Russian anthem, understood its lyrics, and can sing it along at some official occasion or at a sports event. And, of course, not to mix it up with some other music or another country's anthem.
If you want to speak the Russian language, RussianPod101 is a great source to do so. It has a lot of free information for learners — from beginners to advanced. Most of the materials are free, including audio and video lessons, vocabulary lists, word-of-the-day subscriptions, flashcards, and much more.
Most of the materials are free, including audio and video lessons, vocabulary lists, word-of-the-day subscriptions, flashcards, and much more. Try our Premium service, MyTeacher, to improve your Russian communication skills in private lessons with an experienced teacher. You will get personal assignments and a partner to speak live Russian — to improve your pronunciation and get to a higher level of learning. 
April 23, 2021
What images come to mind when you hear the word "Russia"? 
Russia is known for its large territory and cold winters. But, digging deeper, what is Russian culture like? 
Art and literature enthusiasts may be familiar with our world-famous ballet and our prominent writers: Alexander Pushkin, Leo Tolstoy, Fyodor Dostoevsky… 
Sports lovers may acknowledge our hockey team and outstanding performances at the Olympics.
Those who are into science must already be familiar with our space activities as well as our massive oil and gas industry. 
And gamers: you know Tetris, right?

Perhaps you've already learned something new just from reading this Russian culture introduction. But if you want to find out how Russians live, interact with each other, and spend their free time, the following overview of the Russian culture will help you get a bigger picture. You'll see: Russia is not only about bears and vodka!
Table of Contents
1. Numbers and Facts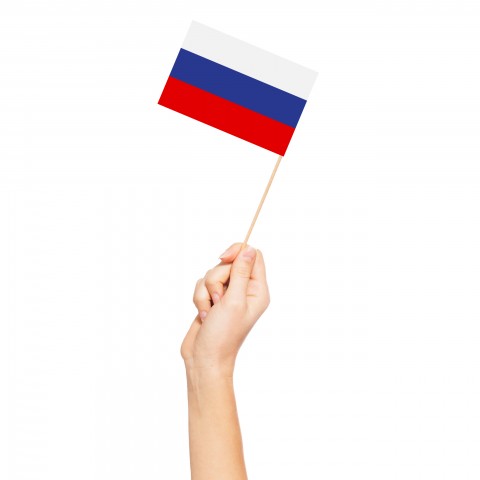 The Russian flag has three colors.
White for nobility and frankness, blue for faithfulness and honesty, and red for courage, generosity, and love.
Let's warm up with some interesting Russian culture facts!
Russia is the largest country in the world in terms of territory. While it's not all permafrost and tundra that's unfit for human life, it's still one of the least densely populated developed countries in the world. The current population is only 144 million people.

However, Russia can still boast of its vast cultural diversity, being home to nearly 200 ethnic groups, according to the CIA. Russian is the most common group (77.7%), and other ethnic groups include Tatar, Ukrainian, Bashkir, Chuvash, Chechen, and others.

Due to this population diversity, there are various languages spoken in Russia. Of more than 100 languages used throughout Russia, Russian is the most widely spoken. It might come as a surprise, but Russian has very few dialects. To be precise, there are some well-distinguishable accents like the one from Moscow or Kuban in southern Russia. But it's usually impossible to tell where a person is from just by listening to them talk.
2. Relationships
A key component in understanding Russian culture is learning how people interact with each other. Let's go over what Russian relationships look like at home and at work!
A- Family
The legal marriage age in Russia is 18 years old for both men and women. Monogamy is the only form of relationship recognized in Russia. Same-sex marriage is not allowed. 
Nowadays, most couples prefer to move in together to dip their toes into real family life. Even though more and more couples prefer to just live together without engagement, the institute of marriage is still going strong in Russia, meaning most couples will end up marrying after all. Unfortunately, the current divorce rate in Russia is 52%.
The child-free spirit is not widely supported. Most people still expect a married couple to have a baby, and some couples might even experience pressure from their relatives or peers. Thirty years ago, it was normal to have your first baby at 20-22; nowadays, the mothers-to-be prefer to do it later.
The government is trying to stimulate childbirth in the country by offering monetary payments to new parents. Starting in 2020, couples will receive a one-time payment for their first child equal to almost 40 minimum monthly wages in Russia. Before 2020, you could only get this payment for the second child in your family.
The state offers a generous maternity leave as well: up to 3 years, 1.5 years of which are paid. For this reason, mothers prefer to go back to work when their baby is 18 months old. At this point, they will find a babysitter or nursery to look after their offspring. It's also a common practice to ask one's parents to babysit. Most of them don't mind spending time with their grandchildren anyway!
Property in Russia is expensive considering the local salaries, so many children stay with their parents even as adults. Charging one's children rent is extremely uncommon—if they could afford rent, they would already have moved out to live on their own. However, children often offer financial support to their families by purchasing the groceries and such. There is also the expectation that kids will look after their parents when they become old or can't take care of themselves.
→ Brush up on some relevant vocabulary with our Family vocabulary list!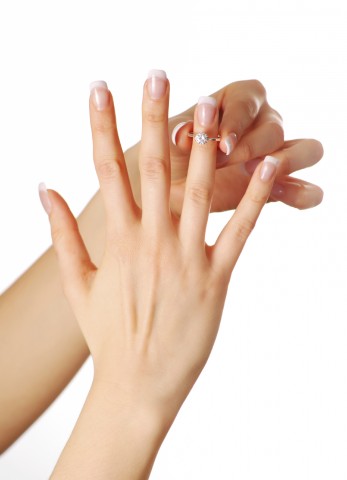 When Russians marry, they put a wedding ring on the right hand.
When they divorce, they put it on the left.
B- Work
In Russia, one is legally allowed to work when they turn 16 (in some cases 14). Many people start working at the age of 22-24 after graduating from university, and around 50% of students combine their studies with a part-time job. Surprisingly, only less than half of all graduates work in their degree field after leaving their alma mater.
Many Russians are dissatisfied with their jobs. It's pretty common to hear someone complaining about their boss and salary. Very few people follow their hearts and truly enjoy what they're doing. 
As for Russian work etiquette, one piece of advice will be especially useful: learn how to be punctual. It's strongly advised to arrive at a meeting or an interview on time, or even ten minutes in advance. If you're going to be late, it's better to call the person to warn them.

Another crucial aspect of Russian culture in business is that you should address people formally.

➤ After reading our article about doing Business in Russia, you'll have a better idea of how formal language differs from informal language.
Patronymic names are one feature of 'formal' Russian that will be new to you. Whenever you talk to your boss, teacher, doctor, etc., you should address them by their first name + their patronymic name. The patronymic name is derived from the person's father's name:
m: Иван Сергеевич — Ivan (name) Sergeyevich (patronymic)
Ivan's father's name is Sergey.


f: Марина Викторовна — Marina (name) Viktorovna (patronymic)
Marina's father's name is Viktor.
Most male patronymic names end in -vich, while most female patronymic names end in -vna. 

➤ Learn more about male and female patronymic names in our lesson "Introducing Your Boss to a Client."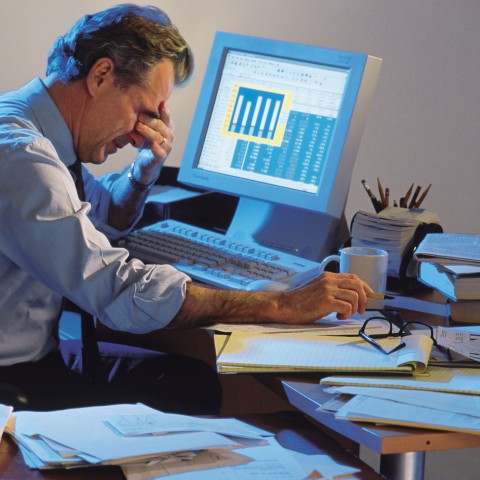 A typical work week in Russia is 40 hours, five days per week.
14 days of public holidays together with all the weekends give Russians 118 days off work each year.
Also, most workers have an average of 28 vacation days per year.
3. Education
You already know from the previous chapter that the maternity leave in Russia can last up to 3 years. After that, the majority of parents enroll their children in kindergarten. However, the number of free public kindergartens fell drastically in the 90s, so now there are far more children than places available. This results in extremely long waiting lists, and many parents stake a place for their children the moment they're born!
The primary school welcomes children aged 6 or 7 years old. Parents usually enroll their children in the school closest to their home. In Russia, education in primary and secondary public schools (a total of 11 years) is free for everybody. 
Russian schools use a 5-point system for grading. It ranges from 5 ("excellent") to 2 ("unacceptable"). The lowest score, 1 ("a total failure"), is hardly ever used. 
In Russia, students often have no choice in what subjects they focus on later in their studies: everybody follows the same curriculum. However, after 9 years of schooling, children can choose to stay in school for 2 more years to complete their secondary education or to transfer to a training-type school that specializes in an area of choice (construction, metalwork, electricity, secretarial practice, etc.). Very few teens decide to drop their studies at this point, and students who intend to apply to university should finish the full 11-year school program. 
At the end of the 11th grade, all students are required to pass the Unified State Exam (USE), which includes two obligatory subjects: the Russian language and Math. Students can then apply to a university with these results, so they strive to pass the test with flying colors. Depending on the entry requirements for their specialty of choice, students can opt for tests on other subjects as well (literature, foreign language, history, etc.).

Going to university after school is a popular choice in Russia. According to OECD, around 65% of adult Russians have a college degree. Higher education is not free for everybody, though. Depending on the specialty, there is a limited amount of state-funded places reserved for those with high USE scores and beneficiaries (such as veterans, orphans, and disabled people). Since 2010, there are three types of university degrees: Bachelor's degree (4 years), a Master's degree (2 more years), and postgraduate degrees.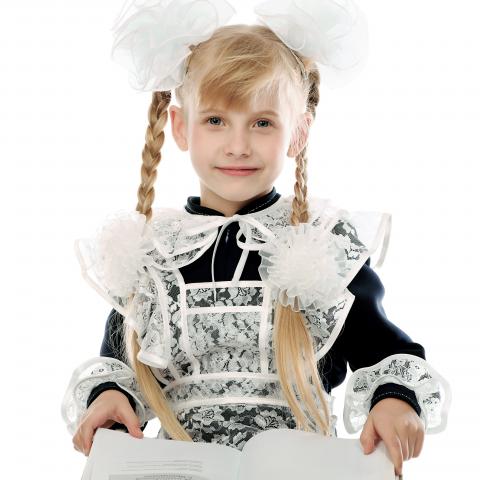 Many Russian schools require their students to wear a uniform.
However, it doesn't have a unified look, so each school decides on its own dress code.
The girl in the image is dressed in a uniform worn during Soviet times.
4. Religion
The dominant religion in Russia is Orthodox Christianity. Over 70% of the population identifies as Russian Orthodox Christian. In Russian culture, however, religion does not play a large role in most people's lives. Most believers don't attend church regularly, limiting their religious activities to baptizing their kids at a nearby church and attending funerals.
Majestic Russian Orthodox churches attract visitors from all over the world, but even foreign tourists are recommended to follow the traditional rules when visiting. To begin with, men must remove any headgear; their heads must be uncovered at all times. Women must cover their hair and wear long skirts, certainly not trousers. If you arrive wearing trousers or shorts, some churches might offer you a large piece of cloth at the entrance to wrap around your legs, even if you're a man. You'll also see people crossing themselves three times from right to left before entering and leaving the church.

A considerable difference between a Russian church and a Western one is that the Russian church will have very few seats (if any at all). One must stay standing, often for many hours. The service is always in Old Russian. Russians can understand some of it, but it can be difficult to comprehend completely.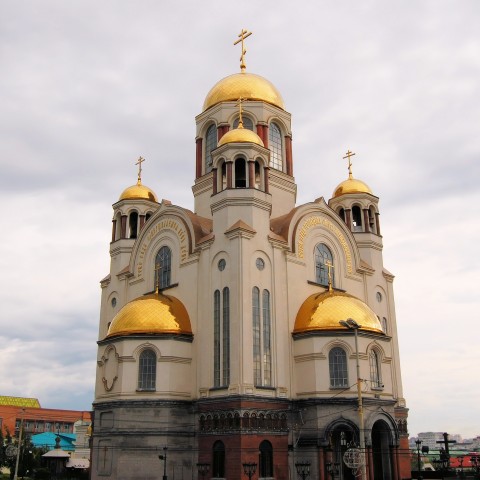 Church of All Saints in Ekaterinburg, Russia
Golden domes represent eternity and heavenly glory.
5. National Holidays
National holidays reflect and incorporate some of the most significant Russian traditions. In Russia, there are numerous religious holidays. Even those who do not consider themselves believers enjoy celebrating Christmas and Easter, for instance. Here's a brief look at the most important Russian holidays and celebrations.
A- New Year's Eve
New Year's Eve is undoubtedly the biggest and most anticipated holiday in Russia. It's a magical time for kids and a well-deserved 10 days of rest for adults!
Because celebrating Christmas was prohibited in Soviet Russia, many Christmas traditions (such as giving gifts and decorating Christmas trees) were carried over to the New Year. The Russian Santa Claus is called Ded Moroz, and he visits kids with his granddaughter Snegurochka. 
Almost all Russian families decorate the New Year tree and exchange presents when the clock strikes midnight on December 31. Just before the countdown, all national channels broadcast a video message from the Russian President where he congratulates everybody and gives a summary of the past year. 
➤ Check out our article about New Year's Day to learn how Russians celebrate this holiday. You can even learn a couple of new words and expressions in Russian right away!
B- Christmas and Easter
Russian Christmas is on January 7, according to the Gregorian calendar. It's mostly celebrated by believers, who attend a night service at church. Some young girls often go for old traditional fortune-telling at night, hoping to get a hint of who their future husband might be.

Easter is usually celebrated in April or May. Russians cook paskha and kulich, and greet each other with this salutation: 
Христос воскрес! (Khristos voskres!) – "Christ has risen!"
To this, the other party replies:
Воистину воскрес! (Voistinu voskres!) – "Truly, he has risen!"
On this day, they also paint chicken eggs different colors and then compete with their folks to see whose egg is "stronger." They do this by trying to crack the egg of their loved ones with their own to see whose breaks last.
C- Defender of the Motherland Day
Defender of the Motherland Day is celebrated on February 23 in honor of veterans and all of the men and women in the military service. Men and boys receive gifts and congratulations on this day. And even though the holiday does celebrate women to some extent, it's still informally called Men's Day.
D- International Women's Day
International Women's Day is celebrated on March 8. It's like a mixture of Mother's Day and St. Valentine's Day, where men express their love to women with gifts and flowers. 
E- Victory Day
Victory Day, celebrated on May 9, is one of the most spectacular Russian holidays with its military parades, performances, and fireworks. On this day, the whole country thanks and congratulates the World War II veterans on the surrender of Nazi Germany. The Immortal Regiment is a massive march held in major Russian cities to pay tribute to those who died in the battle. Every year, thousands of people march through the city with photos of the loved ones they lost in the war.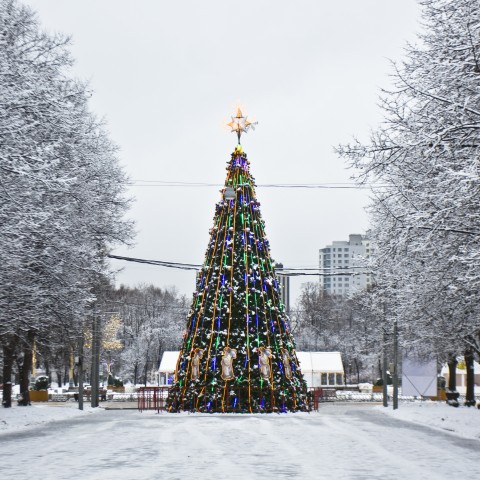 Russians have two New Year celebrations: one on January 1 and another on January 13. The latter is called "the Old New Year," and it's only there because of the Julian calendar we used before 1918.
6. Leisure Time
Russians enjoy spending time with their folks and friends. Several months of winter make Russians enjoy summertime to the fullest. Outdoor activities and picnics are particularly popular.

Winter activities include sledding, sliding, and snowball fights as well as the popular winter sports of skiing, snowboarding, and ice skating.
Shopping in Russia is popular at any time of the year. In a big city, even if you go to a shopping mall in the middle of the week, it will be full of people. But, unlike in most European countries, Sunday is the most popular day for going out. So if you don't like crowds, you'd better stay home. 
Russians put much value upon good looks, especially women. Heels, neat makeup, fine clothes—looking spick-and-span is just a part of their daily routine. 
Needless to say, some people just prefer the quietness of their homes.

Younger people entertain themselves with social networks, music, movies, books, computer games, and different forms of art and handwork (painting, scrapbooking, knitting, etc.). Most music and movie enthusiasts in Russia still prefer foreign bands and cinema, frowning upon everything produced in Russia. However, older people tend to take the opposite view. 
The older generation enjoys watching TV, gardening, cooking, and spending time with their friends and children. Most people over 60 in Russia are not exactly tech-savvy.

Still, Russian is the second most popular language on the Internet. We even have our own Google (Yandex) and Facebook (vk.com). But you should probably take the comments on social media with a grain of salt: the Russian Internet community is notorious for its toxicity and love for trolling.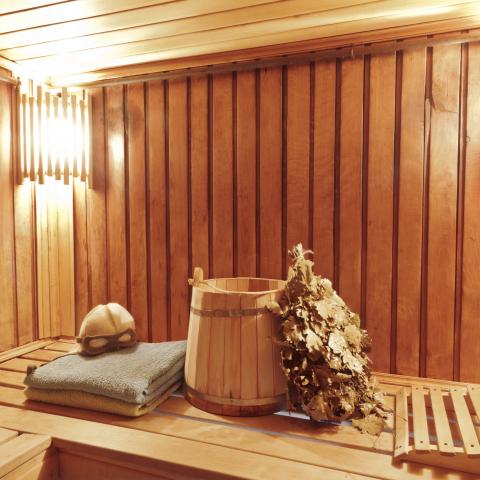 In a Russian banya, get ready to be slapped with a birch bath broom all over your body.
They say it cleans your skin and relaxes your muscles (and mind).
7. What's Next?
Did this page shed some light on any aspects of Russian culture you didn't know about? What was the most surprising fact you learned about Russia today? 
This overview only scratches the surface of the multifaceted Russian culture, but we hope it caught your interest and motivated you to learn more about the largest country in the world. While visiting Russia yourself is the best way to explore the culture, you can start small by getting acquainted with the language first. 
RussianPod101.com is the best place for this. For example, you can learn grammar and new words with our podcasts and free vocabulary lists. And if you happen to have any questions about Russian culture, our native teachers will help you dispel any doubts. 
With our Premium PLUS service, MyTeacher, you get personal one-on-one coaching with a tutor. He or she will answer all of your culture- and language-related questions, give you assignments, and provide you with grammar and vocabulary exercises to boost your Russian. They may also assign you voice recording tasks to improve your pronunciation. Give it a try!
Eager to learn more? Check out this material to dig a little deeper into Russian culture and traditions:
Happy learning with RussianPod101!
February 14, 2020
Each year, Russians celebrate Масленица (Maslenitsa), or Maslenitsa's Day, near the beginning of springtime. Today, due to the popularity of Christianity in Russia, this celebration is also referred to as Shrovetide and celebrated as a religious holiday.
In this article, you'll learn about the Maslenitsa festival in Russia, from modern-day traditions to what "Maslenitsa" actually refers to. Let's get started!
1. What is Maslenitsa?
Maslenitsa is an old Slavic holiday, and came to be long before Christianity. The Maslenitsa holiday symbolizes bidding farewell to the winter and welcoming the spring. Maslenitsa is also called "crepe week" because the main dish eaten during this time is crepes.
Nowadays, Maslenitsa is also considered a time of подготовка к Великому посту (padgatofka k Velikamu pastu), or "preparation for the Great Fast."
Each day of Maslenitsa has its own name and meaning:
Monday is called "Welcoming."
Tuesday is called "Merrymaking."
Wednesday is called "Sweet-Tooth Day."
Thursday is called "Wide Maslenitsa" (AKA "Revelry").
Friday is called "Mother-in-Law's Eve."
Saturday is called "Sister-in-Law's Gathering."
Sunday is called "Forgiveness Day."
Keep reading to learn more about what takes place on each day of Maslenitsa!
2. When Does the Maslenitsa Festival Start?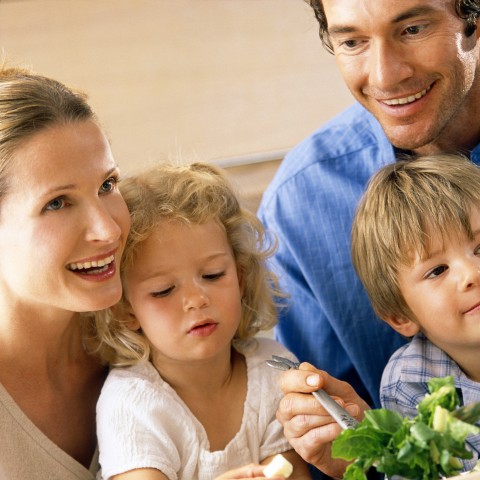 The start date of Maslenitsa changes every year because it depends on the start date of Lent. For your convenience, here's a list of this holiday's start and end dates for the next ten years.
| | Start Date | End Date |
| --- | --- | --- |
| 2020 | February 24 | March 1 |
| 2021 | March 8 | March 14 |
| 2022 | February 28 | March 6 |
| 2023 | February 20 | February 26 |
| 2024 | March 11 | March 17 |
| 2025 | February 24 | March 2 |
| 2026 | February 16 | February 22 |
| 2027 | March 8 | March 14 |
| 2028 | February 21 | February 27 |
| 2029 | February 12 | February 18 |
3. Maslenitsa Celebrations & Traditions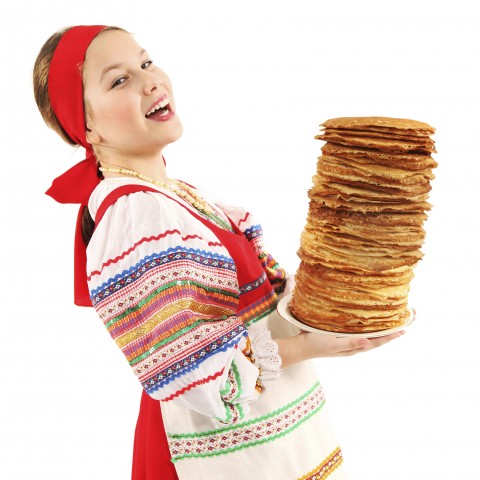 Traditionally, on the Monday of the Maslenitsa festival, Russian housewives began making crepes, the main Maslenitsa food. On Tuesday, young men invited young women for sleigh rides on the icy hills. Young men looked for brides, and young women looked for grooms. On Wednesday, the mother-in-law invited her son-in-law over for crepes, and on Friday, the son-in-law invited his mother-in-law over. On Thursday, various folk games and competitions began.
Nowadays, the traditions of celebrating Maslenitsa are preserved in many villages. The big cities organize different fairs, performances, competitions, and concerts. Russians enjoy playing the ancient Maslenitsa games, such as storming a snow fortress. On the last day of Maslenitsa, people burn a чучело Масленицы (chuchela Maslenitsy), or "Maslenitsa scarecrow," which symbolizes bidding farewell to winter.
A very popular competition during Maslenitsa is climbing up a wet pole and taking the prize from the top. Climbing up is very difficult because the wet pole freezes and becomes very slippery. Doing this requires great strength and agility.
4. What's in a Name?
Why do you think we call this holiday Maslenitsa?
The word Maslenitsa is believed to come from the word Масло (maslo), meaning "butter," which is a favorite in eating crepes, the most popular of Maslenitsa recipes. Nowadays, crepes are fried in a skillet and served with various fillings: cottage cheese, meat, mushrooms, or condensed milk. Crepes on Maslenitsa are also eaten with honey, fruit preserves, and even caviar.
5. Must-Know Vocabulary for Maslenitsa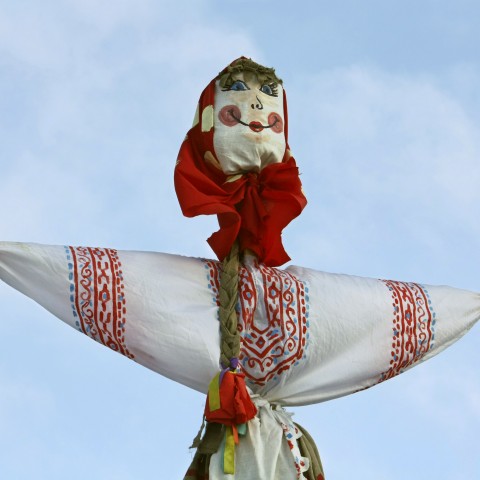 Ready to review some of the vocabulary words from this article? Here's a list of the essential Russian vocabulary for Maslenitsa!
Масло (maslo) — "butter"
Масленица (Maslenitsa) — "Maslennitsa's Day"
катание на санках (kataniye na sankakh) — "sledding"
массовое гуляние (massavaye gulyaniye) — "public celebration"
Прощённое воскресение (Proshchyonnoye voskreseniye) — "Shrove Sunday"
подготовка к Великому посту (padgatofka k Velikamu pastu) — "preparation for the Great Fast"
фаршированный блин (farshirovannyy blin) — "farshirovanniye blini"
чучело Масленицы (chuchela Maslenitsy) — "Maslenitsa scarecrow"
Прощение (prashcheniye) — "forgiveness"
семейный праздник (semeynyy praznik) — "family holiday"
Православный (Pravaslavnyi) — "Orthodox"
Блин (blin) — "thin pancake"
To hear the pronunciation of each word, and to read them alongside relevant images, be sure to check out our Russian Maslenitsa vocabulary list!
Final Thoughts
We hope you enjoyed learning about Maslenitsa in Russia with us! Do you have a celebration for the beginning of spring in your country? Tell us about it in the comments!
If you're curious to learn more about Russian culture and holidays, check out the following pages on RussianPod101.com:
Whatever your reasons for developing an interest in Russian culture or the language, RussianPod101.com is the best way to expand your knowledge and increase your skills. With tons of fun lessons for beginners, intermediate learners, and more advanced students, there's something for everyone!
Create your free lifetime account today, and start learning Russian like never before.
Happy Maslenitsa! Enjoy some crepes for us. ;)
December 26, 2017
Learn all the Russian New Year wishes online, in your own time, on any device! Join RussianPod101 for a special Russian New Year celebration!
Can you relate to the year passing something like this: "January, February, March – December!"? Many people do! Quantum physics teaches us that time is relative, and few experiences illustrate this principle as perfectly as when we reach the end of a year. To most of us, it feels like the old one has passed in the blink of an eye, while the new year lies ahead like a very long journey! However, New Year is also a time to celebrate beginnings, and to say goodbye to what has passed. This is true in every culture, no matter when New Year is celebrated.
So, how do you say Happy New Year in Russian? Let a native teach you! At RussianPod101, you will learn how to correctly greet your friends over New Year, and wish them well with these Russian New Year wishes!
Table of Contents
But let's start with some vocabulary for Russian New Year celebrations, very handy for conversations.
1. How to Celebrate New Year in Russia
Do you know what holiday the Russian people like the most? It's New Year's Day which of course is celebrated on the evening of December 31. New Year's Day is the largest, most significant holiday in Russia, and people start preparing for it as early as the middle of December. In this lesson, you will learn about traditions associated with celebrating New Year's Day in Russia, as well as some well-known New Year's omens.
Now, before we go into more detail, we've got a question for you- how many times do you think New Year's Day is celebrated in Russia?
If you don't already know, you'll find out a bit later. Keep reading!
There is a Russian proverb that says "How you celebrate the New Year shows how the whole year will go." In Russian, it's "Как встретишь Новый год, так его и проведёшь." It's believed that the merrier and more joyful the New Year's Day celebration is, the luckier and happier the next year will be. That is why everyone in Russia tries to celebrate New Year's Day with their nearest and dearest. Many people like celebrating New Year's Day with friends at a restaurant, while others may like going to a ski resort. But wherever you are, a big holiday tree is decorated in the main square in almost every city.
Almost all households set up a festive New Year spread which isn't complete unless it includes Olivier salad, which is called "салат Оливье" in Russian, and champagne. As the saying goes, the more lavish the New Year spread is, the more prosperous the coming year will be, which is why the table is laden with numerous delicacies. People typically start sitting at their tables at 10 p.m., so they can raise a toast to the departing year. In the evening, the "Russia 1" TV channel shows the New Year's Eve concert "Blue Flame" which in Russian is called "Голубой огонёк". It's also said that on New Year's Eve, Grandfather Frost, or "Дед Мороз" and his granddaughter Snow White, or "Снегурочка" visit people's houses and put presents under the New Year tree for kids. By the way, Grandfather Frost's home is located in the city named "Великий Устюг".
About ten minutes before the clocks strike midnight, the whole country listens to the President's New Year speech. In Russian, it's called "новогоднее поздравление Президента". There is also a custom of making a wish while the Kremlin clock is chiming. After the last chime, people wish each other "Happy New Year" and clink glasses full of champagne. In Russian "Happy New Year" is "С Новым годом!". People celebrate till morning, and the sounds of fireworks can be heard all night long.
Every year on New Year's Eve, old Soviet movies are shown. The movie "The Irony of Fate, or Enjoy Your Bath!", or "Ирония судьбы или с легким паром" has been shown every December 31 for more than twenty years.
So, coming back to our quiz, how many times do you think New Year's Eve is celebrated in Russia?
Well, in fact, Russia is the only country in the world where New Year's Eve is celebrated nine times. Because of its huge expanse, the territory of Russia includes nine time zones. The first ones to celebrate the New Year are the Кури́льские острова́ and Kamchatka, and the last one is Kaliningrad.
Happy New Year!
С Новым годом!
S Novym godam!
2. Must-Know Russian Words & Phrases for the New Year!
1- Year
год
god
This is pretty self-explanatory. Most countries follow a Gregorian calendar, which has approximately 365 days in a year, while in some cultures, other year designations are also honored. Therefore, New Year's day in Russia could fall on a different day than in your country. When do you celebrate New Year?
2- Midnight
полночь
polnoch'
The point in time when a day ends and a new one starts. Many New Year celebrants prefer to stay awake till midnight, and greet the new annum as it breaks with fanfare and fireworks!
3- New Year's Day
Новый год
Novyy got
In most countries, the new year is celebrated for one whole day. On the Gregorian calendar, this falls on January 1st. On this day, different cultures engage in festive activities, like parties, parades, big meals with families and many more.
4- Party
вечеринка
vecherinka
A party is most people's favorite way to end the old year, and charge festively into the new one! We celebrate all we accomplished in the old year, and joyfully anticipate what lies ahead.
5- Dancing
танец
tanets
Usually, when the clock strikes midnight and the New Year officially begins, people break out in dance! It is a jolly way to express a celebratory mood with good expectations for the year ahead. Also, perhaps, that the old year with its problems has finally passed! Dance parties are also a popular way to spend New Year's Eve in many places.
6- Champagne
шампанское
shampanskoye
Originating in France, champagne is a bubbly, alcoholic drink that is often used to toast something or someone during celebrations.
7- Fireworks
салют
salyut
These are explosives that cause spectacular effects when ignited. They are popular for announcing the start of the new year with loud noises and colorful displays! In some countries, fireworks are set off to scare away evil spirits. In others, the use of fireworks is forbidden in urban areas due to their harmful effect on pets. Most animals' hearing is much more sensitive than humans', so this noisy display can be very frightful and traumatising to them.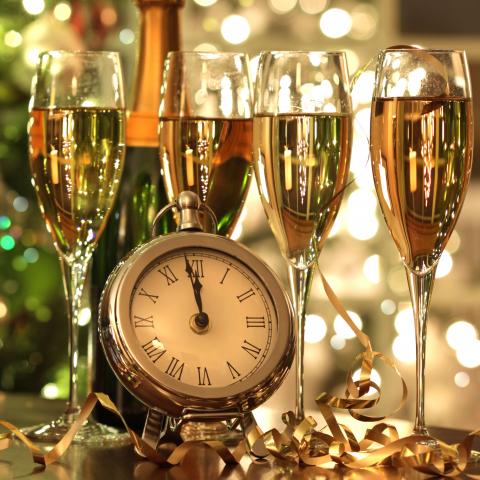 8- Countdown
отсчёт времени
atshchot vremeni
This countdown refers to New Year celebrants counting the seconds, usually backward, till midnight, when New Year starts – a great group activity that doesn't scare animals, and involves a lot of joyful shouting when the clock strikes midnight!
9- New Year's Holiday
Новогодние каникулы
Novogodniye kanikuly
In many countries, New Year's Day is a public holiday – to recuperate from the party the previous night, perhaps! Families also like to meet on this day to enjoy a meal and spend time together.
10- Confetti
конфети
kanfeti
In most Western countries, confetti is traditionally associated with weddings, but often it is used as a party decoration. Some prefer to throw it in the air at the strike of midnight on New Year's Eve.
11- New Year's Eve
Канун Нового года
Kanun Novogo goda
This is the evening before New Year breaks at midnight! Often, friends and family meet for a party or meal the evening before, sometimes engaging in year-end rituals. How are you planning to give your New Year greetings in 2018?
12- Toast
тост
tost
A toast is a type of group-salutation that involves raising your glass to drink with others in honor of something or someone. A toast to the new year is definitely in order!
13- Resolution
резолюция
rezolyutsiya
Those goals or intentions you hope to, but seldom keep in the new year! Many people consider the start of a new year to be the opportune time for making changes or plans. Resolutions are those intentions to change, or the plans. It's best to keep your resolutions realistic so as not to disappoint yourself!
14- Parade
парад
parad
New Year celebrations are a huge deal in some countries! Parades are held in the streets, often to celebratory music, with colorful costumes and lots of dancing. Parades are like marches, only less formal and way more fun. At RussianPod101, you can engage in forums with natives who can tell you what Russian New Year celebrations are like!
3. Top 10 New Year's Resolutions
So, you learned the Russian word for 'resolution'. Fabulous! Resolutions are those goals and intentions that we hope to manifest in the year that lies ahead. The beginning of a new year serves as a good marker in time to formalise these. Some like to do it in writing, others only hold these resolutions in their hearts. Here are our Top 10 New Year's resolutions at RussianPod101 – what are yours?
Learn these phrases and impress your Russian friends with your vocabulary.
1- Read more
Больше читать.
Bol'she chitat'.
Reading is a fantastic skill that everyone can benefit from. You're a business person? Apparently, successful business men and women read up to 60 books a year. This probably excludes fiction, so better scan your library or Amazon for the top business reads if you plan to follow in the footsteps of the successful! Otherwise, why not make it your resolution to read more Russian in the new year? You will be surprised by how much this will improve your Russian language skills!
2- Spend more time with family
Проводить больше времени с семьёй.
Pravadit' bol'she vremeni s sem'yoy.
Former US President George Bush's wife, Barbara Bush, was quoted as having said this: "At the end of your life, you will never regret not having passed one more test, not winning one more verdict, or not closing one more deal. You will regret time not spent with a husband, a friend, a child, a parent." This is very true! Relationships are often what gives life meaning, so this is a worthy resolution for any year.
3- Lose weight
Похудеть.
Pakhudet'.
Hands up, how many of you made this new year's resolution last year too…?! This is a notoriously difficult goal to keep, as it takes a lot of self discipline not to eat unhealthily. Good luck with this one, and avoid unhealthy fad diets!
4- Save money
Накопить денег.
Nakapit' denek.
Another common and difficult resolution! However, no one has ever been sorry when they saved towards reaching a goal. Make it your resolution to save money to upgrade your subscription to RussianPod101's Premium PLUS option in the new year – it will be money well spent!
5- Quit smoking
Бросить курить.
Brosit' kurit'.
This is a resolution that you should definitely keep, or your body could punish you severely later! Smoking is a harmful habit with many hazardous effects on your health. Do everything in your power to make this resolution come true in the new year, as your health is your most precious asset.
6- Learn something new
Выучить что-то новое.
Vyuchit' shto-ta novaye.
Science has proven that learning new skills can help keep brain diseases such as dementia and Alzheimer's at bay! It can even slow down the progression of the disease. So, keep your brain healthy by learning to speak a new language, studying towards a qualification, learning how to sew, or how to play chess – no matter how old you are, the possibilities are infinite!
7- Drink less
Меньше пить.
Men'she pit'.
This is another health resolution that is good to heed any time of the year. Excessive drinking is associated with many diseases, and its effect can be very detrimental to good relationships too. Alcohol is a poison and harmful for the body in large quantities!
8- Exercise regularly
Регулярно заниматься спортом.
Regulyarna zanimatsa sportam.
This resolution goes hand-in-hand with 'Lose weight'! An inactive body is an unhealthy and often overweight one, so give this resolution priority in the new year.
9- Eat healthy
Кушать здоровую пищу.
Kushat' zdarovuyu pishchu.
If you stick with this resolution, you will lose weight and feel better in general. It is a very worthy goal to have!
10- Study Russian with RussianPod101
учить русский язык с RussianPod101.com
uchit` ruskiy yazyk s RussianPod101.com
Of course! You can only benefit from learning Russian, especially with us! Learning how to speak Russian can keep your brain healthy, it can widen your circle of friends, and improve your chances to land a dream job anywhere in the world. RussianPod101 makes it easy and enjoyable for you to stick to this resolution.
4. Inspirational New Year Quotes
Everyone knows that it is sometimes very hard to stick to resolutions, and not only over New Year. The reasons for this vary from person to person, but all of us need inspiration every now and then! A good way to remain motivated is to keep inspirational quotes near as reminders that it's up to us to reach our goals.
Click here for quotes that will also work well in a card for a special Russian new year greeting!
Make decorative notes of these in Russian, and keep them close! Perhaps you could stick them above your bathroom mirror, or on your study's wall. This way you not only get to read Russian incidentally, but also remain inspired to reach your goals! Imagine feeling like giving up on a goal, but reading this quote when you go to the bathroom: "It does not matter how slowly you go, as long as you do not stop." What a positive affirmation!
5. Inspirational Language Learning Quotes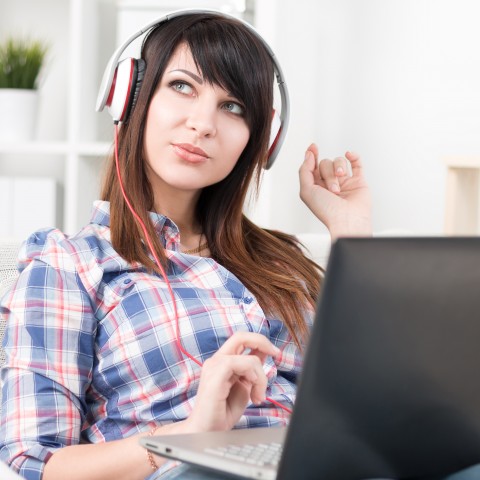 Still undecided whether you should enroll with RussianPod101 to learn a new language? There's no time like the present to decide! Let the following Language Learning Quotes inspire you with their wisdom.
Click here to read the most inspirational Language Learning Quotes!
As legendary President Nelson Mandela once said: "If you talk to a man in a language he understands, that goes to his head. If you talk to him in his own language, that goes to his heart." So, learning how to say Happy New Year in Russian could well be a way into someone special's heart for you! Let this year be the one where you to learn how to say Happy New Year, and much more, in Russian – it could open many and unexpected doors for you.
6. How To Say Happy New Year in 31 Languages
Here's a lovely bonus for you! Why stop with Russian – learn how to say Happy New Year in 31 other languages too! Watch this video and learn how to pronounce these New Year's wishes like a native in under two minutes.
7. Why Enrolling with RussianPod101 Would Be the Perfect New Year's Gift to Yourself!
If you are unsure how to celebrate the New Year, why not give yourself a huge gift, and enroll to learn Russian! With more than 12 years of experience behind us, we know that RussianPod101 would be the perfect fit for you. There are so many reasons for this!
There's no reason not to go big in 2018 by learning Russian with RussianPod101. Just imagine how the world can open up for you!