Have you already mastered the basics of the Russian language? If so, this means you have put in the time and effort to gain an extensive vocabulary and that you can make simple statements with relative ease. Congratulations! 
But as they say, you can always do better. You should be proud of the Russian-language proficiency level that you have achieved up to this point, but remember that there is always room for improvement. To reach the advanced level, you'll need to study more advanced Russian words and make continual progress by working to improve your skills on a daily basis. 
Thanks to the global spread of the internet, it has become more convenient than ever to learn Russian online. If you would like to improve your Russian skills even further and learn to use the language exactly like native speakers, then you're in the right place. 
RussianPod101 has compiled this comprehensive list of advanced Russian vocabulary words you'll need in order to level up. We have included words and example sentences that will definitely allow you to show off your knowledge: academic words, business terms, legal jargon, and alternative "high-end" words to use in place of their simpler counterparts.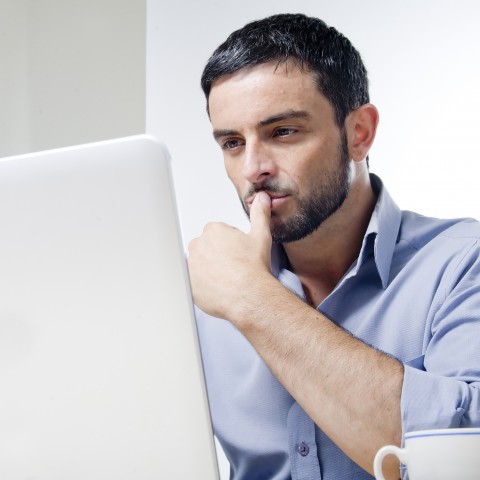 Online learning definitely reduces financial strain as it's far more affordable compared to attending traditional universities or language classes.
Table of Contents
1. Advanced Academic Words
The education systems of the USA, Canada, Australia, and Europe differ significantly from the education system in Russia. In this section of our advanced Russian words list, you'll find words and phrases in Russian that will be useful to know while studying in Russian schools and universities (and, of course, when speaking with students in Russia). The topic of education is very broad, but the purpose of this list is to provide you with the most relevant words for Russian communication in academic settings.
Экзамен (Ekzamen) – "Assessment" [noun]
Сомнительный (Somnitel'nyy) – "Ambiguous" / "Doubtful" [adjective]
Дискуссия (Diskussiya) – "Discussion" [noun]
Сессия (Sessiya) – "Examinations" [noun]
Диплом (Diplom) – "Diploma" [noun]
Example Sentences:
Сомнительно, что она сдаст экзамен. 
Somnitel'no, chto ona sdast ekzamen.
"It is doubtful that she will pass the exam."
После показа фильмов проводилась тематическая дискуссия. 
Posle pokaza fil'mov provodilas' tematicheskaya diskussiya.
"Each showing of the documentary was followed by a panel discussion."
После удачной сдачи сессии он получил диплом. 
Posle udachnoy sdachi sessii on poluchil diplom.
"After successfully passing the examinations, he received a diploma."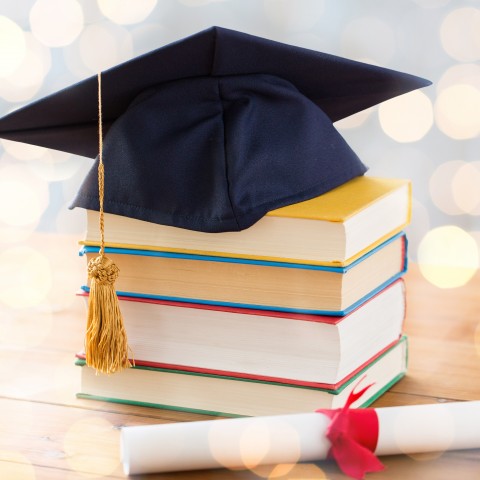 Over four million students were enrolled in Russian institutions of higher education in 2019.
Лекция (Lektsiya) – "Lecture" [noun]
Урок (Urok) – "Lesson" [noun]
На лекциях и уроках получают знания. 
Na lektsiyakh i urokakh poluchayut znaniya.
"We gain knowledge at lectures and lessons."
Химический (Khimicheskiy) – "Chemical" [adjective]
Принципы (Printsipy) – "Foundations" / "Basis" [noun]
Принципы химических реакций
Printsipy khimicheskikh reaktsiy
"Foundations of chemical reactions"
Методическое пособие (Metodicheskoye posobiye) – "Guideline" [the word пособие is a noun and методическое is an adjective]
Обнаружить (Obnaruzhit') – "To detect" [verb]
Случайно (Sluchayno) – "Randomly" / "Accidentally" [adverb]
Приложение (Prilozheniye) – "Appendix" [noun]
Он случайно обнаружил приложение к методическому пособию. 
On sluchayno obnaruzhil prilozheniye k metodicheskomu posobiyu.
"He accidentally discovered an appendix to the guideline."
Таблица (Tablitsa) – "Chart" / "Table" [noun]
Таблица является полезным инструментом. 
Tablitsa yavlyayetsya poleznym instrumentom.
"The chart is a useful tool."
Кругозор (Krugozor) – "Prospect" / "Horizons" [noun]
У него широкий кругозор. 
U nego shirokiy krugozor.
"He has broad horizons."
Абзац (Abzats) – "Paragraph" [noun]
Абзац форматируется как заголовок. 
Abzats formatiruyetsya kak zagolovok.
"A paragraph is formatted as a heading."
Решающий (Reshayushchiy) – "Crucial" [adjective]
Ядерный (Yаdernyy) – "Nuclear" [adjective]
Первым пунктом повестки дня должна стать ратификация улучшений решающего инструмента обеспечения ядерной безопасности. 
Pervym punktom povestki dnya dolzhna stat' ratifikatsiya uluchsheniy reshayushchego instrumenta obespecheniya yadernoy bezopasnosti.
"At the top of the agenda should be the ratification of improvements to a crucial nuclear security instrument."
Расписание (Raspisaniye) – "Schedule" / "Timetable" [noun]
Минимальный (Minimal'nyy) – "Minimum" [adjective]
Студенты получили ориентировочное расписание с минимальным количеством занятий. 
Studenty poluchili oriyentirovochnoye raspisaniye s minimal'nym kolichestvom zanyatiy.
"Students received an indicative timetable with a minimum number of classes."
Ориентировочный (Oriyentirovochnyy) – "Preliminary" / "Approximate" [adjective]
Общежитие (Obshchezhitiye) – "Dormitory" [noun]
В общежитии был беспорядок. 
V obshchezhitii byl besporyadok.
"The dormitory was a mess."
Формат (Format) – "Format" [noun]
Сдайте работу в формате pdf. 
Sdayte rabotu v formate pdf.
"Submit your work in PDF format."
Среда (Sreda) – "Medium" [noun]
Питательная среда содержит лактопептон. 
Pitatel'naya sreda soderzhit laktopepton.
"The nutrition medium contains lactopeptine."
Продолжительность (Prodolzhitel'nost') – "Duration" [noun]
Продолжительность занятия — 30 минут. 
Prodolzhitel'nost' zanyatiya — 30 minut.
"The duration of the lesson is 30 minutes."
Убеждённый (Ubezhdyonnyy) – "Convinced" [adjective]
Убеждённый европеец, он рассматривал европейский идеал строго в рамках международного сотрудничества. 
Ubezhdyonnyy yevropeyets, on rassmatrival yevropeyskiy ideal strogo v ramkakh mezhdunarodnogo sotrudnichestva.
"A convinced European, he set the European ideal squarely in a framework of international cooperation."
2. Advanced Business Words
Business vocabulary is not limited to business contexts; many of the advanced Russian words presented below are used in ordinary everyday conversations as well. While going through this list, keep in mind that each specialty requires a specific vocabulary set. Daily meetings with colleagues, negotiations with business partners, communication by phone and email—all these things require a special skill set and a specific set of vocabulary.
Стратегия (Strategiya) – "Strategy" [noun]
Встречное предложение (Vstrechnoye predlozheniye) – "Counteroffer" [noun]
Встречное предложение партнёра было частью запасной стратегии. 
Vstrechnoye predlozheniye partnyora bylo chast'yu zapasnoy strategii.
"The partner's counteroffer was part of a fallback strategy."
Фискальный (Fiskal'nyy) – "Fiscal" [adjective]
Бухгалтерский и налоговый учёт фискального накопителя
Bukhgalterskiy i nalogovyy uchyot fiskal'nogo nakopitelya
"Accounting and tax accounting of the fiscal driver"
Сотрудничество (Sotrudnichestvo) – "Collaboration" / "Cooperation" [noun]
Соглашение / Договор (Soglasheniye / Dogovor) – "Agreement" [noun]
Частью сотрудничества является подписание договора. 
Chast'yu sotrudnichestva yavlyayetsya podpisaniye dogovora.
"Part of cooperation is the signing of an agreement."
Бюджет (Byudzhet) – "Budget" [noun]
Бюджет академии увеличился на 11 процентов. 
Byudzhet akademii uvelichilsya na 11 protsentov.
"The budget for the academy was raised by 11 percent."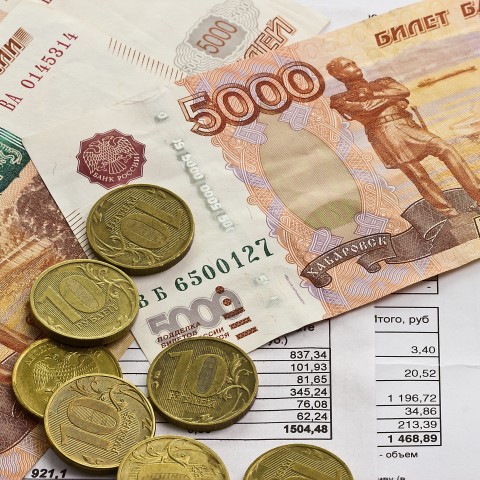 Russia was the sixth-largest economy in the world in 2019, the World Bank estimates. In nominal terms, Russia ranks eleventh.
Бухгалтер (Bukhgalter) – "Accountant" [noun]
Отдел (Otdel) – "Department" [noun]
Визитка (Vizitka) – "Business card" [noun]
На визитке бухгалтера был указан его отдел. 
Na vizitke bukhgaltera byl ukazan yego otdel.
"The accountant's business card indicated his department."
Валюта (Valyuta) – "Currency" [noun]
Товар (Tovar) – "Commodity" [noun]
Покупатель (Pokupatel') – "Customer" [noun]
Покупатель купил товар за валюту. 
Pokupatel' kupil tovar za valyutu.
"The buyer bought the product with foreign currency."
Эффективность (Effektivnost') – "Efficiency" [noun]
Отдел повысил показатели эффективности. 
Otdel povysil pokazateli effektivnosti.
"The department has improved efficiency indicators."
Упаковочный лист (Upakovochnyy list) – "Packing list" [the word лист is a noun and упаковочный is an adjective]
Срок (Srok) – "Deadline" / "Time" [noun]
Счёт (Schyot) – "Invoice" [noun]
Срок поставки по счёту и упаковочному листу — сегодня. 
Srok postavki po schyotu i upakovochnomu listu — segodnya.
"The invoice and packing list delivery time is today."
Инвестиции (Investitsii) – "Investment" [noun]
Директор (Direktor) – "Managing director" [noun]
Переговоры (Peregovory) – "Negotiation" [noun]
Директор провёл переговоры, касающиеся инвестиций. 
Direktor provyol peregovory, kasayushchiyesya investitsiy.
"The managing director negotiated investments."
Вакансия (Vakansiya) – "Opening" / "Vacancy" [noun]
Вакансия руководителя этого проекта заполнена. 
Vakansiya rukovoditelya etogo proekta zapolnena.
"The leadership vacancy on this project has been filled."
Прибыльный (Pribyl'nyy) – "Profitable" [adjective]
Заказ (Zakaz) – "Purchase order" [noun]
Компания выполнила прибыльный заказ. 
Kompaniya vypolnila pribyl'nyy zakaz.
"The company has completed a profitable order."
Резюме (Rezyume) – "Resumé" / "Curriculum vitae" [noun]
Я отправила моё резюме на вакантные места. 
Ya otpravila moyo rezyume na vakantnyye mesta.
"I sent my resumé for a few job openings."
Подпись (Podpis') – "Signature" [noun]
Подпись не нужна, только инициалы. 
Podpis' ne nuzhna, tol'ko initsialy.
"You don't have to sign it; just your initials."
Поставка (Postavka) – "Supply" [noun]
Налог (Nalog) – "Tax" [noun]
Поставка не облагается налогом. 
Postavka ne oblagayetsya nalogom.
"The supply is tax-deductible."
Сделка (Sdelka) – "Transaction" / "Deal" [noun]
Сделка была прибыльной. 
Sdelka byla pribyl'noy.
"The deal was profitable."
3. Advanced Medical Words
Imagine that you're in Russia when you start to feel unwell. To get the help you need, you'll have to describe your symptoms and overall condition (knowing a little about the Russian health system would help, too). In this section, we'll introduce you to the most useful advanced Russian words related to healthcare. 
Биопсия (Biopsiya) – "Biopsy" [noun]
Эндометриальная биопсия нужна, чтобы проверить эффективность прививки. 
Endometrial'naya biopsiya nuzhna, chtoby proverit' effektivnost' privivki.
"An endometrial biopsy is needed to test the vaccine efficacy."
Деменция (Dementsiya) – "Dementia" [noun]
Совет фонда считает, что у меня деменция. 
Sovet fonda schitayet, chto u menya dementsiya.
"The foundation board thinks I have dementia."
Ординатура (Ordinatura) – "Residency" [noun]
Мне так сильно понравилась ординатура, что я прошёл её дважды.
Mne tak sil'no ponravilas' ordinatura, chto ya proshyol yeyo dvazhdy.
"I liked residency so much that I did it twice."
Заболевание (Zabolevaniye) – "Disease" / "Illness" [noun]
Заболевание является серьёзным тормозом для развития. 
Zabolevanie yavlyayetsya ser'yoznym tormozom dlya razvitiya.
"The disease is a major problem for development."
Рецепт (Retsept) – "Prescription" [noun]
Врач выписал мне рецепт. 
Vrach vypisal mne retsept.
"The doctor wrote me a prescription."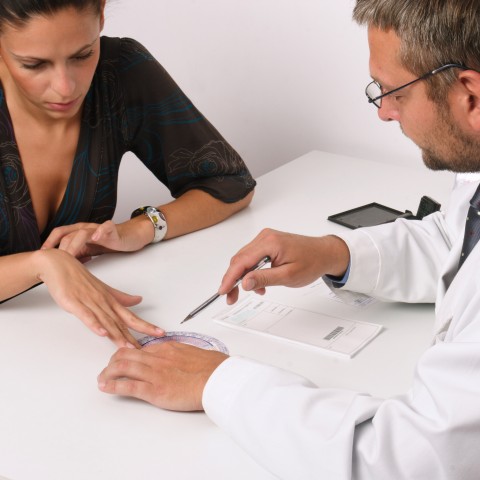 Health is one of the crucial things in life that money can't buy. Please, stay healthy!
Астма (Astma) – "Asthma" [noun]
Ну, у её дочери астма. 
Nu, u yeyo docheri astma.
"Well, her daughter has asthma."
Зависимость (Zavisimost') – "Addiction" [noun]
Ричардс лечился от алкогольной зависимости в 2006 году. 
Richards lechilsya ot alkogol'noy zavisimosti v 2006 godu.
"Richards was in rehab for alcohol addiction in 2006."
Поликлиника (Poliklinika) – "Outpatient department" [noun]
Поликлиника была создана для диагностики. 
Poliklinika byla sozdana dlya diagnostiki.
"The outpatient department was set up to provide diagnostic care."
Медицинский центр (Meditsinskiy tsentr) – "Health care center" [the word центр is a noun and медицинский is an adjective]
Cтоматологический (Stomatologicheskiy) – "Dental" [adjective]
Стоматологические клиники и медицинские центры в России могут быть частными. 
Stomatologicheskiye kliniki i meditsinskiye tsentry v Rossii mogut byt' chastnymi.
"Dental clinics and medical centers in Russia can be private."
Медицинский полис (Meditsinskiy polis) – "Health insurance certificate" [the word полис is a noun and медицинский is an adjective]
Медицинский полис будет только через месяц. 
Meditsinskiy polis budet tol'ko cherez mesyats.
"The health insurance certificate will be ready in a month."
Приёмный покой (Priyomnyy pokoy) – "Emergency room" [the word покой is a noun and приёмный is an adjective]
Больничная палата (Bol'nichnaya palata) – "Hospital ward" [the word палата is a noun and больничная is an adjective]
В приёмном покое много больничных палат. 
V priyomnom pokoye mnogo bol'nichnykh palat.
"There are many hospital wards in the emergency room."
Операционная (Operatsionnaya) – "Operating room" [noun]
Реанимация (Reanimatsiya) – "Intensive care unit" [noun]
Пациент, больной (Patsiyent, bol'noy) – "Patient" [noun]
Из операционной пациента перевели в реанимацию. 
Iz operatsionnoy patsiyenta pereveli v reanimatsiyu.
"The patient was transferred from the operating room to the intensive care unit."
Стационарный больной (Statsionarnyy bol'noy) – "Inpatient" [the word больной is a noun and стационарный is an adjective] Please note that the word больной can also be used as an adjective, just as "patient" can be a noun or an adjective in English.  
Амбулаторный больной (Ambulatornyy bol'noy) – "Outpatient" [the word больной is a noun and амбулаторный is an adjective]
Медсестра (Medsestra) – "Nurse" [noun]
Терапевт (Terapevt) – "Physician" [noun]
Отоларинголог (Otolaringolog) – "ORT specialist" [noun]
Медицинское обслуживание стационарных и амбулаторных больных осуществляется разными группами докторов и медсестёр, в том числе терапевтами и отоларингологами. 
Meditsinskoye obsluzhivaniye statsionarnykh i ambulatornykh bol'nykh osushchestvlyayetsya raznymi gruppami doktorov i medsestyor, v tom chisle terapevtami i otolaringologami.
"Medical services for inpatient and outpatient care are provided by various groups of doctors and nurses, including physicians and ORT specialists."
Записаться на приём (Zapisat'sya na priyom) – "To make an appointment" [verb]
Записаться на приём было очень сложно. 
Zapisat'sya na priyom bylo ochen' slozhno.
"It was very difficult to make an appointment with a doctor."
According to statistics, more than half of Russians trust alternative and complementary medicine. Previously, only old ladies knew and shared amongst themselves all the recipes of alternative medicine; now, these recipes can be found on TV and the internet. Healing properties are attributed to herbal tinctures, the steam of boiled potatoes, and other methods of alternative medicine. Here are some advanced Russian words related to complementary medicine:
Народная медицина (Narodnaya meditsina) – "Alternative medicine" / "Complementary medicine" [the word медицина is a noun and народная is an adjective]
Грелка (Grelka) – "Hot water bottle" [noun]
Горчичник (Gorchichnik) – "Mustard plaster" [noun]
Отвар (Otvar) – "Brew" [noun]
Целебные травы (Tselebnyye travy) – "Medicinal herbs" [the word травы is a noun (plural of трава – "herb") and целебные is an adjective]
Отвар из целебных трав, горчичники и грелка являются популярными средствами в народной медицине. 
Otvar iz tselebnykh trav, gorchichniki i grelka yavlyayutsya populyarnymi sredstvami v narodnoy meditsine.
"Medicinal herb brews, mustard plasters, and a hot water bottle are popular remedies in alternative medicine."
4. Advanced Legal Words
While these legal words and phrases may be long, difficult to remember, and even harder to spell, they're sure to prove useful in a number of contexts. Memorize these advanced Russian words to get a leg up in the business world and to enrich your personal life (these are words you might find used on news stations and in the paper). 
Гражданин (Grazhdanin) – "Passport holder" / "Resident" [noun]
Закон (Zakon) – "Law" [noun]
Нарушать закон (Narushat' zakon) – "To break the law" [verb]
Граждане не должны нарушать закон. 
Grazhdane ne dolzhny narushat' zakon.
"Residents must not break the law."
Тяжба (Tyazhba) – "Lawsuit" [noun]
Юрисконсульт (Yuriskonsul't) – "Legal adviser" [noun]
Законный представитель (Zakonnyy predstavitel') – "Legal representative" [the word представитель is a noun and законный is an adjective]
Законный представитель и юрисконсульт помогут с судебными тяжбами. 
Zakonnyy predstavitel' i yuriskonsul't pomogut s sudebnymi tyazhbami.
"A legal representative and a legal adviser will help with filing a lawsuit."
Нотариус (Notarius) – "Notary public" [noun]
Нотариус проверяет чистоту сделки и следит за тем, чтобы недвижимость продавалась свободной от долгов. 
Notarius proveryayet chistotu sdelki i sledit za tem, chtoby nedvizhimost' prodavalas' svobodnoy ot dolgov.
"A notary public verifies the purity of a deal and ensures that property is sold free of debts."
Бездействие (Bezdeystviye) – "Omission" / "Nonfeasance" [noun]
Такие нарушения могут иметь место в силу действия или бездействия государства.
Takiye narusheniya mogut imet' mesto v silu deystviya ili bezdeystviya gosudarstva.
"Such violations can occur by state action or omission."
Юрист (Yurist) – "Lawyer" [noun]
Суд (Sud) – "Court" [noun]
Спорить (Sporit') – "To dispute" [verb]
Юрист оспорил это решение в суде. 
Yurist osporil eto resheniye v sude.
"The lawyer disputed this decision in court."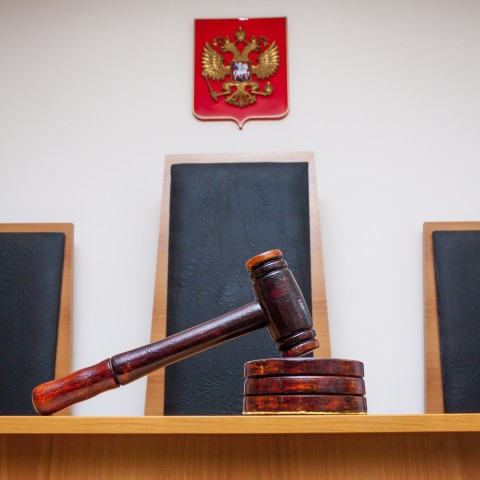 The Constitutional Court of the Russian Federation is the highest judicial body of constitutional supervision in the Russian Federation.
Мошенничество (Moshennichestvo) – "Fraud" [noun]
Прокурор (Prokuror) – "Prosecutor" [noun]
Прокурор предъявил обвинение в мошенничестве. 
Prokuror pred'yavil obvineniye v moshennichestve.
"The prosecutor indicted for fraud."
Обжалование (Obzhalovaniye) – "Appeal" [noun]
Виновный (Vinovnyy) – "Liable" / "Guilty" [adjective]
Обвинительное заключение (Obvinitel'noye zaklyucheniye) – "Indictment" [the word заключение is a noun and обвинительное is an adjective]
Виновный обжаловал обвинительное заключение. 
Vinovnyy obzhaloval obvinitel'noye zaklyucheniye.
"The person found guilty appealed against the indictment."
Судебное постановление (Sudebnoye postanovleniye) – "Injunction" [the word постановление is a noun and судебное is an adjective]
Это судебное постановление у нас в кармане. 
Eto sudebnoye postanovleniye u nas v karmane.
"This injunction is in the bag."
Правосудие (Pravosudiye) – "Justice" / "Justice systems" [noun]
Приговор (Prigovor) – "Verdict" / "Sentence" [noun]
В то же время женщины теряют доверие к системе правосудия, если приговоры минимальны и не обеспечивают им какую-либо защиту. 
V to zhe vremya zhenshchiny teryayut doveriye k sisteme pravosudiya, yesli prigovory minimal'ny i ne obespechivayut im kakuyu-libo zashchitu.
"At the same time, women lose faith in justice systems where sentences are minimal and fail to offer them any protection."
Свидетель (Svidetel') – "Witness" [noun]
Свидетель видел золотой рисунок. 
Svidetel' videl zolotoy risunok.
"The witness saw a gold stripe."
Правоотношение (Pravootnosheniye) – "Legal arrangement" / "Legal relation" [noun]
Ссылка на конкретное правоотношение может не вполне подходить для некоторых правовых систем. 
Ssylka na konkretnoye pravootnosheniye mozhet ne vpolne podkhodit' dlya nekotorykh pravovykh sistem.
"The reference to a defined legal relationship might not easily be accommodated in certain legal systems."
Права человека (Prava cheloveka) – "Human rights" [noun]
Права человека также являются основой внешней политики. 
Prava cheloveka takzhe yavlyayutsya osnovoy vneshney politiki.
"Human rights also constitute one of the key pillars of foreign policy."
5. Alternative Words for Academic or Professional Writing 
To write a really good essay, you need to have a sufficient vocabulary of advanced Russian words. Developing the necessary language skills for writing a persuasive argument is crucial. In this section, we'll equip you with the words and phrases you'll need to write a great essay or to compose other forms of academic/professional writing. We have also included a number of advanced Russian words that are hard to pronounce, long, or hyphenated. 
Alternative Words
In the first column, you'll find a simple Russian word; in the second column, you'll find a more advanced or nuanced replacement you could use instead. 
поэтому (poetomu) – "so"
Conjunction
таким образом (takim obrazom) – "therefore"
Conjunction
Таким образом, курс рубля повысился. 
Takim obrazom, kurs rublya povysilsya. 
"Therefore, the ruble has been appreciated."
большой (bol'shoy) – "big"
Adjective
огромный (ogromnyy) – "huge" / "enormous"
Adjective
Это огромный успех. 
Eto ogromnyy uspekh. 
"This is a huge success."
любить (lyubit') – "to love"
Verb
обожать (obozhat') – "to adore"
Verb
Я обожаю этот сериал. 
Ya obozhayu etot serial. 
"I adore this show."
хорошо (khorosho) – "good"
Adjective
прекрасно / замечательно (prekrasno / zamechatel'no) – "beautiful" / "wonderful"
Adjective
Это прекрасно, просто замечательно. 
Eto prekrasno, prosto zamechatel'no. 
"It's wonderful, just beautiful."
Complex Linking Words
Для того чтобы (Dlya togo chtoby) – "For the purpose of" / "In order to" 
This linking word can be used to introduce an explanation.
Example:
Нужно прийти домой пораньше, для того чтобы успеть сделать уроки.
Nuzhno priyti domoy poran'she, dlya togo chtoby uspet' sdelat' uroki.
"You need to come home early in order to have time to do your homework."
Другими словами / Иными словами (Drugimi slovami / Inymi slovami) – "In other words" 
Use the linking word другими словами or иными словами when you want to express something more simply so that it's easier to understand, or to emphasize or expand upon a point of view.
Example:
Иными словами, он переживает кризис.
Inymi slovami, on perezhivayet krizis.
"In other words, he is in a state of crisis."
Complicated Words for Russian Learners
Are you up for a challenge? Then try memorizing a few of these more complicated Russian words for advanced learners! 
Подбираться, подкрадываться (Podbirat'sya, podkradyvat'sya) – "To sneak up" / "To creep up" [verb]
Он подобрался незаметно. 
On podobralsya nezametno.
"He crept up unnoticed."
Растеряться (Rasteryat'sya) – "To become confused" [verb]
Вдобавок (Vdobavok) – "In addition" [adverb]
Я растерялась и вдобавок забыла, что хотела сказать.
Ya rasteryalas' i vdobavok zabyla, chto khotela skazat'.
"I was confused and, in addition, forgot what I wanted to say."
Неудовлетворённость (Neudovletvoryonnost') – "Discontent" [noun]
Они вечно показывали неудовлетворённость работой. 
Oni vechno pokazyvali neudovletvoryonnost' rabotoy.
"They were forever discontent with work."
Правописание (Pravopisaniye) – "Spelling" [noun]
Одно ясно — его правописание оставляет желать лучшего. 
Odno yasno — yego pravopisaniye ostavlyayet zhelat' luchshego.
"One thing is certain—his spelling leaves much to be desired."
Самообладание (Samoobladaniye) – "Self-control" [noun]
Самообладание очень важно в любом обществе. 
Samoobladaniye ochen' vazhno v lyubom obshchestve.
"Self-control is crucial to any society."
Приспосабливаться (Prisposablivat'sya) – "To adapt" [verb]
Эти голограммы способны учиться и приспосабливаться. 
Eti gologrammy sposobny uchit'sya i prisposablivat'sya.
"These holograms have the ability to learn and adapt."
Орудовать (Orudovat') – "To work by tool" / "To wield" [verb]
Я даже не знаю, как орудовать ножом. 
Ya dazhe ne znayu, kak orudovat' nozhom.
"I wouldn't even know how to wield a knife."
Махнуть рукой (Makhnut' rukoy) – "To give up" / "A lost cause" [verb]
А ты, на тебя можно махнуть рукой. 
A ty, na tebya mozhno makhnut' rukoy.
"You, however—you're a lost cause."
Истолковывать (Istolkovyvat') – "To interpret" / "To translate" [verb]
Ненадлежащий (Nenadlezhashchiy) – "Improper" [adjective]
Ненадлежащее поведение и поступки можно оценивать и истолковывать по-разному. 
Nenadlezhashcheye povedeniye i postupki mozhno otsenivat' i istolkovyvat' po-raznomu.
"Improper behavior and conduct can be appraised and interpreted in different ways."
Несподручно (Nespodruchno) – "Awkwardly" / "Inconveniently" / "Uncomfortably" [colloquialism] [adverb]
В смысле… для меня это, как бы, несподручно. 
V smysle… dlya menya eto, kak by, nespodruchno.
"I mean, I'm not comfortable with that."
Hyphenated Words
In the Russian language, compound words are often hyphenated. These words include compound nouns, compound names, the names of compass points, shades of color, and so on. Here are some examples:
Северо-восточный (Severo-vostochnyy) – "Northeast" [adjective]
Подул северо-восточный ветер. 
Podul severo-vostochnyy veter.
"The northeast wind blew."
Фруктово-ягодный (Fruktovo-yagodnyy) – "With/made from fruits and berries" [adjective]
Изумрудно-зелёный (Izumrudno-zelyonyy) – "Emerald-green" [adjective]
Это был фруктово-ягодный изумрудно-зелёный джем.
Eto byl fruktovo-yagodnyy izumrudno-zelyonyy dzhem.
"It was a fruit and berry emerald-green jam."
Диван-кровать (Divan-krovat') – "Convertible sofa bed" [noun]
Купля-продажа (Kuplya-prodazha) – "Buy/sell" / "Sale and purchase" [noun]
Фирма занималась куплей-продажей диванов-кроватей. 
Firma zanimalas' kupley-prodazhey divanov-krovatey.
"The company was engaged in the sale and purchase of sofa beds."
Мало-помалу (Malo-pomalu) – "Little by little" [adverb]
Мало-помалу каждая часть головоломки становится на своё место. 
Malo-pomalu kazhdaya chast' golovolomki stanovitsya na svoyo mesto.
"Little by little, every piece of the jigsaw is falling into place."
Перекати-поле (Perekati-pole) – "Rolling stone" [noun]
Потому что ты и я, мы — перекати-поле. 
Potomu chto ty i ya, my — perekati-pole.
"Cause you and I, we're rolling stones."
6. Conclusion
In this article, you have learned more than 100 new advanced Russian words and phrases that will help you improve and enrich your Russian vocabulary. 
RussianPod101.com has plenty of resources designed to help you reach your Russian learning goals, no matter your current proficiency level. If you're feeling confident, we recommend creating your free lifetime account today and checking out our advanced Russian course. 
In case you found this topic a bit difficult to grasp on your own, you can upgrade to Premium PLUS in order to use our MyTeacher service. A personal tutor will gladly help you memorize and use new Russian words and phrases, provide you with personalized assignments, and more! 
Before you go: Which of the above words and phrases do you find most useful? Please, let us know in the comments.
October 7, 2021
If you're studying Russian as a foreign language, it's important for you to practice your oral communication skills as regularly as possible. 
Speaking on the phone with native Russians is a great way to hone your speaking skills, become familiar with new words and expressions, and gain more confidence in yourself. But we understand that it can be a daunting task for language learners! 
To help you get a strong start, we've compiled a list of all the basic Russian phone call phrases you need to know. By the time you're done reading, you'll be able to make and take phone calls in Russian with ease—whether you're chatting with a friend or reserving a table at an upscale restaurant.
Let's go!
Table of Contents
1. Picking up the Phone
The first set of Russian phone call phrases you'll need to know are those for greeting the caller. Here are a few standard greeting expressions you can use: 
Aлло. (Allo.) – "Hello."
Я вас слушаю. (Ya vas slushayu.) – "I'm listening to you."
Слушаю. (Slushayu.) – "I'm listening."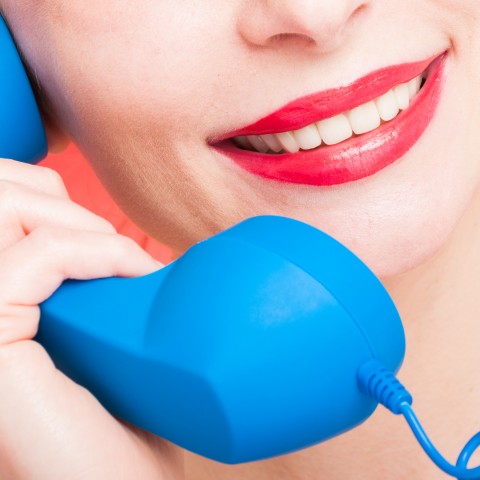 It's said that 95% of Russian phone conversations start with Алло.
2. Saying Who You Are
Once you've greeted the caller, it's time to introduce yourself. You can use any of the following Russian phone phrases for this:
Это ___. (Eto ___.) – "This is ___."
Это говорит ___. (Eto govorit ___.) – "This is ___."
Вас беспокоит ___. (Vas bespokoit ___.) – "This is ___."
3. Stating the Reason for the Call
After introducing yourself, you'll need to explain why you're calling. There are several ways to do this, depending on the situation. These Russian phone call phrases and their English equivalents will be helpful:
Вы мне звонили. (Vy mne zvonili.) – "I'm returning your call."
Я звоню, чтобы спросить / уточнить / подтвердить… (Ya zvonyu, chtoby sprosit' / utochnit' / podtverdit'…) – "I'm calling to ask / clarify / confirm…"
Мне нужно поговорить с кем-то насчёт… (Mne nuzhno pogovorit' s kem-to naschyot…) – "I need to talk to somebody about…"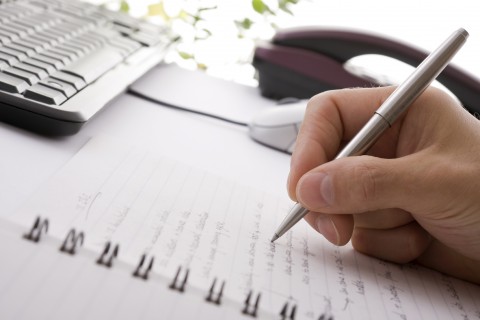 If you're not confident in your knowledge of the Russian language, it's a good idea to come up with what you're going to say during the phone call in advance.
4. Asking to Speak to Someone
If there's a specific person you'd like to speak to, you can use one of these basic Russian phone phrases to let the receiver know this: 
Я хочу поговорить с ___. (Ya hochu pogovorit' s ___.) – "I want to talk to ___."
Это ___? (Eto ___?) – "Is this ___?"
Могу я поговорить с ___? (Mogu ya pogovorit' s ___?) – "May I talk to ___?"
Пожалуйста, позовите ___. (Pozhaluysta, pozovite ___.) – "Call ___, please."
5. Asking Someone to Wait
If you receive a call and need some time to check something, you could ask the other person to wait by using one of these basic Russian phone phrases: 
Подождите минутку, я проверю. (Podozhdite minutku, ya proveryu.) – "Just a moment, let me check."
Минуточку. (Minutochku.) – "Just a minute." [very informal]
Вы подождёте немного? (Vy podozhdyote nemnogo?) – "Will you wait a bit?"
Не вешайте трубку. (Ne veshayte trubku.) – "Hold the line, please."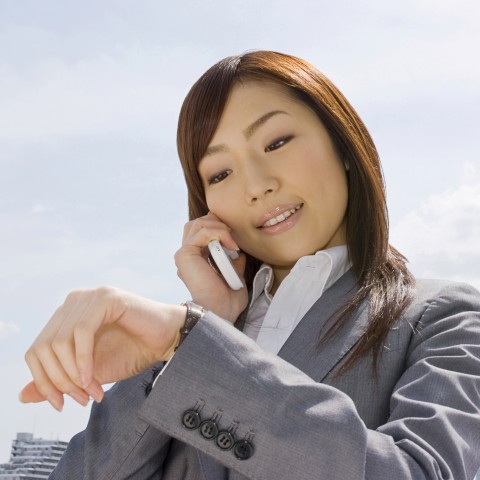 If you're really busy with something and will not be available in the next few minutes, don't make the other person wait. It's better to have him or her call you back.
6. Leaving a Message
If you're unable to reach the person you wanted to speak with, you should be able to leave them a message. Here are a few ways you can leave a message over the phone in Russian:
Передайте ___, что… (Peredayte ___, chto…) – "Let ___ know that…"
Можете, пожалуйста, попросить [имя] перезвонить на номер [номер телефона]? (Mozhete, pozhaluysta, poprosit' [imya] perezvonit' na nomer [nomer telefona]?) – "Can you please tell [name] to call me back at [phone number]?"
Передайте ___, что я звонила/звонила. (Peredayte ___, chto ya zvonila/zvonila.) – "Please tell ___ that I've called."
7. Asking for Clarification
As we mentioned earlier, it can be quite difficult for a non-native speaker to talk over the phone in Russian. If you fail to understand what the other person is saying, you can ask for clarification by using one of these simple Russian phone phrases: 
Можете, пожалуйста, повторить? (Mozhete, pozhaluysta, povtorit'?) – "Could you repeat, please?"
Вас плохо слышно. (Vas ploho slyshno.) – "I can't hear you well."
Я не расслышал / расслышала. (Ya ne rasslyshal / rasslyshala.) – "I didn't hear."
Пожалуйста, говорите погромче. (Pozhaluysta, govorite pogromche.) – "Speak louder, please."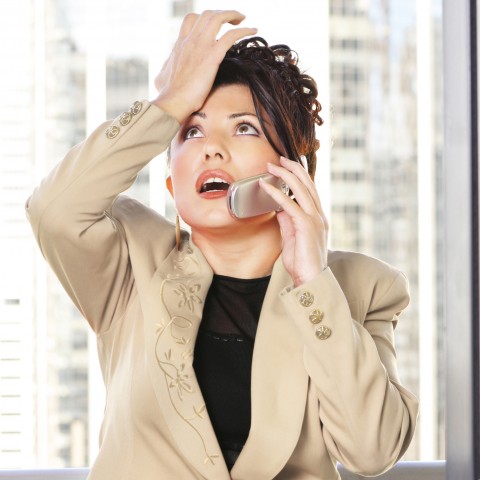 Talking to a Russian consultant using the Russian phone conversation phrases we've covered? Remember that he or she is probably overwhelmed with work, so be patient!
8. Ending the Phone Call
There are a few different ways you could end your phone call, depending on the situation. Below are several phrases you could use to sound polite and friendly while ending the conversation. 
Я могу вам чем-то ещё помочь? (Ya mogu vam chem-to eshchyo pomoch'?) – "Is there anything else I can help you with?"
Вы мне очень помогли, спасибо! (Vy mne ochen' pomogli, spasibo!) – "You helped me a lot, thank you!"
Спасибо за помощь. (Spasibo za pomoshch'.) – "Thank you for your help."
Увидимся в… (Uvidimsya v…) – "See you at…"
До встречи. (Do vstrechi.) – "See you."
Хорошего дня / вечера. (Horoshego dnya / vechera.) – "Have a good day / evening."
До свидания. (Do svidaniya.) – "Goodbye."
Пока. (Poka.) – "Bye."
9. Sample Phone Conversations
Now that you know quite a few Russian phone call phrases, it's time to take it a step further. We've prepared two sample dialogues for you. The first one is an informal chat between two friends and the second one is a formal conversation between one of the friends and a cafe manager. You'll see some of the phrases we've covered already in these dialogues, so be attentive while reading!
Conversation #1
Дима:
Алло.
Allo.
"Hello."
Рома: 
Алло, Дима, это Рома.
Allo, Dima, eto Roma.
"Hello, Dima, this is Roma."
Дима: 
Привет, Рома, рад тебя слышать! Как у тебя дела?
Privet, Roma, rad tebya slyshat'! Kak u tebya dela?
"Hello, Roma, glad to hear from you! How are you?"
Рома: 
Дела отлично, твои как?
Dela otlichno, tvoi kak?
"I'm fine, what about you?"
Дима:
пойдёт. Что нового?
Poydyot. Chto novogo?
"I'm okay. What's new?"
Рома: 
Ничего особенного… Слушай, я тут хочу пообедать в субботу в новом кафе на Арбате. Называется «Кофебум». Может, слышал?
Nichego osobennogo… Slushay, ya tut hochu poobedat' v subbotu v novom kafe na Arbate. Nazyvaetsya «Kofebum». Mozhet, slyshal?
"Nothing special… You know, I want to have lunch at a new cafe on Arbat on Saturday. It's called Сoffeeboom. Have you heard about it?"
Дима: 
Да, я собирался туда сходить, но всё никак.
Da, ya sobiralsya tuda shodit', no vsyo nikak.
"Yes, I was going to go there, but still haven't."
Рома: 
Здорово! Буду я, Женя и Макс. Ты пойдёшь с нами?
Zdorovo! Budu ya, Zhenya i Maks. Ty poydyosh' s nami?
"Nice! There will be Zhenya, Max, and I. Will you join us?"
Дима: 
А во сколько вы собираетесь?
A vo skol'ko vy sobiraetes'?
"Well, what time are you going to meet?"
Рома: 
В три.
V tri.
"At three."
Дима: 
Отлично, я как раз к этому времени освобожусь.
Otlichno, ya kak raz k etomu vremeni osvobozhus'.
"Nice, I'll be free right by this time."
Рома: 
Вот и договорились! Тогда до скорого.
Vot i dogovorilis'! Togda do skorogo.
"I guess we've got a deal. See you soon!"
Дима: 
До скорого!
Do skorogo!
"See you!"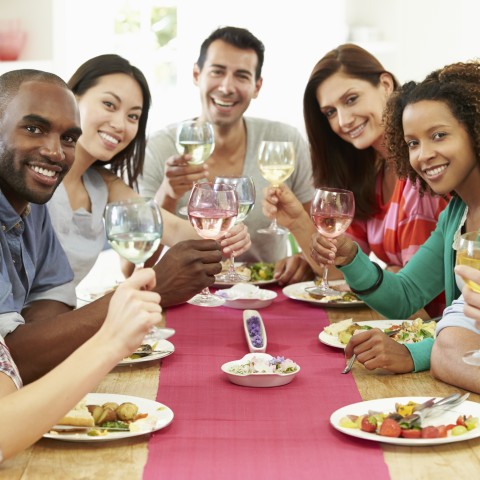 Lunch with friends is certainly a good plan for Saturday!
Conversation #2
Екатерина: 
Кафе «Кофебум», на связи менеджер Екатерина, чем я могу вам помочь?
Kafe «Kofebum», na svyazi menedzher Ekaterina, chem ya mogu vam pomoch'?
"This is manager Ekaterina from Coffeeboom Cafe, what can I help you with?"
Рома: 
Здравствуйте, Екатерина, я хотел бы забронировать у вас столик на субботу.
Zdravstvuyte, Ekaterina, ya hotel by zabronirovat' u vas stolik na subbotu.
"Hello, Ekaterina, I'd like to book a table for Saturday."
Екатерина: 
Минутку… Какое время вас интересует?
Minutku… Kakoe vremya vas interesuet?
"Just a minute… What time are you interested in?"
Рома: 
Три часа дня.
Tri chasa dnya.
"Three in the afternoon."
Екатерина:
Сколько будет гостей?
Skol'ko budet gostey?
"How many guests will be there?"
Рома: 
Четыре человека.
Chetyre cheloveka.
"Four people."
Екатерина: 
На чьё имя бронировать?
Na ch'yo imya bronirovat'?
"For whom should I book?"
Рома: 
Роман.
Roman.
"For Roma."
Екатерина: 
Хорошо, забронировала вам столик на имя Роман, на субботу, на три часа дня.
Horosho, zabronirovala vam stolik na imya Roman, na subbotu, na tri chasa dnya.
"Okay, I've made a reservation for Roma, on Saturday, at three in the afternoon."
Рома: 
Всё верно, спасибо!
Vsyo verno, spasibo!
"That's right, thank you!"
Екатерина: 
Будем вас ждать! До свидания.
Budem vas zhdat'! Do svidaniya.
"We'll be waiting for you. Goodbye."
Рома: 
До свидания.
Do svidaniya.
"Goodbye."
10. Conclusion
In this guide, you've learned more than 30 Russian phone call phrases! You can use them to engage in simple dialogues, in both formal and informal situations. 
But don't stop yet! 
There are many other Russian phone phrases for use in specific situations, not to mention a wealth of additional expressions and vocabulary to discover. 
If you're serious about your studies and want to learn about the Russian language and culture in a fun, engaging manner, check out RussianPod101.com! We provide numerous study materials, including vocabulary lists and audio/video lessons for learners at every level. 
Struggling to get very far on your own? Then you might enjoy the benefits of our MyTeacher service. You can study with an experienced private tutor who speaks the language natively. They can help you better understand certain concepts and even help you with your pronunciation! 
Before you go: Have you ever made a phone call in Russian? Tell us about your experience in the comments below!
September 9, 2021
Filler words. They come to the rescue when you run out of words. Sometimes, literally. They're there when you hesitate with your answer, stutter trying to cover a lie, or…um… just need a second to think. 
Today, we'll be talking about Russian filler words and how to use them. But first, let's set the stage… Let's say I asked you to name out loud five movies with Matt Damon. Yes, right now. For real. 
Done? 
What was the sound you made when you were (painfully) trying to remember the fifth one? That's a filler. 
I'm sure you could come up with at least a couple more filler words yourself if I told you they pop up whenever you stammer. And I bet "like" or "um" would be the first ones to cross your mind! And you'd be right. That's the type of word we'll be talking about today.
Contrary to common belief, filler words are not useless. They express hesitation, impatience, and surprise. They give you some time to gather your thoughts. And today, you'll learn the top 15 Russian filler words and get a step closer to fluency. 
Filler words are extremely common, and knowing them is key to understanding native Russian speakers. Not to mention that it's very common for even intermediate and advanced learners of Russian to just thoughtlessly insert a filler from their native language here and there. Voilà. Love it!
In this article, you'll learnabout the functions of fillers, take an in-depth look into our list of Russian filler words, and find out some ways you can substitute—or even completely omit—fillers when speaking. Well, get ready to take notes!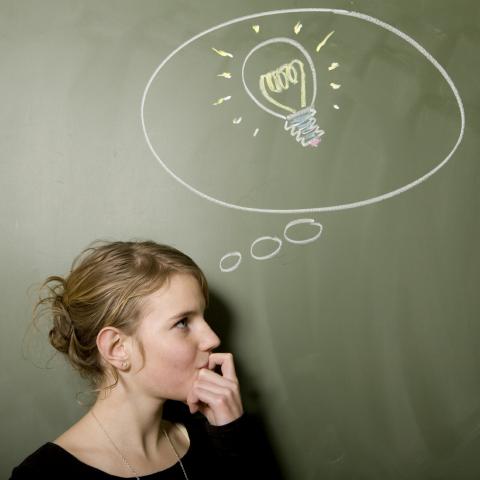 Um… Yes! The Martian as well!
Table of Contents
1. What are filler words?
Filler words (or fillers) are words and sounds that we use to fill pauses while speaking. They send a signal to our partner that we haven't finished our thought yet and just need more time to find the right words. 
Some filler words serve as a link between two ideas. But they're more decorative than they are meaningful. In this regard, they're similar to transition words. (Basically, the first word in this sentence is a transition word, just to give you an example.)
In some cases, fillers provide clues about the speaker's emotions and attitude: uncertainty, hesitation, impatience, you name it. And no, it's not only about negative emotions. Fillers can also help you gently approach delicate topics, for example, or let your partner know that you're about to say something.
Types of Russian Filler Words
We can divide Russian fillers into two groups: linking words and "parasite words."
Linking words are the transition words we mentioned earlier. They serve as a "bridge" that facilitates the transition from one idea to another. Even though, technically, you won't lose much by removing them from a sentence, they're still common in speech as well as writing. If you wrote essays in school, I bet you're quite familiar with the concept of connecting two ideas.
Parasite words are junk words and sounds that serve no purpose other than filling the gaps in your speech. They're harmless if not overused, but an excess of parasite words in your speech makes it interrupted and hard to follow. For this reason, most public speaking coaches recommend keeping them in check. I mean, no need to be a psycholinguist to notice the attitude we have toward parasite words. Just look at the name.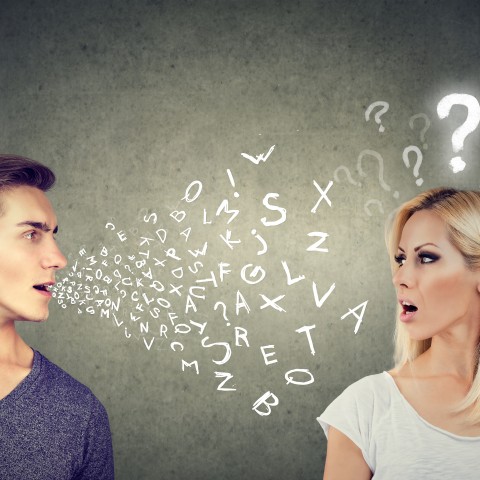 "He's really hard to follow…"
What "parasite words" do you know in your language?
2. The 15 Most Common Russian Fillers
Below, you'll find both linking words and parasite words. Try your linguistic hunch at deciding which word belongs to which group. A tiny hint: If the word can be removed without affecting the meaning of the sentence at all, it's a junk word. 
Also, pay attention to the punctuation. Russian fillers are often separated from the rest of the sentence with commas. 
#1
Ну

(nu) – "Well"
[often used before giving an answer to a question or to summarize]
Russian
– Почему опоздал?
– Ну, я проспал.
Ну, я пошёл.
Romanization
(Pochemu opozdal?)
(Nu, ya prospal.)
(Nu, ya poshyol.)
English
"Why are you late?"
"Well, I overslept."
"Well, I'm off." [leaving]
#2
Слушай

(slushay) – "Listen"[used to attract attention before a question or an offer; informal]
Слушай, ты сейчас дома? Я к тебе заеду.
(Slushay, ty seychas doma? Ya k tebe zayedu.)
"Listen, are you home now? I'll drop by."
Слушайте (slushayte) is the formal version of it. It can also be used when addressing several people.
Слушайте, а давайте сходим в кино?
(Slushayte, a davayte skhodim v kino?)
"Listen, why don't we go to the movies?" [formal or plural]
Слышь (slysh') is a vulgar version of the first two. If you want to put on the face of a bad guy, go ahead with this one; otherwise, you'd sound blatantly rude. It is, however, a common slang term among not-the-most-polite guys who you might encounter in certain suburbs of large Russian cities. Anyway, if anybody's addressing you this way, I'd refrain from interacting with them. Let me tell you, the communication is not going to be friendly.
#3
В общем

(v obshchem) – "Bottom line" / "In short"[used to summarize; emotionally neutral]
Мы расстались. В общем, упустил я свой шанс.
(My rasstalis'. V obshchem, upustil ya svoy shans.)
"We broke up. Bottom line, I missed my chance."
Надоело с ним ругаться. В общем, хватит с меня.
(Nadoyelo s nim rugat'sya. V obshchem, khvatit s menya.)
"I'm tired of arguing with him all the time. In short, I've had enough."
#4
Короче

(koroche) – "So" / "Long story short"
or

Короче говоря

(koroche govorya)
[used to summarize; can sometimes imply impatience]
Короче, был у меня друг…
(Koroche, byl u menya drug…)
"So, I had this friend once…"
Мне позвонили из той компании. Короче, меня не взяли на работу.
(Mne pozvonili iz toy kompanii. Koroche, menya ne vzyali na rabotu.)
"I got a call from that company. Long story short, I didn't get the job."
#5
Так вот

(tak vot) – "So"
[used to refer to a previous piece of information]
Помнишь его сына? Так вот, он поступил в Оксфорд. 
(Pomnish' ego syna? Tak vot, on postupil v Oksford.)
"Do you remember his son? So he got into Oxford."
Помнишь дом, который я тебе показывал? Так вот, мы его купили.
(Pomnish' dom, kotoryy ya tebe pokazyval? Tak vot, my yego kupili.)
"Do you remember the house I showed you the other day? So we bought it after all."
#6
Так сказать

(tak skazat') – "So to speak"
[used when one cannot come up with a better word]
Она выиграла в лотерею. Повезло, так сказать.
(Ona vyigrala v lotereyu. Povezlo, tak skazat'.)
"She won the lottery. Lucky, so to speak."
Я решил искать другую работу. Хочу сменить обстановку, так сказать.
(Ya reshil iskat' druguyu rabotu. Khochu smenit' obstanovku, tak skazat'.)
"I've decided to look for another job. I need a change of scenery, so to speak."
#7
В принципе

(v printsipe) – "Basically" / "Technically" / "As far as it goes"
[used to skip over some details or look at the bigger picture]
Мне, в принципе, больше нечего сказать.
(Mne, v printsipe, bol'she nechego skazat'.)
"Technically, I have nothing more to say."
В принципе, мне здесь нравится.
(V printsipe, mne zdes' nravitsya.)
"As far as it goes, I like it here."
#8
И всё такое

(i vsyo takoye) – "And that sort of thing" / "And so on"
[used to imply more things of the same kind]
Он жалуется, что ему некогда и всё такое.
(On zhaluyetsya, chto yemu nekogda i vsyo takoye.)
"He's complaining that he doesn't have time and that sort of thing."
Хочу на Мальдивы: пляж, море, солнце и всё такое.
(Khochu na Mal'divy: plyazh, more, solntse i vsyo takoye.)
"I want to go to the Maldives because of the beach, the sea, the sun, and so on."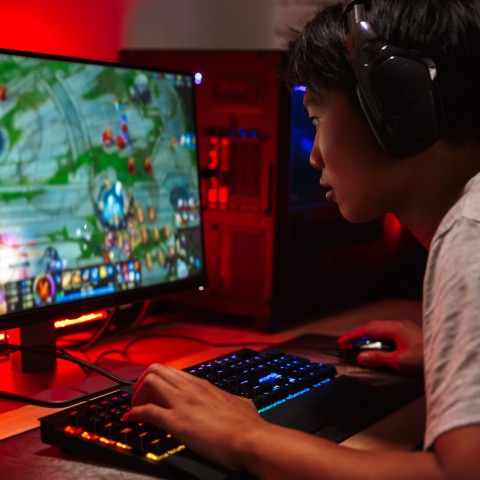 «Он жалуется, что ему некогда и всё такое…»
What's been keeping him busy?
Try to answer in Russian!
#9
Как-то так.

(Kak-to tak.) – "That's about it."
or Вот как-то так. (Vot kak-to tak.)
[used as an independent sentence; concludes an explanation; means "That's the end of my thought."]
–
Как ты нашёл эту работу?
– Как обычно. Увидел объявление, отправил резюме, прошёл собеседование. Как-то так.
– (Kak ty nashyol etu rabotu?)
– (Kak obychno. Uvidel ob'yavleniye, otpravil rezyume, proshyol sobesedovaniye. Kak-to tak.)
– "How did you find this job?"
– "As usual. I saw the posting, sent my CV, and passed the interview. That's about it."
#10
Просто

(prosto) – "Just"
[used when looking for an excuse; the speaker might feel guilty]
Я просто подумал, что так будет лучше.
(Ya prosto podumal, chto tak budet luchshe.)
"I just thought it would be better this way."
Я просто проходил мимо.
(Ya prosto prokhodil mimo.)
"I was just passing by."
#11
Это…

(eto) – "Um" / "You know" / "Well"
or

Это самое…

(eto samoye)
[used when the speaker is really struggling to find the right words or delaying their reply as long as they can]
Я это… передумал.
(Ya eto… peredumal.)
"You know, I…um…changed my mind."
Я его это самое… Выкинул.
(Ya yego eto samoye… Vykinul.)
"I…well…I threw it away."
#12
Типа

(tipa) – "Like" / "Sort of"
[used when the speaker is being slightly sarcastic about their own words; sometimes just a junk word]
Мы с ним типа «друзья».
(My s nim tipa druz'ya.)
"We are, like, 'friends'."
Типа того. (Tipa togo.) – "Something like that." / "Sort of."
– Так вы с ним друзья?
– Типа того.
– (Tak vy s nim druz'ya?)
– (Tipa togo.)
– "So you're friends?"
– "Sort of."
#13
Как бы (kak by) – "Kinda" / "Sort of"
[similar to "типа" and pretty often used as simply a junk word]
Не мешайте! Мы тут как бы работаем.
(Ne meshayte! My tut kak by rabotayem.)
"Don't disturb us! We're kinda working here."
Я как бы его помощник.
(Ya kak by ego pomoshchnik.)
"I'm kinda his assistant."
#14
Блин

(blin) – "D*mn" [lit. "pancake"]
[mild expletive]
[might get out of hand as it can be inserted anywhere in the sentence; breaks the flow completely]
Я, блин, никак не могу до него дозвониться.
(Ya, blin, nikak ne mogu do nego dozvonit'sya.)
"D*mn, I still can't get through to him."
Я, блин, везде, блин, поискал уже, блин.
(Ya, blin, vezde, blin, poiskal uzhe, blin.)
"D*mn, I've already d*mn looked in every single d*mn place!"
#15
Э-э-э…

(e-e-e) – "Er"
[sound of perplexity or active thinking]
– Ты дом закрыл?
– Э-э-э… Вроде да.
– Столица Аргентины?
– Э-э-э… Сантьяго? Нет, Буэнос-Айрес!
– (Ty dom zakryl?)
– (E-e-e… vrode da.)
– (Stolitsa Argentiny?)
– (E-e-e… Sant'yago? Net, Buenos-Ayres!)
– "Did you lock the house?"
– "Er… Yes, I guess."
– "What's the capital of Argentina?"
– "Erm… Santiago? No, Buenos Aires!"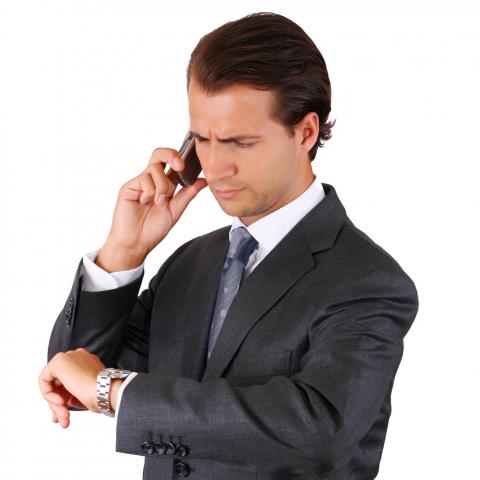 Which of the previous examples describes this situation well?
3. Are Filler Words Our Friends?
Short answer—yes and no. Sorry for the ambiguity. 
If you check again the functions of filler words, you'll see that sometimes they can help you out. Using Russian fillers in your conversations with native speakers can signal to your partner that you're about to say something or need some time to let your brain catch up with your tongue. 
Some fillers are like good red wine: a bit bitter, but probably harmless if used in moderation. (Excessive use, on the other hand, will have some consequences.) And yeah, it might also help your speech flow. We all become eloquent under the spell of wine.
The parasite words though… You should probably wave them goodbye. They bring nothing to the table and litter your speech if overused. And in many formal situations, such as interviews and public speeches, they can make you sound more hesitant and less confident. 
Should you study Russian filler words anyway? 
That's a yes. Even if you're not going to use them yourself, you'll hear them a lot. 
➤ RussianPod101 has some tips for you on how to Improve Your Listening Skills. Make sure to read through them if you feel like listening isn't your strongest suit (yet).
But if you do decide to cut some filler words from your speech…
Here are some ideas to help you "purify" your speech. These tips actually helped me limit the use of "ну" back in the day. It was my personal favorite. These tips might be useful for your native language as well!
First of all, you need to learn how to spot your junk words. For this, you can read a short text (a news article, for instance) and then summarize it out loud while recording yourself. When listening to your recording, mark all the fillers you hear. Focus on the one that pops up the most. You'll work at reducing its use in your speech from now on. 
Record yourself one more time now, paying attention to limit that one word you've chosen. Listen again. Is it already getting better? Repeat as many times as you need.

---
✦ Don't try to get rid of all the small imperfections in your speech at once. It'd make you too self-conscious, and you might start stuttering. That's not our goal. Pick one word and stick to it.
---
Also, you can ask a friend or relative to poke you every time you use the "forbidden" word. 
Don't be scared of pauses. "Awkward" is not the only adjective for "silence" in a conversation. Make it meaningful, resting, calming. You choose.
Try to use shorter sentences. Even simple ideas, when stacked, will need some linking eventually. Your convo partner will also benefit from having the info split into digestible chunks.
Calm down. You might overuse junk words when you're anxious, hesitant, or preoccupied. Slow down. Breathe in. Breathe out. Think about speaking slower. It'll give your brain more time to process the information before you put it into words.
Use more meaningful synonyms. When you do need some time to think, instead of "это…" or "э-э-э…" (which don't make you sound very smart), you can use:

Дай(те) подумать… (Day-te podumat'…) – "Let me think…" [informal / formal]
Минутку. (Minutku.) – "Just a moment."
Я думаю… (Ya dumayu…) – "I think…"
Мне кажется… (Mne kazhetsya…) – "It seems to me…"
And, again, no need to aim at 100% purity. Even if you decide to say goodbye to some junk words, don't turn them into your foes. They'll keep popping up here and there anyway, it's only natural. Remember: perfectionism and eloquence rarely go hand in hand.
➤ Feel free to also check out RussianPod101's advice on How to Improve Your Speaking Skills.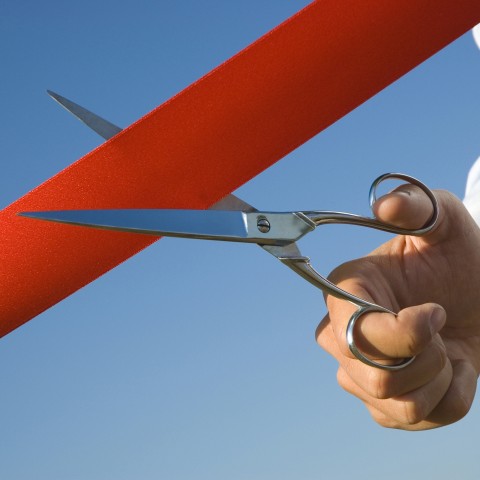 Cut your junk words one at a time.
4. What's Next?
To sum it all up, we use fillers when we hesitate, look for the right words, or want to connect two ideas. Native speakers mostly use filler words spontaneously and unconsciously. If you want to insert them in your speech as well, be prepared to make some deliberate efforts at first. Just don't get carried away and drop an occasional filler from your native language. Keep it Russian till the end!
Also, remember to not overuse the fillers. Yes, most of them do serve as linking words, but an overabundance of them will make your message difficult to follow. If you feel like you need some help getting rid of the fillers in your speech, here's some advice:
1) Start cutting them one by one by being more conscious of what you say.
2) Try altering the speed of your speech.
And don't become desperate in your pursuit of perfection! 
So, how many Russian filler words out of our top 15 can you recall from memory? Don't peek into your notes just yet! To practice, start using two or three fillers in your Russian sentences or at least try to notice them in the speech of Russian speakers.
By the way, if you happen to have more questions about Russian filler words, our teachers will help you dispel any doubts. With MyTeacher, a Premium PLUS service from RussianPod101, you get personal 1-on-1 coaching with a tutor. Feel free to ask anything about Russian grammar, vocabulary, or culture—our teachers are there to help you! You can also opt to receive assignments, grammar and vocabulary exercises, and even voice recording tasks to improve your pronunciation. Too many benefits to fit in one paragraph. Just give it a try!
Eager to learn more? RussianPod101 has lots to offer! 
Our vocabulary lists will equip you with more meaningful words to use between (or in place of) fillers. 
You should also check out our list of 20 essential Russian idioms that will make you sound like a native speaker. Some of them are really funny!
Our article of essential Russian Business Phrases will help you hesitate less during important meetings!
Happy learning with RussianPod101!
About the author: Dzhuliia Shipina is a Russian linguist and a language teacher. For the past few years, she's been traveling around the world and sharing her passion for languages with other inquiring minds. She invites you to explore the beauty of Russian and unravel its mysteries together.
August 26, 2021
Love is one of the best feelings ever, and it's one that frequently cuts across international borders and cultural backgrounds. 
If a Russian has caught your eye or completely stolen your heart, learning even a few basic phrases in his or her language might just win them over. 
In this article, we'll talk about everything from flirting to marriage and introduce you to the many ways you can say "I love you," in Russian. You'll learn the most common pick-up lines, how to express your abiding love in Russian, how to propose to that special someone, and more. 
Save these popular Russian love phrases for the person of your heart, and get ready for a whirlwind of romance! 
Table of Contents
1. Confess Your Affection: Pick-Up Lines and More
Before you learn how to say "I love you," in Russian, you need to know how to start communicating with the person you like. The phrases below will help you make the right first impression. Keep in mind that girls almost never make the first move in Russia, so these expressions are appropriate for use by men only.
Девушка, можно с Вами познакомиться?
Devushka, mozhno s Vami poznakomit'sya?
"Can I get to know you better, girl?"
In English, it's not common to start a conversation with this type of phrase, but it works well in Russian (despite being kind of a cliche). 
Вы очень красивая.
Vy ochen' krasivaya.
"You're very beautiful."
This is one of the most popular compliments to offer a woman. You can use it in any informal situation, even as a conversation starter.
Ты мне нравишься.
Ty mne nravish'sya.
"I like you."
Keep in mind that this phrase is much less serious than "I love you," in Russian. It's used more like a compliment. Before saying it, make sure you know the girl quite well as it may sound weird coming from a stranger.
Я хочу пригласить тебя на свидание.
Ya hochu priglasit' tebya na svidaniye.
"I'd like to ask you out."
After you've gotten to know each other a bit more, it's time to take bigger steps. For example, you might want to ask the girl out on a date using this phrase.
Давай поужинаем вместе?
Davay pouzhinayem vmeste?
"Let's have dinner together."
Here's another good phrase to show your interest and make a date.
Потанцуешь со мной?
Potantsuyesh' so mnoy?
"Would you like to dance with me?"
This question is suitable if you want to ask a girl to dance when at a club or a restaurant.
Я могу тебе позвонить?
Ya mogu tebe pozvonit'?
"May I call you?"
If you want to continue your acquaintance with the girl, then don't hesitate to ask this question.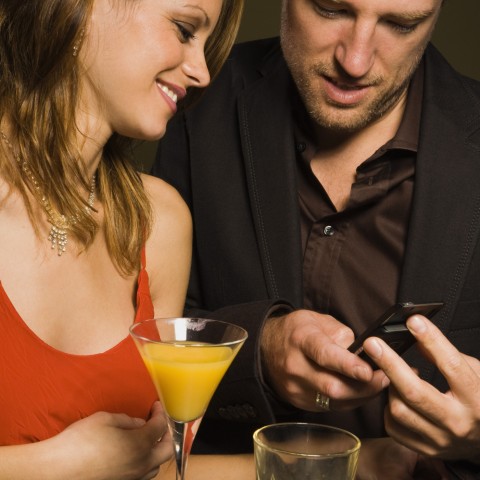 Russian flirting rules are almost the same as anywhere else, so don't be shy!
2. Fall in Deeper: "I Love You," and More
Sooner or later, you'll fall in love deeply and will want to start talking about your feelings. There are many ways of saying "I love you," in Russian, and we've picked out the very best for you. All of these phrases are appropriate for use by both men and women, so we've prepared both male and female versions where needed.
Я люблю тебя.
Ya lyublyu tebya.
"I love you."
This is a classic, go-to phrase for expressing your love in Russian.
Я влюбился / влюбилась в тебя с первого взгляда.
Ya vlyubilsya / vlyubilas' v tebya s pervogo vzglyada.
"I fell in love with you at first sight."
You can use this romantic Russian phrase to really woo your partner. Remember: A man says "влюбился," and a woman says "влюбилась."
Я постоянно думаю о тебе.
Ya postoyanno dumayu o tebe.
"I'm thinking about you all the time."
This is a sweet yet more casual way of declaring your love in Russian. You may use this expression even at the very beginning of your relationship.
Я схожу по тебе с ума.
Ya skhozhu po tebe s uma.
"I'm crazy about you."
This one isn't as common among Russians, and it sounds less trivial than the other love declarations we've covered so far. 
Я не могу без тебя жить.
Ya ne mogu bez tebya zhit'.
"I can't live without you."
We recommend only using this phrase when you're in a serious relationship.
Ты – лучше всех на свете!
Ty – luchshe vsekh na svete!
"You are the best!" (literally, "You're better than anyone else in the world!")
This romantic Russian phrase shows that you really appreciate your partner as a person.
Я тебя обожаю.
Ya tebya obozhayu.
"I adore you."
This is a very informal way of saying "I love you," in Russian. You may say it at any stage of your relationship.
Ты мне очень нужна / нужен.
Ty mne ochen' nuzhna / nuzhen.
"I need you very much."
Saying this phrase is not as thrilling as saying "I love you," in Russian, though they connote the same meaning. If you're saying it to a girl, you should say "нужна," and if your partner is a man, say "нужен."
Я всегда рядом.
Ya vsegda ryadom.
"I'm always near."
Saying this phrase shows that you care about your sweetheart, and that he or she can rely on you.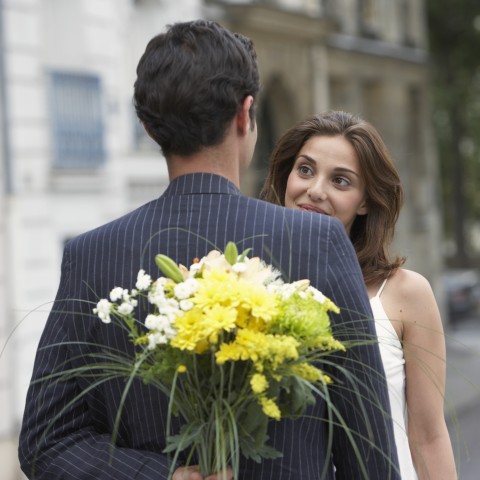 Never forget that actions are more important than words!
3. Take it One Step Further: "Will You Marry Me?" and More
Is your relationship getting serious? Are you thinking about taking steps toward a solid commitment with the man or woman of your dreams? Then there are a few more love phrases in Russian you should learn! The following expressions are universal, unless otherwise noted.
Я хочу познакомить тебя со своими друзьями.
Ya khochu poznakomit' tebya so svoimi druz'yami.
"I want to introduce you to my friends."
This is one of the first indicators for your sweetheart that your intention is really serious.
Я хочу познакомить тебя с моими родителями.
Ya hochu poznakomit' tebya s moimi roditelyami.
"I want to introduce you to my parents."
This phrase is much more serious than the previous one. It's appropriate to say this to your partner after at least a few months of being in a relationship.
Давай жить вместе.
Davay zhit' vmeste.
"Let's live together."
This is another phrase you should put off using until a bit later in your relationship, not at the very beginning. 
Ты выйдешь за меня?
Ty vyydesh' za menya?
"Will you marry me?"
This expression is for use by men only! If you want to spend the rest of your life with your girlfriend, you can make a beautiful proposal with this phrase. Most women dream of hearing this phrase! 
Давай заведём ребёнка.
Davay zavedyom rebyonka.
"Let's have a baby."
This offer usually comes some time after the marriage proposal, and it's really cute!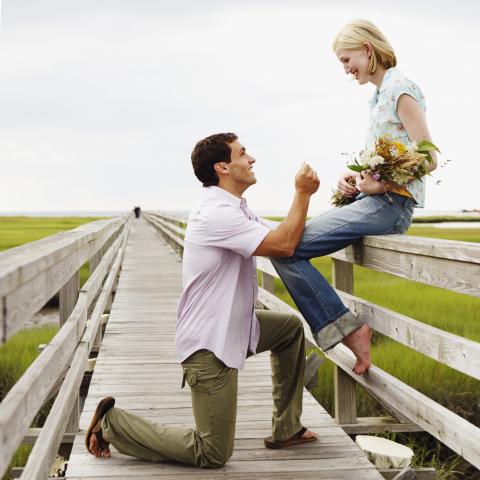 Going to make a proposal? Don't forget to turn your imagination on!
4. Endearment Terms
Couples from all over the world tend to address each other using cute nicknames, and Russians are no exception. Below, you'll find some adorable pet names you can use with your lover. 
Дорогой / Дорогая
Dorogoy / Dorogaya
"My dear," "Honey"
This term is popular among married couples. The first form is used to address a man, and the second to address a woman.
Родной / Pодная
Rodnoy / Rodnaya
"Honey"
This is an endearment term only used between people who are really close. Like in the previous example, the first form is for men, while the second is for women.
Моя любовь&
Moya lyubov'
"My love"
When they have been together for quite a long time, Russian couples like to address one another with the term "my love."
Моя радость
Moya radost'
"My joy"
This term perfectly objectifies the happiness that another person brings into your life. 
Мой ангел
Moy angel
"My angel"
This sounds not only sweet, but also somewhat more significant than the previous phrases. 
Душа моя
Dusha moya
"My soul"
This is a term of deep affection. When you call somebody "my soul," it means that this person is of great importance to you.
Солнышко
Solnyshko
"My sun," "Sunny"
This is one of the most common words used to express affection in the Russian language.
In most cases, this word is used toward girls. 
Котёнок
Kotyonok
"Kitten"
This word is also more appropriate when used toward girls, but some guys don't mind being called a "kitten" either!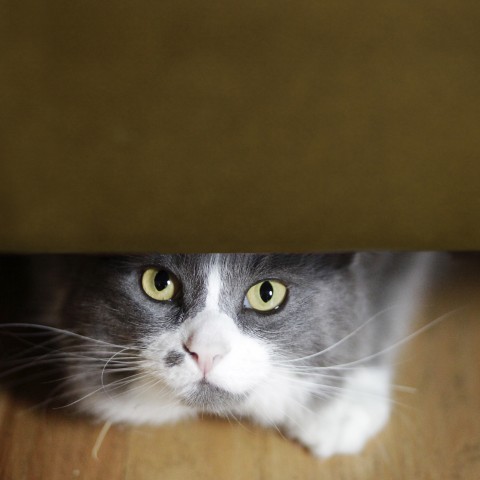 Before calling somebody "котёнок"… make sure your real cat is not very jealous!
5. Must-Know Love Quotes
Want some extra romance in your life? Watch the movie From Russia with Love, listen to some mood music, or…simply read these love quotes in Russian: 
Моё любимое место – рядом с тобой.
Moyo lyubimoye mesto – ryadom s toboy.
"Together with you is my favorite place to be."
Если бы мне пришлось прожить эту жизнь снова, я бы нашел тебя раньше.
Esli by mne prishlos' prozhit' etu zhizn' snova, ya by nashyol tebya ran'she.
"If I were to live my life again, I'd find you sooner."
Если я знаю, что такое любовь, то только благодаря тебе.
Esli ya znayu, chto takoye lyubov', to tol'ko blagodarya tebe.
"If I know what love is, it is because of you."
Лучше любить и потерять, чем не любить вовсе.
Luchshe lyubit' i poteryat', chem ne lyubit' vovse.
"Better to have loved and lost than never to have loved at all."
Если любовь не безумна, то это не любовь.
Yesli lyubov' ne bezumna, to eto ne lyubov'.
"When love is not madness, it is not love."
6. Conclusion
In this article, you've learned how to say "I love you," in Russian, as well as the most common and useful Russian love phrases. But as beautiful as these phrases are, there's still a lot more to learn about Russian if you want to master the language of your lover's heart. 
On RussianPod101.com, you'll find tons of materials to help you communicate with your loved one. With a free lifetime account, you'll gain access to tons of video and audio lessons, our themed vocabulary lists, and a variety of tools for effective learning and studying. 
Also, don't forget to check out our Premium PLUS service MyTeacher. This service provides you with a tutor with whom you can work 1-on-1 to really achieve mastery over the language. He or she can teach you more romance phrases, for instance, and help you learn their pronunciation. 
Before you go: What pick-up line in Russian are you most likely to try? And which of the Russian endearment terms do you like the most? Please, let us know in the comments section below!
August 10, 2021
Don't get me wrong. I'm all about the new experiences and discoveries that the magic "yes"-word can draw us toward. But sometimes we have to say no. Be it an invitation to a boring party, your kid begging for a 57th toy at the store, or a fast-food clerk offering you extra double mustard for your burger. 

"No."
With me, you'll learn about the subtleties of negation in Russian. Together we'll unearth the simple ways of negating words and statements, discuss the infamous double negation, and go over the most common negative words and expressions. I've also saved negation in questions and imperative sentences for last. You'll be well-prepared, on all fronts!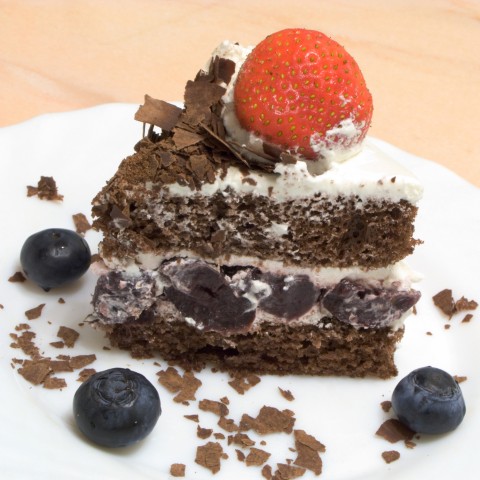 Can you say no to this?
Table of Contents
1. 3 Simple Ways to Say "No"
Yes, you have some variety here. But don't hold your breath: they're not interchangeable, and each has its own function in the sentence.
1. НЕ (versatile simple negation)
We use не for simple negation. In other words, to make the opposite of a word. Just placing it in front of the word you want to negate will do the trick.
Verbs
Не думаю. – "I don't think so."
(Ne dumayu)
Я его не вижу. – "I don't see him."
(Ya yego ne vizhu)
Nouns
Это не кот, а собака. – "It's not a cat, it's a dog."
(Eto ne kot, a sobaka)
Это самолёт, а не птица. – "It's a plane, not a bird."
(Eto samolyot, a ne ptitsa)
Pronouns
Это не я. – "It wasn't me."
(Eto ne ya)
Это не его дом. – "That isn't his house."
(Eto ne yego dom)
Numbers
Я тут не первый раз. – "It's not my first time here."
(Ya tut ne pervyy raz)
Их не двое, а трое. – "There are three of them, not two."
(Ikh ne dvoye, a troye)
Adjectives
неинтересный фильм – "not an interesting movie"
(neinteresnyy fil'm)
несмешная шутка – "not a funny joke"
(nesmeshnaya shutka)
Adverbs
Это не всегда хорошо. – "That's not always good."
(Eto ne vsegda khorosho)
Пушкин известен не только в России. – "Pushkin is famous not only in Russia."
(Pushkin izvesten ne tol'ko v Rossii)
You might've noticed that sometimes we separate the particle не from the other word, and sometimes we merge them. At this moment, just remember that we write не separately with most verbs, nouns, pronouns, and numbers. Adverbs and adjectives are much more capricious in this regard. It's difficult to even sum it up in one paragraph, so let's get back to it once you've leveled up to the advanced stage. That's 'simple' negation, right?
2. НИ (strong negation)
This particle for strong Russian negation is mostly used for emphasis.
Rejecting both options
Мне не нравится ни то, ни другое. – "I don't like either of them."
(Mne ne nravitsya ni to, ni drugoye)
Не хочу ни торт, ни печенье. – "I want neither cake, nor cookies."
(Ne khochu ni tort, ni pechen'ye)
"Not a single…"
Он ни разу не позвонил. – "He didn't call even once."
(On ni razu ne pozvonil)
Она ни слова не сказала. – "She didn't say (a single) word."
(Ona ni slova ne skazala)
"No matter…"
Как бы мы ни старались, ничего не получалось. – "No matter how hard we tried, nothing worked."
(Kak by my ni staralis', nichego ne poluchalos')
Я буду с тобой, что бы ни случилось. – "I'll be with you no matter what."
(Ya budu s toboy, chto by ni sluchilos')
НИ usually triggers a double negation. You can try to guess what this means by looking at the examples above, and then check the next chapter to see if you were right.
3. НЕТ (negation of the whole sentence)
Used as a negative reply.
– Ты дома? (Ty doma?) – "Are you home?"
– Нет. (Net) – "No."
– Кушать хочешь? (Kushat' khochesh'?) – "Are you hungry?"
– Нет. (Net) – "No."
Нет is pretty neutral overall, but if you want to sound more polite in a formal setting, you can use: 

Нет, извините. (Net, izvinite) – "No, sorry." 

Or:

Нет, спасибо. (Net, spasibo) – "No, thank you."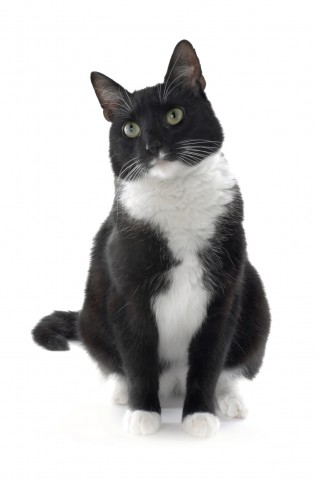 That's a dog. Am I right?
You can try to convince me otherwise in Russian.
2. Double Negation: Negative Pronouns and Adverbs
When the strong negation particle ни (or negative words starting with ни) is used together with the simple negation particle (не), this creates double negation in Russian. Negations stack up instead of canceling each other out. In a sense, it's like a cumulative effect.
Let's say you're in a dark room and can only move by touch. In English, you'd say "I see nothing." In Russian, it would be:
Я ничего не вижу. (Ya nichego ne vizhu) [lit. "I don't see nothing."] 
That's how it works.
Double simple не, however, might have the opposite effect: they can be mutually destructive.
Я не мог не засмеяться. – "I couldn't help but laugh." [lit. "I couldn't not laugh."]
(Ya ne mog ne zasmeyat'sya)
Не могу об этом не думать. – "I can't stop thinking about it." [lit. "I can't not think about it."]
(Ne mogu ob etom ne dumat')
Now, what are these negative words starting with ни? Grammatically speaking, some of them belong to pronouns and some—to adverbs. The biggest difference is that pronouns usually decline (change their form depending on the grammatical case) while adverbs don't. But for your convenience, I've put them all in one place, and left a note as well.
➤ Wiktionary can help you with the declensions. Just copy/paste or type the Russian word in the search box, then find "Declensions." Try it out with the word "никто," for instance.
Also, some negative pronouns and adverbs have a 'sibling word' with one letter that is different. The stréss shifts, changing the pronunciation of the word together with its meaning. Some of these words 'take the wrong path' and lose their negative attribute to become a completely new word.
Никтó (nikto) – "nobody"

[declines]



Никто не пришёл. 
(Nikto ne prishyol)
"Nobody came."
Нéкто (nekto) – "somebody unfamiliar / little-known"

Некто постучал в дверь. 
(Nekto postuchal v dver')
"Somebody knocked."
Никогó (nikogo) – "nobody" ["никто" in Genitive]

Дома никого нет. 
(Doma nikogo net) 
"There is nobody home."
Нéкого (nekogo) – "there is nobody to…"

[declines]



Ей некого позвать на день рождения. 
(Yey nekogo pozvat' na den' rozhdeniya)
"She has nobody to invite to her birthday."

❗️

no double negation with "некого"

Ничтó (nichto) – "nothing"

[declines]



Ничто его не беспокоит. 
(Nichto yego ne bespokoit)
"Nothing worries him."
Нéчто (nechto) – "something"

У меня уже есть нечто подобное.
(U menya uzhe yest' nechto podobnoye)
"I already have something similar."
Ничегó (nichego) – "nothing" ["ничто" in Genitive]

Ничего не осталось. 
(Nichego ne ostalos')
"There's nothing left."
Нéчего (nechego) – "to have nothing to…"

[declines]



Мне нечего надеть. 
(Mne nechego nadet')
"I have nothing to wear."

❗️

no double negation with "нечего"

Нигдé (nigde) – "nowhere"

Его нигде нет. 
(Yego nigde net)
"He's nowhere to be found."

Нéгде

(negde) – "there is no place to…"

Ему негде жить. 
(Yemu negde zhit') 
"He has no place to live."
Никудá (nikuda) – "(to) nowhere"

Никуда не пойдёшь, ты наказан. 
(Nikuda ne poydyosh', ty nakazan) 
"You aren't going anywhere, you're grounded."
Нéкуда (nekuda) – "there is nowhere to…"

В этом городе некуда пойти вечером. 
(V etom gorode nekuda poyti vecherom) 
"In this town, there is no place to go out at night."
Никогда (nikogda) – "never"

Я никогда не был в России. 
(Ya nikogda ne byl v Rossii) 
"I've never been to Russia."
Нéкогда (nekogda) – "no time to…"

Мне некогда этим заниматься. 
(Mne nekogda etim zanimat'sya) 
"I have no time for this."
Никак (nikak) – "by no means," "impossible"

Никак не могу найти свои ключи. 
(Nikak ne mogu nayti svoi klyuchi)
"It's impossible to find my keys."

Нискóлько

(niskol'ko) – "not a bit"

Мне нисколько не страшно. 
(Mne niskol'ko ne strashno) 
"I'm not scared a bit."
Нéсколько (neskol'ko) – "some," "a couple"

[declines]



Тут есть несколько интересных мест. 
(Tut yest' neskol'ko interesnykh mest)
"There are a couple of interesting places here."
Никакой (nikakoy) – "none," "not one"

[declines like an adjective, combines with a noun]



У меня нет никаких идей. 
(U menya net nikakikh idey)
"I don't have any ideas."
Ничей (nichey) – "nobody's"

[declines, has a gender and number, used with a noun or separately]



Ему не нужны ничьи советы. 
(Yemu ne nuzhny nich'i sovety) 
"He doesn't need anybody's advice."

A: Это чей карандаш? (Eto chey karandash?) – "Whose pencil is it?"
B: Ничей. (Nichey) – "Nobody's."
Нéзачем (nezachem) – "there is no need to…"

Незачем об этом беспокоиться. 
(Nezachem ob etom bespokoit'sya) 
"There is no need to worry about that."
Ниотку́да (niotkuda) – "out of nowhere"

Он появился как будто из ниоткуда. 
(On poyavilsya kak budto iz niotkuda) 
"It's like he appeared out of nowhere."

Нéоткуда

(neotkuda) – "from nowhere"

Помощи ждать неоткуда. 
(Pomoshchi zhdat' neotkuda) 
"There won't be any help coming (from anywhere)."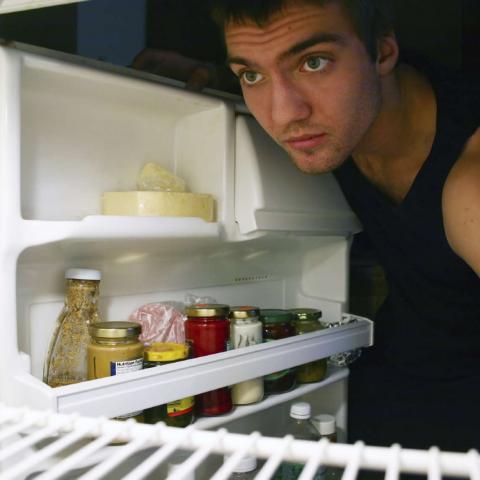 How would you complain in Russian about the absence of food in the fridge?
One of the phrases mentioned above might come in handy.
3. Negation in Questions & Using the Negative Imperative
Russian word order is a blessing. It's relatively flexible, yet it doesn't change according to the punctuation mark at the end of the sentence; it can be subtle, but is overall easy to get along with. So why this ode to the word order all of a sudden? 
Right, the questions. When you ask a negative question, nothing changes in terms of word order. Just place the negation where it belongs: simple negation in front of the word you wish to negate, other negative words depending on the context.
Почему ты не ешь? – "Why aren't you eating?"
(Pochemu ty ne yesh'?)
Тебе не с кем пойти? – "Don't you have anybody to go with?"
(Tebe ne s kem poyti?)
An interesting thing about negative Russian questions is that sometimes negation can actually mean affirmation. Gently drawing your attention to the examples before you get confused:
Не хочешь чего-нибудь выпить? = Хочешь чего-нибудь выпить? 
([Ne] khochesh' chego-nibud' vypit'?)
"Would you like to drink something?"
Ты не работал вчера? = Ты работал вчера?
(Ty [ne] rabotal vchera?)
"Did you work yesterday?"
Не хочешь куда-нибудь сходить? = Хочешь куда-нибудь сходить?
([Ne] khochesh' kuda-nibud' skhodit'?)
"Would you like to go out?"
That might be a hard pill to swallow. But seriously, when in doubt, stick to the 'affirmative' questions. 
➤ By the way, we have an article about Russian questions if the topic has piqued your interest.
The same formula works for the imperative sentences. When you don't want somebody to do something, simply put не in front of the 'prohibited' action.
Не смотри! (Ne smotri!) – "Don't look!" [informal]
Не ходи туда! (Ne khodi tuda!) – "Don't go there!" [informal]
Не смейтесь! (Ne smeytes'!) – "Don't laugh!" [formal]
➤ If you struggle to understand how the Russian imperative works, you can figure it out with one of our lessons in the Upper Beginner series.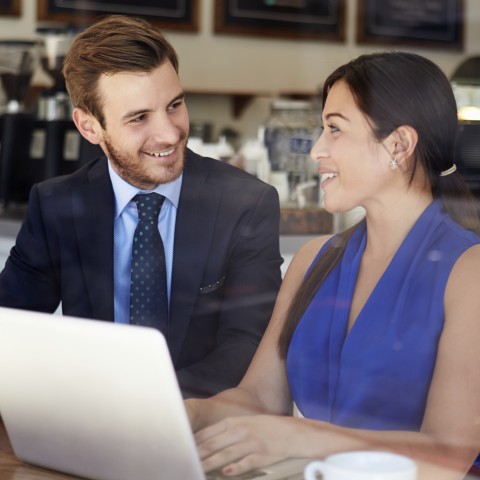 Ask your Russian colleague out. Give it a shot; you have a hint in this chapter.
4. More Typical Negative Phrases for the Road
(That are not always negative)
To wrap up our article on negation in the Russian language, let's go over a few negative phrases that will come in handy on a daily basis. 
Ничего!

(Nichego) – "It's okay."
– Прости, я не смогу прийти.
(Prosti, ya ne smogu priyti)
"Sorry, I won't be able to come."
– Ничего!
(Nichego)
"It's okay."
Очень даже ничего. (Ochen' dazhe nichego) – "Not half bad."
А эта машина очень даже ничего. – "Well, this car isn't half bad."
(A eta mashina ochen' dazhe nichego)
У меня нет…

(U menya net) – "I don't have…"
У меня нет телевизора.
(U menya net televizora)
"I don't have a TV."
У меня нет девушки.
(U menya net devushki)
"I don't have a girlfriend."
больше не…

(bol'she ne) – "not… anymore"
Я больше не могу есть.
(Ya bol'she ne mogu yest')
"I can't eat anymore."
Она больше не может ждать.
(Ona bol'she ne mozhet zhdat')
"She can't wait anymore."
ещё не…

(yeshchyo ne) – "not yet"
Я ещё не готов.
(Ya yeshchyo ne gotov)
"I'm not ready yet."
Они ещё не пообедали.
(Oni yeshchyo ne poobedali)
"They haven't had lunch yet."
почти не…

(pochti ne) – "hardly," "barely"
Я почти не спал прошлой ночью.
(Ya pochti ne spal proshloy noch'yu)
"I barely slept last night."
Я почти не говорю по-русски.
(Ya pochti ne govoryu po-russki)
"I barely speak any Russian."
совсем не…

(sovsem ne) – "not at all"
Я совсем об этом не подумал. 
(Ya sovsem ob etom ne podumal)
"I haven't thought about it at all."
Я совсем не устал. 
(Ya sovsem ne ustal)
"I'm not tired at all."
чуть не…

(chut' ne) – "nearly"
Я чуть не упал.
(Ya chut' ne upal)
"I nearly fell."
Я чуть не проспал. 
(Ya chut' ne prospal)
"I nearly overslept."
– У тебя есть ручка?
(U tebya yest' ruchka?)
"Do you have a pen?"
– Не-а.
(Ne-a)
"Nope."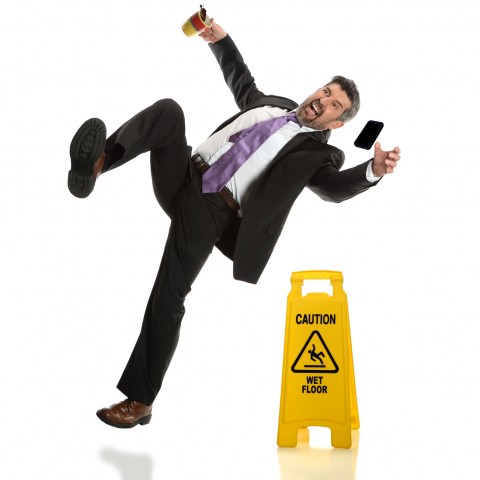 Я чуть не упал!
5. What's Next?
Have you learned a lot about Russian negation today? I hope for this one, the answer will be affirmative! 
Let's do a quick recap. 
For a simple negation, you put НЕ in front of the word.
For a strong negation, you use НЕ plus НИ.
For a negative reply, you say НЕТ.
There are also a bunch of Russian negative pronouns and adverbs that can be used in a sentence. How many can you recall right away, without peeking into the notes? Some have a 'sibling' word that might seem similar, but they're pronounced differently, so pay attention to the stress! The very meaning of the word depends on it, after all. No pressure.
Negation doesn't cause much trouble in questions and imperative sentences. Just a small two-letter particle is placed in front of the word. 
By the way, if you still have more questions about Russian negation, our teachers will help you dispel any doubts. With RussianPod101's Premium PLUS service, MyTeacher, you get personal 1-on-1 coaching with a tutor. Feel free to ask anything about Russian grammar, vocabulary, or culture—our teachers are there to help you! You can also opt to receive assignments, grammar and vocabulary exercises, and voice recording tasks to improve your pronunciation. There are too many benefits to fit in one paragraph, just give it a try!
Eager to learn more? RussianPod101 has more to offer! 
A video on word order, negative sentences, and questions. Three-in-one.
Happy learning with RussianPod101!
About the author: Dzhuliia Shipina is a Russian linguist and a language teacher. For the past few years, she's been traveling around the world and sharing her passion for languages with other inquiring minds. She invites you to explore the beauty of Russian and unravel its mysteries together.
June 25, 2021
Russian is not an easy language to learn. It often takes much longer to master than one might imagine when first starting out. 
If you're like most of us, your time is quite limited and you might be wondering this all-too-common question among aspiring learners: How long does it take to learn Russian? 
Even though this question has no definite answer, we'll try to discuss it as thoroughly as possible in the article below. We'll talk about the different factors that can affect the speed of your learning progress, how long it takes on average to achieve each level of Russian, and how to learn Russian fast and effectively. 
Let's go!
Table of Contents
How Long Will it Take to Learn Russian? 3 Defining Factors.
First of all, let's look at three of the biggest factors that impact how long it takes to learn Russian. Ask yourself how each of these points applies to you or your situation; this will give you a better idea of what to expect for the road ahead. 
Language Experience
Since you're reading this article, you must know a good bit of English. If English is the only language you speak, then you might not like what we're going to say next. Unfortunately, learning Russian can be a real challenge for native English speakers. 
This is because the two languages are not at all similar. As a Slavic language, Russian has very specific pronunciation, grammar, and syntax rules that you'll need time to get used to. The good news is that you're not alone. Just think of all the other people reading this article who are thinking about learning Russian (or who have already taken the plunge). 
→ Any time you have a question to ask or a frustration to vent, you can head over to the RussianPod101 forum to chat with other learners and native speakers.
Now, how long would it take to learn Russian if you know a second (or even a third) non-Slavic language in addition to English? In this case, you'll face many of the same problems but will also have one big advantage. Because you know more than one language, your brain is already accustomed to the process of studying foreign lexicology, grammar, etc., so it will take you less time to pick up Russian.
What if you belong to the minority of people reading this who know Belarussian, Ukrainian, Polish, Czech, Bulgarian, or any other Slavic language? Let us tell you that you're lucky. Your path to learning Russian will be really easy, because you'll understand many of the concepts straight away.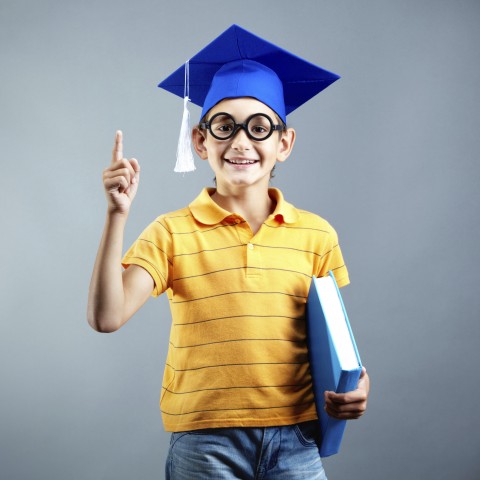 If you already know one Slavic language, it won't be difficult for you to guess the meanings of some Russian words.
Motivation
How can you expect to learn the Russian language effectively without being motivated? It's simply impossible, so you'd better come up with some kind of motivation before you start. Just think of why you need to accomplish this.
You'll be most motivated to continue your Russian studies if you know you'll get certain benefits from it later. Maybe Russian-language skills will help you get accepted to the university of your dreams, get promoted at work, or win the heart of someone you love? Such motivation will push you forward really quickly!
Passion for linguistics is another great source of motivation. Some people are so hungry for new languages that they study them one after another. 
There are also foreigners who simply love Russia and want to learn more about it, including the language that the Russians speak. Their main motivation is interest.
Self-Discipline and Schedule
It's no surprise that mastering any language requires not only motivation, but also discipline. If you only studied Russian when you felt like it, for fun, it would take much longer to learn than if you studied with a specific goal in mind and on a regular basis. 
If you're wondering how to learn Russian quickly without sacrificing quality, remember one simple thing: The more you speak Russian, write in Russian, and listen to Russian speech, the better your results will be. To study systematically, most people attend language courses. People with a high degree of willpower study on their own. In either case, the learners in question study according to a set schedule.
That said, there's one other way to learn Russian well: immerse yourself in a Russian-speaking environment. In this case, you wouldn't need to be very disciplined or bound to a schedule. If you ever have the opportunity to spend at least several months in Russia, don't miss it!
If you have troubles with self-discipline, you can try the Pomodoro Technique.
How Long Does it Take to Achieve the Elementary Level?
Taking the first steps into the world of the Russian language is incredible! You're enthusiastic and full of energy at this stage. However, the very beginning is also when you're most likely to lose interest just as quickly as you gained it, so be careful.
How long should it take to learn Russian if you want to achieve the elementary level, or A1? If you're an absolute beginner, 6 weeks of intensive study will be enough. By intensive, we mean about 120 hours of studying. This figure may sound scary, but in fact it's only 20 hours per week for 1.5 months (or 2 hours per day for about 2 months).
At this stage, your main goal is to memorize the Russian alphabet, a few useful words, and the most important everyday phrases. Start by learning the necessary vocabulary, and then a bit later you should practice making full sentences. Don't forget that memorizing words in context is much easier than doing so without context.
After 120 hours of practice, your vocabulary will be wide enough to help you get by in a limited number of everyday situations. You'll be able to:
make an order in a Russian cafe or restaurant;
buy something in a Russian shop;
ask a native speaker for directions.
In other words, an elementary knowledge will help you survive while traveling in Russia, but no more. If you want to communicate with Russians confidently, you need to achieve at least the intermediate level.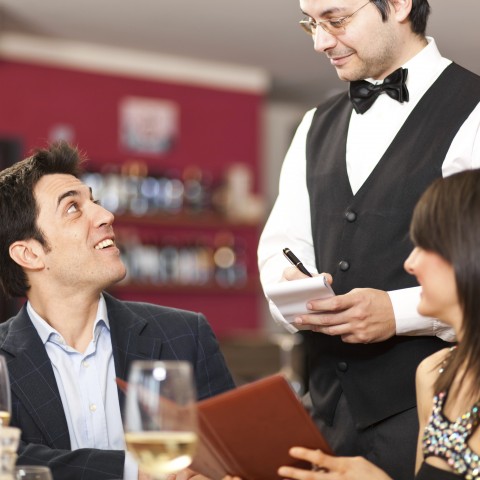 Going to visit Russia? Basic knowledge of the Russian language will be extremely helpful!
How Long Does it Take to Achieve the Intermediate Level?
If you've succeeded in achieving the elementary Russian level, then you're probably really excited to level up again! But you should be aware that reaching this level will require much more time and effort than the previous one. 
Most students achieve the intermediate level (B1) in approximately 1.5 years. During this time, they spend around 500 hours actively learning. This equates to no more than 1 hour daily. 
Of course, you can go on learning Russian for 2 hours per day as you've been doing. Doing so, you'll break new ground in 9 months. But keep in mind that your motivation will probably be a bit lower than it was at the very beginning. 
At this stage, you must pay attention to:
understanding grammar rules and implementing them; 
learning more complicated vocabulary, patterns, and structures;
mastering pronunciation.
The main sign that you've reached the intermediate level will be your ability to:
understand the most important parts of podcasts, YouTube videos, TV shows, and movies (with the use of English subtitles);
read adapted texts or books (with the frequent use of a dictionary);
participate in everyday conversations with native speakers (though you still won't have enough knowledge to hold spontaneous, complex conversations). 
At the intermediate level, you'll sometimes be unsure about how to compose sentences, pronounce words, and the like. This is absolutely okay! All these doubts will go away once you reach the advanced level.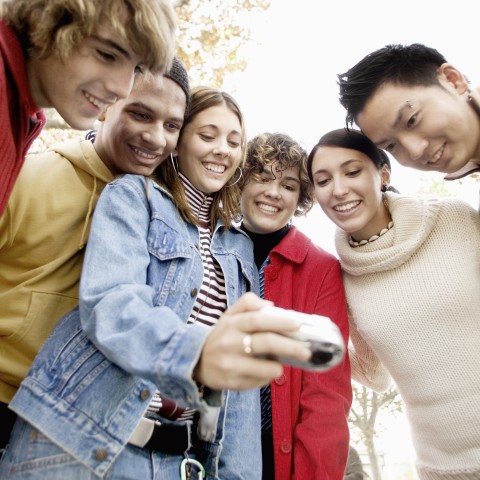 Wanna make Russian friends? If you know Russian at the intermediate level, it will be easy!
How Long Does it Take to Achieve the Advanced Level?
Most students are satisfied with the intermediate level, and there's only a small number of foreigners who decide to achieve the advanced one. If you want to be one of them, prepare to double your time and effort.
The advanced level is also called C1. The process of achieving it usually takes 900 hours. This is about 3 years of everyday practice. At this level, you'll be able to:
understand texts related to various themes and read Russian literature;
write letters, issues, and essays on problematic topics;
understand audio information as a whole;
maintain conversations with the help of different linguistic tools.
Keep in mind that this is not the end of your studies. After a few more years of regular practice, you can approach C2 and become a real expert in the Russian language—in other words, you'll be able to speak like a native. But the only possible way to reach this level of fluency is to live in Russia for some time. This will allow you to become familiar with various Russian accents and learn slang words most widely used by locals.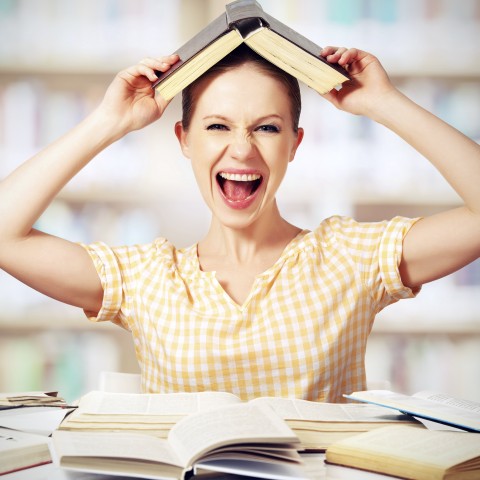 Even though reading Russian books seems too difficult for you right now, it's not impossible—believe us!
Conclusion
Now you know that mastering a language is a complex process that takes constant learning and practicing. But don't worry—we've got you covered. You'll find tons of free materials on RussianPod101.com that will satisfy your language learning cravings. 
Don't forget that we also offer our Premium PLUS students one-on-one coaching with a private tutor through MyTeacher. This will certainly speed up your progress and ensure you gain a more thorough knowledge of the language and culture.
Before you go: What's your Russian-language proficiency level? Let us know in the comments section below!
June 10, 2021
"Better late than never."
"Don't judge a book by its cover."
You're constantly surrounded by proverbs, and you probably don't pay much attention to them until you start learning a new language. This is where the fun begins: The meanings of foreign proverbs can be difficult to guess, you can't usually translate them literally, and some of them don't even have an equivalent. Yes, you'll find a few Russian proverbs like this. But what if you look at them from another angle?
Have you ever wondered where proverbs come from? Many of them haven't changed in centuries! They've been carrying wisdom from one generation to another, up until modern times. We use proverbs to console a beloved one, to give advice, or to cheer somebody up. Proverbs can be controversial, and some of them tackle the same issue from different (sometimes opposite!) angles. All in all, they reflect who we are and the values we stand for, and these values are different from one country to another.
Today, you have the chance to get a glimpse of Russian wisdom through Russian proverbs. These wise words will provide you with insight into the Russian attitude toward money and friendship, work and discipline, consolation and disapproval. You might not become enlightened right away, but I hope these proverbs get you curious to learn more about Russian people and culture.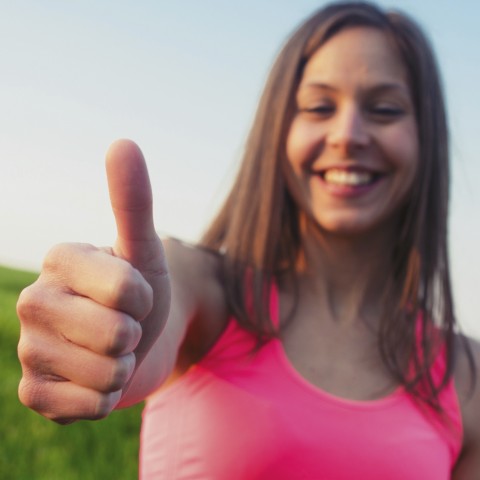 Хорошее начало — половина дела.
"Good beginning is half the battle."
Table of Contents
1. Worldly Wisdom
♦︎ Before you jump at the opportunity to broaden your cultural horizons, my advice is to get familiar with the proverb, read the literal translation, then think about the meaning it might convey. Simply connecting the English proverb with its Russian equivalent won't leave any trace in your memory. Give it a good guess first. Remember: "Easy come, easy go."
Russian

Нет худа без добра.
(Net khuda bez dobra)

Literally

There's no bad without the good.
Keep your chin up! Whatever trouble comes your way, don't let it spoil your mood. Even the most difficult situation might have an advantage.

"Every cloud has a silver lining."
Russian

Первый блин всегда комом. 
(Pervyy blin vsegda komom)

Literally

The first pancake is always lumpy.
Don't get frustrated if you fail when trying something for the first time. It's uncommon for one to succeed right away.

"Rome wasn't built in a day."
Russian

Утро вечера мудренее.
(Utro vechera mudreneye)

Literally

The morning is wiser than the evening.
When you're struggling to come up with a solution, you should give your mind some rest. It might reward you with bright ideas afterward!

"Sleep on it!"
Russian

Слово не воробей: вылетит — не поймаешь.
(Slovo ne vorobey: vyletit — ne poymayesh')

Literally

A word is not a sparrow: once it flies out, you won't catch it.
You should be careful with what you say. Words can hurt.

"What's said can't be unsaid."
Russian

Поспешишь — людей насмешишь.
(Pospeshish' — lyudey nasmeshish')

Literally

If you rush things, you'll just make others laugh.
It's fine to take your time, one step at a time. Don't sacrifice quality for the sake of saving time.

"Haste makes waste."
Russian

В каждой шутке есть доля правды.
(V kazhdoy shutke est' dolya pravdy)

Literally

There is a grain of truth in every joke.
It's believed that we joke about what actually matters to us. Obviously, that's not always the case, but sometimes people read too much into it.

"Many true words are spoken in jest."
2. Studies and Work
Students and working professionals alike can gain something of value from these Russian proverbs about work and learning! 
Russian

Повторение — мать учения.
(Povtoreniye — mat' ucheniya)

Literally

Repetition is the mother of learning.
When it comes to learning, one would have to be quite talented (or using mnemonics) to remember something on the first try. Don't shy away from reviewing key vocabulary lists and grammar rules once in a while to brush up on them.

"Practice makes perfect."
Russian

Кто не работает, тот не ест.
(Kto ne rabotayet, tot ne yest)

Literally

He who does not work, neither should he eat.
Diligence and hard work are encouraged—strongly enough to threaten you with starvation.

"One has to sing for his supper."
Russian

Без труда не вытащишь и рыбку из пруда.
(Bez truda ne vytashchish' i rybku iz pruda)

Literally

Without effort, you can't even pull a fish out of the pond.
Again, the message here is that you need to put in some effort to get a positive result.

"No pain, no gain."
Russian

Работа не волк, в лес не убежит. 
(Rabota ne volk, v les ne ubezhit)

Literally

Work isn't a wolf, it won't run into the forest.
However, sometimes you can relax and not rush into action right away. Use this saying as an excuse. 

"Never do today what you can put off until tomorrow."

Now wait a minute… Isn't that the opposite of what all those "go-achieve-it-all" books advise?
➤ Habits for Highly Effective Language Learners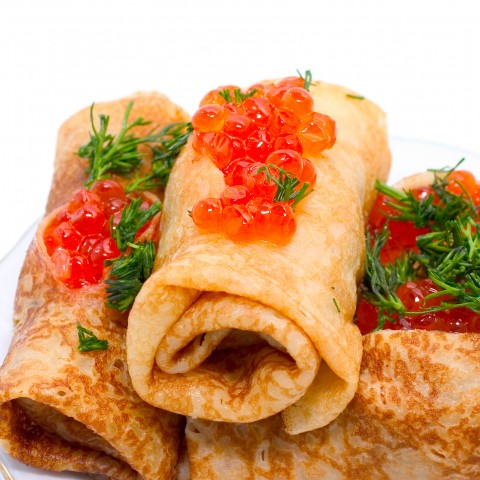 Russian pancakes with red caviar
Even if the first one was lumpy, practice makes perfect.
3. Taking Risks
Risk-taking is really two sides of the same coin. Here are some Russian proverbs and sayings on the topic that cover both sides of the story! 
If you feel adventurous
Russian

Кто не рискует, тот не пьет шампанского.
(Kto ne riskuyet, tot ne p'yot shampanskogo)

Literally

Those who don't take risks don't drink champagne.
Some believe that this expression originated from car racing, where the rally winners were showered with champagne. Others claim the proverb dates back to the early champagne-making days when bottles would accidentally explode, so going down to pick one up in the cellar was a risky adventure. Anyway, whatever side you take, remember:

"Who dares wins."
Russian

Не попробуешь — не узнаешь.
(Ne poprobuyesh' — ne uznayesh')

Literally

If you don't try, you'll never find out.
This one is self-explanatory. You need to give it a chance to see if it's going to work out.

"The proof of the pudding is in the eating."
Russian

Поживём – увидим. 
(Pozhivyom – uvidim)

Literally

We will live and then we will see.
No need to pretend to be Nostradamus and try to predict the future. Sometimes it's better to patiently wait and see what happens next.

"Time will tell."
Russian

– Ни пуха ни пера. 
– К чёрту!

– Ni pukha ni pera. 
– K chertu!

Literally

– "Neither fluff, nor feather."–
"(Go) to the devil!"
Use the first phrase to wish somebody luck. And to receive it, don't forget to send the person to the devil. (That's not really nice, if you think about it.)

The expression arose among hunters. "Fluff" and "feather" implied game and game birds respectively. Hence the superstition: If you wish somebody luck directly, the evil spirits would show up to deprive you of your hard-earned spoils. So, after bad-mouthing each other, the hunters could head to the forest with peace of mind. Nowadays, it's used whenever you want to wish somebody luck, similar to "Break a leg."

♦︎ It's often truncated to just "Ни пуха." But you should still respond with "К чёрту!"
If you are on the cautious side
Russian

Лучше синица в руках, чем журавль в небе.
(Luchshe sinitsa v rukakh, chem zhuravl' v nebe)

Literally

A tomtit in your hands is better than a crane in the sky.
It's preferable to have something small but certain than to risk losing everything by trying to get something better.

"A bird in the hand is worth two in the bush."
Russian

Тише едешь — дальше будешь.
(Tishe yedesh' — dal'she budesh')

Literally

Drive slower, and you will get further.
Slow down. Take a breath. Those who don't rush will succeed. 

The proverb works well both figuratively and literally. Drive safely!

"Little by little, one travels far."
Russian

Семь раз отмерь, один отрежь.
(Sem' raz otmer', odin otrezh')

Literally

Measure seven times before cutting once.
In Russian, we encourage you to think not twice, but seven times, before you take action. 

"Look before you leap."
Russian

За двумя зайцами погонишься — ни одного не поймаешь.
(Za dvumya zaytsami pogonish'sya — ni odnogo ne poymayesh')

Literally

If you chase after two hares, you'll end up not catching even one.
It's better to focus on one thing instead of spreading yourself too thin.

"Grasp all, lose all."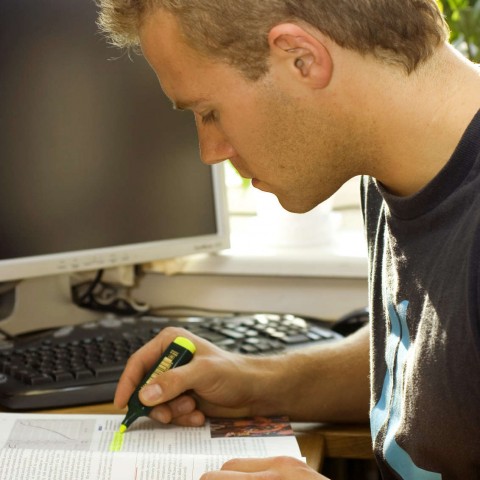 Your friend is having an exam tomorrow. How would you wish him luck in Russian?
4. Discipline
Most of these are used by parents trying to adjust their kids' behavior to "expected" standards. 
Russian

Любопытной Варваре на базаре нос оторвали.
(Lyubopytnoy Varvare na bazare nos otorvali)

Literally

Nosy Barbara got her nose torn off at the market.
Don't ask awkward questions. Don't touch this. Don't do that.

"Curiosity killed the cat."
Russian

Мечтать не вредно.
(Mechtat' ne vredno)

Literally

Dreaming won't hurt.
Feel free to dream big, but—just so you know—you won't get anything.

Parents typically use this phrase when their child acts up begging for a toy in the shop. It can also be used to sober up a friend and discourage them from fantasizing too much.

"Yeah, dream on!"
Russian

Хорошего понемножку.
(Khoroshego ponemnozhku)

Literally

Just a bit is enough.
Know your limits and don't expect much. 

"Enough is enough."
Russian

В большой семье клювом не щёлкают.
(V bol'shoy sem'ye kyuvom ne shchelkayut)

also

Кто не успел, тот опоздал.
(Kto ne uspel, tot opozdal)

Literally

You don't snap your beak in a big family.

also

Who's late is late.
So basically, the "first come, first served" rule in action.

"You snooze, you lose."
➤ Phrases Your Parents Always Say
5. Money
Could you use a little advice in the financial department? Then study these Russian proverbs about money and gain some useful Russian insight on the matter. 
Russian

Скупой платит дважды.
(Skupoy platit dvazhdy)

Literally

The stingy one pays twice.
Those who only chase low prices might end up buying something else instead. You usually get what you pay for. 

"Buy nice or buy twice."
Russian

Копейка рубль бережёт.
(Kopeyka rubl' berezhet)

Literally

A kopeck saves a ruble.
In order to save much, you shouldn't neglect little.

"Take care of the pence and the pounds will take care of themselves."
Russian

Красиво жить не запретишь.
(Krasivo zhit' ne zapretish')

Literally

You can't forbid living well.
This one can be used ironically, in reference to people who live beyond their means—or with envy (and a glimmer of hope) when gossiping about the rich.

"Living well isn't against the law."
Russian

Собака на сене лежит; сама не ест и другим не даёт.
(Sobaka na sene lezhit; sama ne yest i drugim ne dayot)

Literally

A dog is lying on the hay: won't eat it itself and won't let others eat either.
This proverb expresses disapproval of people who only hold onto something so that the others can't use it. Greedy and selfish rolled into one.

"Dog in the manger."
➤ Money-Related Expressions for Everyday Life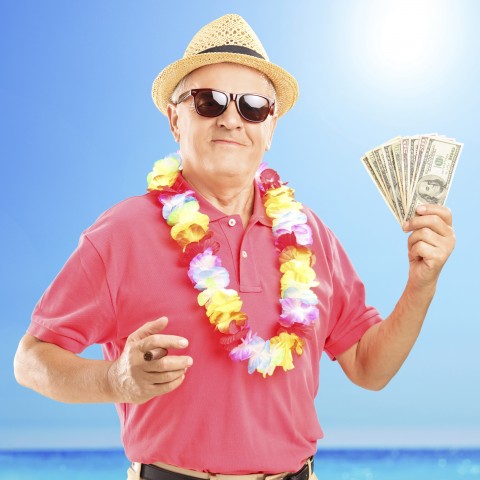 Красиво жить не запретишь.
6. Friends & Family
Wherever you are in the world, relationships are an essential aspect of everyday life. That in mind, here are a few Russian proverbs about friendship and family.
Russian

Друг познаётся в беде.
(Drug poznayotsya v bede)

Literally

You get to really know your friend when trouble comes.
A person who helps you during a difficult time is the person you can trust. 

"A friend in need is a friend indeed."
Russian

Не имей сто рублей, а имей сто друзей.
(Ne imey sto rubley, a imey sto druzey)

Literally

Don't have a hundred rubles, rather have a hundred friends.
Friendship is more valuable than money. (Nobody said one excludes the other, though.)

"A friend at court is better than a penny in a purse."
Russian

В гостях хорошо, а дома лучше.
(V gostyakh khorosho, a doma luchshe)

Literally

It's good to be visiting, but it's better at home.
If you feel relief coming back home and share the idea of "My house is my castle," you know very well where this proverb comes from.

"There is no place like home."
Russian

С милым рай и в шалаше.
(S milym ray i v shalashe)

Literally

If you're with your loved one, it's a paradise even in a hut.
You can endure any trouble if you're with your beloved one—even living in poor conditions.

"Love in the cottage."
Russian

Муж и жена — одна сатана.
(Muzh i zhena — odna satana)

Literally

The husband and the wife are the same demon.
This proverb refers to a couple with the same interests, aspirations, and ways of thinking and acting. I'd say you were lucky to find a person like that, but the proverb has a rather pejorative connotation.

"They are, indeed, of the same breed."
➤ Top 10 Quotes About Friendship
7. Sarcasm
We've all said sarcastic things from time to time, no? Let's conclude our list of Russian proverbs with some sarcastic sayings and phrases. 
Russian

Когда рак на горе свистнет.
(Kogda rak na gore svistnet)

Literally

When the crawfish whistles on the mountain.
When you hear this, rest assured: whatever you've been talking about is not going to happen. No crawfish have been detected whistling yet.

"When pigs fly."
Russian

Любовь зла, полюбишь и козла.
(Lyubov' zla, polyubish' i kozla)

Literally

Love's evil, you might even fall for a goat.
Interestingly, in Russian, we use the same word for both "male goat" and "jerk" (козёл). Anyway, falling for either of them is a dubious pleasure.

"Love is blind."
Russian

Сила есть — ума не надо.
(Sila yest' — uma ne nado)

Literally

The strong don't need to be smart.
This phrase can be used to express your disapproval of people who prefer to solve problems with force, or those who thoughtlessly show their strength off.

"All brawn and no brains."
Russian

До свадьбы заживёт.
(Do svad'by zazhivyot)

Literally

It will heal before your wedding.
You'll often hear this said when you hurt yourself. It works best with kids; you might need to come up with something else if the person you're trying to comfort is already married, though…

"You'll be alright."
Russian

Плохому танцору яйца мешают.
(Plokhomu tantsoru yaytsa meshayut)

Literally

Poor dancer is impeded by his own balls.
It's always easier to blame circumstances or other people than to accept your failure. Well, when there's nobody else to accuse, blame your body parts… (That's dud advice, by the way.)

"A poor workman blames his tools."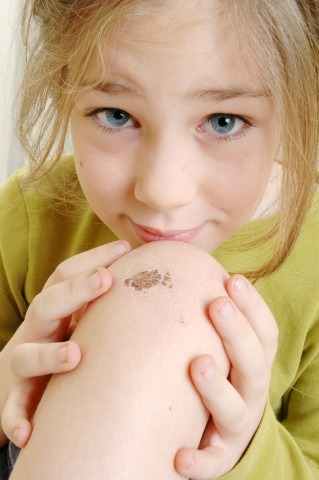 Kids being kids. How would you console her in Russian?
8. What's Next?
Today you've discovered more than thirty Russian proverbs! There's a saying for every possible situation in life, and what we've seen today was just the tip of the iceberg. Did you learn anything new about the way Russians treat friendship, family, and work? Which proverb caught your attention most of all? Let us know in the comments below!
Was it easy to guess the meaning of the proverbs without reading the translation right away? Many proverbs aren't self-explanatory, and you might need some help interpreting them, especially when it comes to connotations. Our teachers on RussianPod101.com will help you dispel any doubts. With our Premium PLUS service, MyTeacher, you get personal one-on-one coaching with a tutor. Feel free to ask about a confusing proverb you've seen recently or any other language-related question. Tutors will be there for you if you decide to work on your Russian, as well: you'll receive assignments, grammar and vocabulary exercises, and voice recording tasks to improve your pronunciation. Just give it a try!
Eager to learn more? This material will help you learn more about Russian culture:
Happy learning with RussianPod101!
About the author: Dzhuliia Shipina is a Russian linguist and a language teacher. For the past few years, she's been traveling around the world and sharing her passion for languages with other inquiring minds. She invites you to explore the beauty of Russian and unravel its mysteries together.
May 14, 2021
Moscow is a magnificent city, serving as both the Russian capital and the nation's historical and cultural center. So, if you want to learn more about the biggest country in the world—and experience its grandeur yourself—then visiting Moscow is the logical next step forward. 
But is Moscow a nice place to visit? 
Believe us: This lively city has dozens of entertainment options for all tastes. If you're ready, let's start planning your trip right now in our Moscow travel guide!
Table of Contents
Before You Go: The Most Important Things to Know
Planning a visit to Moscow involves more than getting your itinerary in order: it's also essential to know the area and what to expect. Here's some useful and interesting information about Moscow for you! 
People
Moscow is the most-populated city in all of Europe, with about twelve million people currently living there. It may surprise you, but only two percent of them are indigenous residents. The rest came to this city of big opportunities from other parts of Russia and even other post-Soviet countries. So, if you're going to travel to Moscow, be prepared to enter a busy atmosphere.
Weather
Another thing you should prepare for is the weather. Moscow is known for its long, severe winters and short, mild summers. While it's wonderful here at any time of the year, you should keep in mind that you won't be able to walk around as much during the winter. 
By the way, the best time to visit Moscow is during summer and the beginning of autumn. Before traveling, remember to check the weather forecast, because boiling summer days are not unheard of here.
Currency
In Russia, we pay in rubles; dollars and euros are only accepted in duty-free shops. Although Moscow is a modern city where you can easily pay by card, there are still some places that only accept cash. So, it would be wise to make sure that you always have some cash on you.
Accomodation
The average cost of a hotel room for two people in Moscow is around 2800 rubles (40 dollars) per day. Since Moscow is a really enormous and diverse city, you can find both luxury hotels like Radisson and really cheap variants like hostels.
Transport
The public transportation network in Moscow is well-developed. The best way to get around the city is to use the metro. The Moscow Metro system is well-known for its stunning interior, full of art and mosaics. Even if you prefer taxis, you should take the metro at least one time for the aesthetic experience.
Where else in the world can you find something similar to this?
Must-See Places for a 1-3 Day Trip
If your time in Moscow is limited, it's not a big problem. You can visit the most famous sights during your first trip and then come back for more in the future. Let's discover the must-see places for your one- to three-day visit.
Red Square
Red Square, or Красная Площадь (Krasnaya Ploshchad'), is the symbol of Moscow and of Russia in general. It's considered to be the center of Moscow, and there are always hundreds of people (mostly tourists) walking around here. 
While in Red Square, you can check out the most significant sights of Moscow. They are:
1.   St Basil's Cathedral. This unique cathedral attracts attention with its bright colors, crazy patterns, and strange shapes. It's open every day, but if you come on Sunday, you can also attend a church service.
2.   The Kremlin. The Kremlin is a long-fortified complex where the Russian government is based. There's also a museum inside.
3.   GUM. This is a huge mall with dozens of boutiques from world-famous brands. If you go inside, make sure to buy the famous GUM ice-cream at one of the ice-cream stalls.
4.   The State History Museum. This museum holds the largest collection of Russian history. There are about five million exhibits and many Russian-style interiors inside of it.
5.   Lenin's Mausoleum. Lenin was the Russian revolutionist who formed the Russian Soviet Republic. His body is still kept in a transparent sarcophagus inside the mausoleum, and everybody can see it.
It's worth noting that the amount of time you'll spend in Red Square fully depends on how deep you want to dig. Five or six hours is enough for most tourists, but some people come here for several days at a time to visit all of the museums.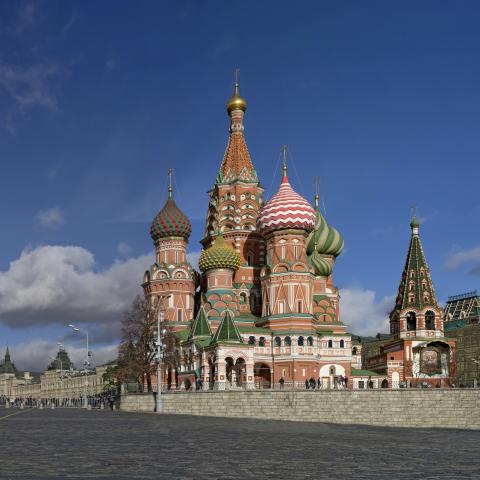 St Basil's Cathedral is the first thing that comes to any foreigner's mind when thinking of Russia.
The Bolshoi Theatre
Visiting the Bolshoi Theatre, or Большой театр (Bol'shoy teatr) as Russians call it, is an essential part of any trip to Moscow. For many years, it's been a place for holding masquerades and balls. Nowadays, many wonderful ballet and opera performances take place in the Bolshoi Theatre.
If you travel to Moscow, you'd better buy tickets to the Bolshoi Theatre ahead of time, because this place is really popular among Moscow residents and tourists alike. But even if you're not able to get tickets, you can still walk around this magnificent building and enjoy its Neoclassical architecture.
Arbat
Arbat, or Арбат (Arbat), is the second-most-famous walking street in Moscow after Red Square. Arbat is divided into two parts: the old one and the new one. The old one is a fully pedestrian area, while the new one also contains a carriageway.
Among all the good places to visit in Moscow, Arbat is the best one for getting to know Russian architecture. It's also nice to eat some traditional food in one of the local restaurants here, listen to street musicians, and buy souvenirs. Several museums are located on Arbat, and the Viktor Tsoi Memorial Wall is also situated here.
Viktor Tsoi was a legendary Russian musician, and his sudden death at the age of 28 came as a shock for millions of fans.
Highly Recommended Places for a 4-7 Day Trip (or Longer)
If you have four to seven days to stay in Russia, then you're lucky! There are plenty more places you can visit in Moscow with the extra time. 
Moscow-City
In Russian, this is called Москва-Сити (Moskva-Siti) or just (Siti). It's a modern architectural complex that consists of glass and concrete skyscrapers. The architecture of the buildings combines high tech and Neoconstructivism.
Moscow-City is a budget-friendly place where you can walk between skyscrapers and take wonderful pictures from an observation deck. If your budget isn't too limited, you can go shopping in a mall or dine in a restaurant in one of the towers.
Moscow is the city of contrasts, and this photo is proof.
The Moskva River
The Moskva River, or Москва-река (Moskva-reka), flows through the entire city. Many famous buildings are located near this river, so there's a high probability that you'll notice it while walking around the city.
If your trip is planned for summer and you would like to visit Moscow by night, we highly recommend that you roam the Moskva River on a tourist boat. The perfect way to do this is to book a late cruise and enjoy the night views of the city.
The State Tretyakov Gallery
In Russian, it's called Третьяковская Галерея (Tret'yakovskaya Galereya). As the foremost depository of fine Russian art, this is one of the best places to visit in Moscow if you like art and want to further explore Russian culture.
The State Tretyakov Gallery is composed of two buildings: the main one presents masterpieces from the early eleventh century up to the twentieth century, and the second building mainly contains works of Russian avant-garde artists from the twentieth and twenty-first centuries. In total, the gallery contains around 130,000 exhibits. It may take an entire day to see all of them.
Gorky Park
Among Russians, Gorky Park is known as Парк Горького (Park Gor'kogo). This historic park is located in the heart of the city and covers 275 acres. Several festivals and concerts take place in Gorky Park throughout the year.
Gorky Park is one of the greatest places to visit in Moscow in any season. During a summer trip, you'll be able to rent a bicycle or roller skates here; in winter, you can do ice skating.
The government takes care of Gorky Park, so every year it becomes more and more beautiful.
Sparrow Hills
Sparrow Hills is one of Moscow's highest points, where you can enjoy an outstanding panoramic view of the city. It's located near Gorky Park, so you can visit them one after the other.
In addition to the viewing place, there's also a beautiful park here in Sparrow Hills. In this park, you can get a closer look at one of the famous Stalinist skyscrapers, which is now the Moscow State University. Tours inside the building are also available.
Tsaritsyno
Tsaritsyno is a palace museum with a large park reserve located in the southern part of the city. Many years ago, Tsaritsyno served as the residence of Empress Catherine, but now the palace and other decorated buildings are open for tourists.
Tsaritsyno's enormous territory is filled with blooming gardens, greenhouses, ponds, bridges, and even mounds, so you can spend the whole day just walking around and exploring it. If you're traveling with your partner, then you should definitely arrange a romantic date here!
VDNH
VDNH is an enormous city area with various exhibition pavilions, alleys, and fountains. The abbreviation VDNH stands for the "Exhibition of Achievements of National Economy." In Russian, it's called: Выставка достижений народного хозяйства (Vystavka dostizheniy narodnogo khozyaystva), or simply ВДНХ (VDNH).
Besides walking around and discovering pavilions, you may also visit the oceanarium, check out one of the innovative exhibitions, or treat yourself to some food from the farmers' markets. In summer, there are many cyclists and roller-skaters here—and you can also be one of them!
Survival Russian Phrases for Foreigners
Unfortunately, not all Russian people can speak and understand English, so before traveling to Moscow, you should learn some basic Russian phrases. These ten expressions will suffice:
Здравствуйте. (Zdravstvuyte.) – "Hello."
Спасибо. (Spasibo.) – "Thank you."
До свидания. (Do svidaniya.) – "Goodbye."
Извините. (Izvinite.) – "Sorry."
Здорово. (Zdorovo.) – "Very good."
Я вас не понимаю. (Ya vas ne ponimayu.) – "I don't understand you."
Где здесь туалет? (Gde zdes' tualet?) – "Where is the restroom?"
Сколько это стоит? (Skol'ko eto stoit?) – "How much is it?"
Мне вот это. (Mne vot eto.) – "I want this."
Помогите! (Pomogite!) – "Help me!"
Conclusion
So, is Moscow worth visiting? We hope that this article gave you a positive answer to this question, and introduced you to plenty of great reasons to visit Moscow in the near future! 
Have you gotten your tickets to Moscow already, or would you still like to improve your Russian before your trip? You can sign up for our Premium PLUS service, MyTeacher, to have one-on-one tutoring with a native  Russian speaker. This will help you pick up the language much faster and gain additional insight into Russian culture. 
Before you go, are there any other Russian cities you would like to visit? We look forward to hearing from you!