Don't get me wrong. I'm all about the new experiences and discoveries that the magic "yes"-word can draw us toward. But sometimes we have to say no. Be it an invitation to a boring party, your kid begging for a 57th toy at the store, or a fast-food clerk offering you extra double mustard for your burger. 

"No."
With me, you'll learn about the subtleties of negation in Russian. Together we'll unearth the simple ways of negating words and statements, discuss the infamous double negation, and go over the most common negative words and expressions. I've also saved negation in questions and imperative sentences for last. You'll be well-prepared, on all fronts!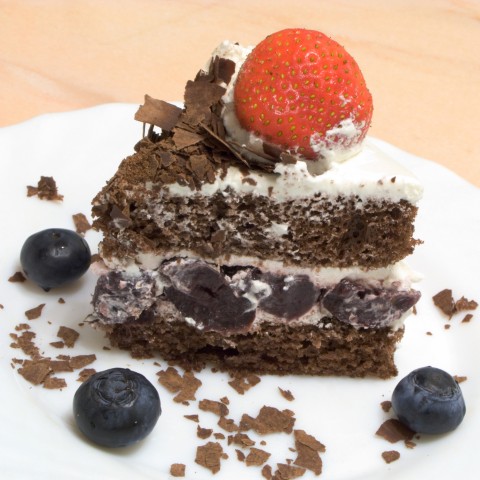 Can you say no to this?
Table of Contents
1. 3 Simple Ways to Say "No"
Yes, you have some variety here. But don't hold your breath: they're not interchangeable, and each has its own function in the sentence.
1. НЕ (versatile simple negation)
We use не for simple negation. In other words, to make the opposite of a word. Just placing it in front of the word you want to negate will do the trick.
Verbs
Не думаю. – "I don't think so."
(Ne dumayu)
Я его не вижу. – "I don't see him."
(Ya yego ne vizhu)
Nouns
Это не кот, а собака. – "It's not a cat, it's a dog."
(Eto ne kot, a sobaka)
Это самолёт, а не птица. – "It's a plane, not a bird."
(Eto samolyot, a ne ptitsa)
Pronouns
Это не я. – "It wasn't me."
(Eto ne ya)
Это не его дом. – "That isn't his house."
(Eto ne yego dom)
Numbers
Я тут не первый раз. – "It's not my first time here."
(Ya tut ne pervyy raz)
Их не двое, а трое. – "There are three of them, not two."
(Ikh ne dvoye, a troye)
Adjectives
неинтересный фильм – "not an interesting movie"
(neinteresnyy fil'm)
несмешная шутка – "not a funny joke"
(nesmeshnaya shutka)
Adverbs
Это не всегда хорошо. – "That's not always good."
(Eto ne vsegda khorosho)
Пушкин известен не только в России. – "Pushkin is famous not only in Russia."
(Pushkin izvesten ne tol'ko v Rossii)
You might've noticed that sometimes we separate the particle не from the other word, and sometimes we merge them. At this moment, just remember that we write не separately with most verbs, nouns, pronouns, and numbers. Adverbs and adjectives are much more capricious in this regard. It's difficult to even sum it up in one paragraph, so let's get back to it once you've leveled up to the advanced stage. That's 'simple' negation, right?
2. НИ (strong negation)
This particle for strong Russian negation is mostly used for emphasis.
Rejecting both options
Мне не нравится ни то, ни другое. – "I don't like either of them."
(Mne ne nravitsya ni to, ni drugoye)
Не хочу ни торт, ни печенье. – "I want neither cake, nor cookies."
(Ne khochu ni tort, ni pechen'ye)
"Not a single…"
Он ни разу не позвонил. – "He didn't call even once."
(On ni razu ne pozvonil)
Она ни слова не сказала. – "She didn't say (a single) word."
(Ona ni slova ne skazala)
"No matter…"
Как бы мы ни старались, ничего не получалось. – "No matter how hard we tried, nothing worked."
(Kak by my ni staralis', nichego ne poluchalos')
Я буду с тобой, что бы ни случилось. – "I'll be with you no matter what."
(Ya budu s toboy, chto by ni sluchilos')
НИ usually triggers a double negation. You can try to guess what this means by looking at the examples above, and then check the next chapter to see if you were right.
3. НЕТ (negation of the whole sentence)
Used as a negative reply.
– Ты дома? (Ty doma?) – "Are you home?"
– Нет. (Net) – "No."
– Кушать хочешь? (Kushat' khochesh'?) – "Are you hungry?"
– Нет. (Net) – "No."
Нет is pretty neutral overall, but if you want to sound more polite in a formal setting, you can use: 

Нет, извините. (Net, izvinite) – "No, sorry." 

Or:

Нет, спасибо. (Net, spasibo) – "No, thank you."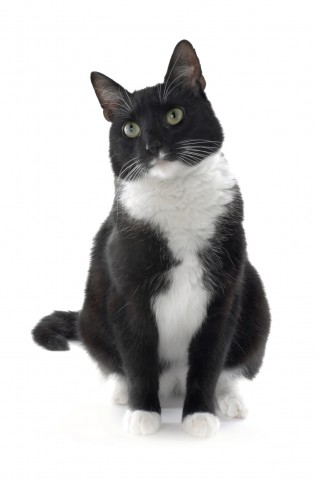 That's a dog. Am I right?
You can try to convince me otherwise in Russian.
2. Double Negation: Negative Pronouns and Adverbs
When the strong negation particle ни (or negative words starting with ни) is used together with the simple negation particle (не), this creates double negation in Russian. Negations stack up instead of canceling each other out. In a sense, it's like a cumulative effect.
Let's say you're in a dark room and can only move by touch. In English, you'd say "I see nothing." In Russian, it would be:
Я ничего не вижу. (Ya nichego ne vizhu) [lit. "I don't see nothing."] 
That's how it works.
Double simple не, however, might have the opposite effect: they can be mutually destructive.
Я не мог не засмеяться. – "I couldn't help but laugh." [lit. "I couldn't not laugh."]
(Ya ne mog ne zasmeyat'sya)
Не могу об этом не думать. – "I can't stop thinking about it." [lit. "I can't not think about it."]
(Ne mogu ob etom ne dumat')
Now, what are these negative words starting with ни? Grammatically speaking, some of them belong to pronouns and some—to adverbs. The biggest difference is that pronouns usually decline (change their form depending on the grammatical case) while adverbs don't. But for your convenience, I've put them all in one place, and left a note as well.
➤ Wiktionary can help you with the declensions. Just copy/paste or type the Russian word in the search box, then find "Declensions." Try it out with the word "никто," for instance.
Also, some negative pronouns and adverbs have a 'sibling word' with one letter that is different. The stréss shifts, changing the pronunciation of the word together with its meaning. Some of these words 'take the wrong path' and lose their negative attribute to become a completely new word.
Никтó (nikto) – "nobody"

[declines]



Никто не пришёл. 
(Nikto ne prishyol)
"Nobody came."
Нéкто (nekto) – "somebody unfamiliar / little-known"

Некто постучал в дверь. 
(Nekto postuchal v dver')
"Somebody knocked."
Никогó (nikogo) – "nobody" ["никто" in Genitive]

Дома никого нет. 
(Doma nikogo net) 
"There is nobody home."
Нéкого (nekogo) – "there is nobody to…"

[declines]



Ей некого позвать на день рождения. 
(Yey nekogo pozvat' na den' rozhdeniya)
"She has nobody to invite to her birthday."

❗️

no double negation with "некого"

Ничтó (nichto) – "nothing"

[declines]



Ничто его не беспокоит. 
(Nichto yego ne bespokoit)
"Nothing worries him."
Нéчто (nechto) – "something"

У меня уже есть нечто подобное.
(U menya uzhe yest' nechto podobnoye)
"I already have something similar."
Ничегó (nichego) – "nothing" ["ничто" in Genitive]

Ничего не осталось. 
(Nichego ne ostalos')
"There's nothing left."
Нéчего (nechego) – "to have nothing to…"

[declines]



Мне нечего надеть. 
(Mne nechego nadet')
"I have nothing to wear."

❗️

no double negation with "нечего"

Нигдé (nigde) – "nowhere"

Его нигде нет. 
(Yego nigde net)
"He's nowhere to be found."

Нéгде

(negde) – "there is no place to…"

Ему негде жить. 
(Yemu negde zhit') 
"He has no place to live."
Никудá (nikuda) – "(to) nowhere"

Никуда не пойдёшь, ты наказан. 
(Nikuda ne poydyosh', ty nakazan) 
"You aren't going anywhere, you're grounded."
Нéкуда (nekuda) – "there is nowhere to…"

В этом городе некуда пойти вечером. 
(V etom gorode nekuda poyti vecherom) 
"In this town, there is no place to go out at night."
Никогда (nikogda) – "never"

Я никогда не был в России. 
(Ya nikogda ne byl v Rossii) 
"I've never been to Russia."
Нéкогда (nekogda) – "no time to…"

Мне некогда этим заниматься. 
(Mne nekogda etim zanimat'sya) 
"I have no time for this."
Никак (nikak) – "by no means," "impossible"

Никак не могу найти свои ключи. 
(Nikak ne mogu nayti svoi klyuchi)
"It's impossible to find my keys."

Нискóлько

(niskol'ko) – "not a bit"

Мне нисколько не страшно. 
(Mne niskol'ko ne strashno) 
"I'm not scared a bit."
Нéсколько (neskol'ko) – "some," "a couple"

[declines]



Тут есть несколько интересных мест. 
(Tut yest' neskol'ko interesnykh mest)
"There are a couple of interesting places here."
Никакой (nikakoy) – "none," "not one"

[declines like an adjective, combines with a noun]



У меня нет никаких идей. 
(U menya net nikakikh idey)
"I don't have any ideas."
Ничей (nichey) – "nobody's"

[declines, has a gender and number, used with a noun or separately]



Ему не нужны ничьи советы. 
(Yemu ne nuzhny nich'i sovety) 
"He doesn't need anybody's advice."

A: Это чей карандаш? (Eto chey karandash?) – "Whose pencil is it?"
B: Ничей. (Nichey) – "Nobody's."
Нéзачем (nezachem) – "there is no need to…"

Незачем об этом беспокоиться. 
(Nezachem ob etom bespokoit'sya) 
"There is no need to worry about that."
Ниотку́да (niotkuda) – "out of nowhere"

Он появился как будто из ниоткуда. 
(On poyavilsya kak budto iz niotkuda) 
"It's like he appeared out of nowhere."

Нéоткуда

(neotkuda) – "from nowhere"

Помощи ждать неоткуда. 
(Pomoshchi zhdat' neotkuda) 
"There won't be any help coming (from anywhere)."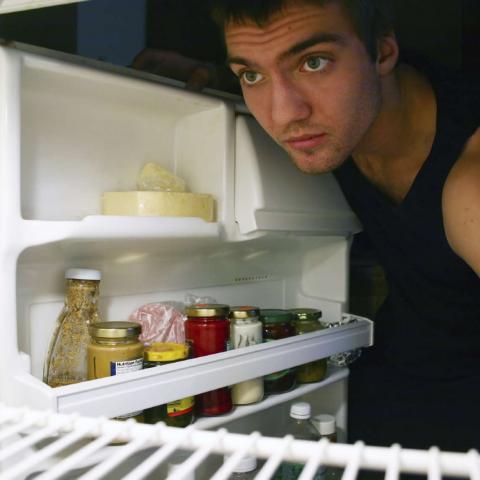 How would you complain in Russian about the absence of food in the fridge?
One of the phrases mentioned above might come in handy.
3. Negation in Questions & Using the Negative Imperative
Russian word order is a blessing. It's relatively flexible, yet it doesn't change according to the punctuation mark at the end of the sentence; it can be subtle, but is overall easy to get along with. So why this ode to the word order all of a sudden? 
Right, the questions. When you ask a negative question, nothing changes in terms of word order. Just place the negation where it belongs: simple negation in front of the word you wish to negate, other negative words depending on the context.
Почему ты не ешь? – "Why aren't you eating?"
(Pochemu ty ne yesh'?)
Тебе не с кем пойти? – "Don't you have anybody to go with?"
(Tebe ne s kem poyti?)
An interesting thing about negative Russian questions is that sometimes negation can actually mean affirmation. Gently drawing your attention to the examples before you get confused:
Не хочешь чего-нибудь выпить? = Хочешь чего-нибудь выпить? 
([Ne] khochesh' chego-nibud' vypit'?)
"Would you like to drink something?"
Ты не работал вчера? = Ты работал вчера?
(Ty [ne] rabotal vchera?)
"Did you work yesterday?"
Не хочешь куда-нибудь сходить? = Хочешь куда-нибудь сходить?
([Ne] khochesh' kuda-nibud' skhodit'?)
"Would you like to go out?"
That might be a hard pill to swallow. But seriously, when in doubt, stick to the 'affirmative' questions. 
➤ By the way, we have an article about Russian questions if the topic has piqued your interest.
The same formula works for the imperative sentences. When you don't want somebody to do something, simply put не in front of the 'prohibited' action.
Не смотри! (Ne smotri!) – "Don't look!" [informal]
Не ходи туда! (Ne khodi tuda!) – "Don't go there!" [informal]
Не смейтесь! (Ne smeytes'!) – "Don't laugh!" [formal]
➤ If you struggle to understand how the Russian imperative works, you can figure it out with one of our lessons in the Upper Beginner series.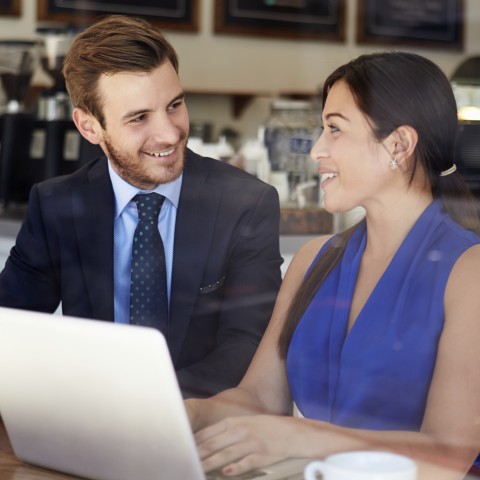 Ask your Russian colleague out. Give it a shot; you have a hint in this chapter.
4. More Typical Negative Phrases for the Road
(That are not always negative)
To wrap up our article on negation in the Russian language, let's go over a few negative phrases that will come in handy on a daily basis. 
Ничего!

(Nichego) – "It's okay."
– Прости, я не смогу прийти.
(Prosti, ya ne smogu priyti)
"Sorry, I won't be able to come."
– Ничего!
(Nichego)
"It's okay."
Очень даже ничего. (Ochen' dazhe nichego) – "Not half bad."
А эта машина очень даже ничего. – "Well, this car isn't half bad."
(A eta mashina ochen' dazhe nichego)
У меня нет…

(U menya net) – "I don't have…"
У меня нет телевизора.
(U menya net televizora)
"I don't have a TV."
У меня нет девушки.
(U menya net devushki)
"I don't have a girlfriend."
больше не…

(bol'she ne) – "not… anymore"
Я больше не могу есть.
(Ya bol'she ne mogu yest')
"I can't eat anymore."
Она больше не может ждать.
(Ona bol'she ne mozhet zhdat')
"She can't wait anymore."
ещё не…

(yeshchyo ne) – "not yet"
Я ещё не готов.
(Ya yeshchyo ne gotov)
"I'm not ready yet."
Они ещё не пообедали.
(Oni yeshchyo ne poobedali)
"They haven't had lunch yet."
почти не…

(pochti ne) – "hardly," "barely"
Я почти не спал прошлой ночью.
(Ya pochti ne spal proshloy noch'yu)
"I barely slept last night."
Я почти не говорю по-русски.
(Ya pochti ne govoryu po-russki)
"I barely speak any Russian."
совсем не…

(sovsem ne) – "not at all"
Я совсем об этом не подумал. 
(Ya sovsem ob etom ne podumal)
"I haven't thought about it at all."
Я совсем не устал. 
(Ya sovsem ne ustal)
"I'm not tired at all."
чуть не…

(chut' ne) – "nearly"
Я чуть не упал.
(Ya chut' ne upal)
"I nearly fell."
Я чуть не проспал. 
(Ya chut' ne prospal)
"I nearly overslept."
– У тебя есть ручка?
(U tebya yest' ruchka?)
"Do you have a pen?"
– Не-а.
(Ne-a)
"Nope."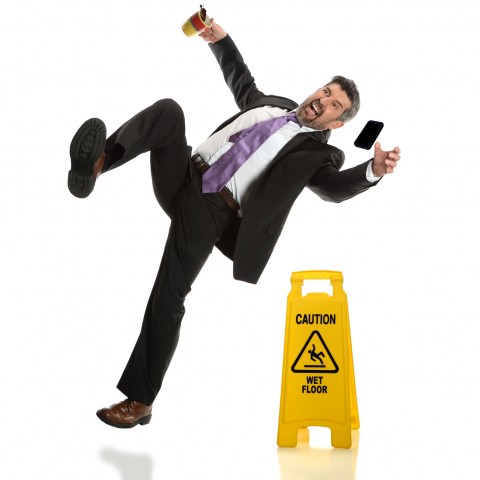 Я чуть не упал!
5. What's Next?
Have you learned a lot about Russian negation today? I hope for this one, the answer will be affirmative! 
Let's do a quick recap. 
For a simple negation, you put НЕ in front of the word.
For a strong negation, you use НЕ plus НИ.
For a negative reply, you say НЕТ.
There are also a bunch of Russian negative pronouns and adverbs that can be used in a sentence. How many can you recall right away, without peeking into the notes? Some have a 'sibling' word that might seem similar, but they're pronounced differently, so pay attention to the stress! The very meaning of the word depends on it, after all. No pressure.
Negation doesn't cause much trouble in questions and imperative sentences. Just a small two-letter particle is placed in front of the word. 
By the way, if you still have more questions about Russian negation, our teachers will help you dispel any doubts. With RussianPod101's Premium PLUS service, MyTeacher, you get personal 1-on-1 coaching with a tutor. Feel free to ask anything about Russian grammar, vocabulary, or culture—our teachers are there to help you! You can also opt to receive assignments, grammar and vocabulary exercises, and voice recording tasks to improve your pronunciation. There are too many benefits to fit in one paragraph, just give it a try!
Eager to learn more? RussianPod101 has more to offer! 
A video on word order, negative sentences, and questions. Three-in-one.
Happy learning with RussianPod101!
About the author: Dzhuliia Shipina is a Russian linguist and a language teacher. For the past few years, she's been traveling around the world and sharing her passion for languages with other inquiring minds. She invites you to explore the beauty of Russian and unravel its mysteries together.