Moscow is a magnificent city, serving as both the Russian capital and the nation's historical and cultural center. So, if you want to learn more about the biggest country in the world—and experience its grandeur yourself—then visiting Moscow is the logical next step forward. 
But is Moscow a nice place to visit? 
Believe us: This lively city has dozens of entertainment options for all tastes. If you're ready, let's start planning your trip right now in our Moscow travel guide!
Table of Contents
Before You Go: The Most Important Things to Know
Planning a visit to Moscow involves more than getting your itinerary in order: it's also essential to know the area and what to expect. Here's some useful and interesting information about Moscow for you! 
People
Moscow is the most-populated city in all of Europe, with about twelve million people currently living there. It may surprise you, but only two percent of them are indigenous residents. The rest came to this city of big opportunities from other parts of Russia and even other post-Soviet countries. So, if you're going to travel to Moscow, be prepared to enter a busy atmosphere.
Weather
Another thing you should prepare for is the weather. Moscow is known for its long, severe winters and short, mild summers. While it's wonderful here at any time of the year, you should keep in mind that you won't be able to walk around as much during the winter. 
By the way, the best time to visit Moscow is during summer and the beginning of autumn. Before traveling, remember to check the weather forecast, because boiling summer days are not unheard of here.
Currency
In Russia, we pay in rubles; dollars and euros are only accepted in duty-free shops. Although Moscow is a modern city where you can easily pay by card, there are still some places that only accept cash. So, it would be wise to make sure that you always have some cash on you.
Accomodation
The average cost of a hotel room for two people in Moscow is around 2800 rubles (40 dollars) per day. Since Moscow is a really enormous and diverse city, you can find both luxury hotels like Radisson and really cheap variants like hostels.
Transport
The public transportation network in Moscow is well-developed. The best way to get around the city is to use the metro. The Moscow Metro system is well-known for its stunning interior, full of art and mosaics. Even if you prefer taxis, you should take the metro at least one time for the aesthetic experience.
Where else in the world can you find something similar to this?
Must-See Places for a 1-3 Day Trip
If your time in Moscow is limited, it's not a big problem. You can visit the most famous sights during your first trip and then come back for more in the future. Let's discover the must-see places for your one- to three-day visit.
Red Square
Red Square, or Красная Площадь (Krasnaya Ploshchad'), is the symbol of Moscow and of Russia in general. It's considered to be the center of Moscow, and there are always hundreds of people (mostly tourists) walking around here. 
While in Red Square, you can check out the most significant sights of Moscow. They are:
1.   St Basil's Cathedral. This unique cathedral attracts attention with its bright colors, crazy patterns, and strange shapes. It's open every day, but if you come on Sunday, you can also attend a church service.
2.   The Kremlin. The Kremlin is a long-fortified complex where the Russian government is based. There's also a museum inside.
3.   GUM. This is a huge mall with dozens of boutiques from world-famous brands. If you go inside, make sure to buy the famous GUM ice-cream at one of the ice-cream stalls.
4.   The State History Museum. This museum holds the largest collection of Russian history. There are about five million exhibits and many Russian-style interiors inside of it.
5.   Lenin's Mausoleum. Lenin was the Russian revolutionist who formed the Russian Soviet Republic. His body is still kept in a transparent sarcophagus inside the mausoleum, and everybody can see it.
It's worth noting that the amount of time you'll spend in Red Square fully depends on how deep you want to dig. Five or six hours is enough for most tourists, but some people come here for several days at a time to visit all of the museums.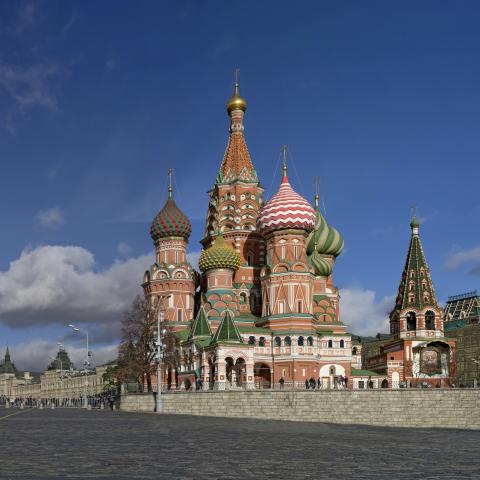 St Basil's Cathedral is the first thing that comes to any foreigner's mind when thinking of Russia.
The Bolshoi Theatre
Visiting the Bolshoi Theatre, or Большой театр (Bol'shoy teatr) as Russians call it, is an essential part of any trip to Moscow. For many years, it's been a place for holding masquerades and balls. Nowadays, many wonderful ballet and opera performances take place in the Bolshoi Theatre.
If you travel to Moscow, you'd better buy tickets to the Bolshoi Theatre ahead of time, because this place is really popular among Moscow residents and tourists alike. But even if you're not able to get tickets, you can still walk around this magnificent building and enjoy its Neoclassical architecture.
Arbat
Arbat, or Арбат (Arbat), is the second-most-famous walking street in Moscow after Red Square. Arbat is divided into two parts: the old one and the new one. The old one is a fully pedestrian area, while the new one also contains a carriageway.
Among all the good places to visit in Moscow, Arbat is the best one for getting to know Russian architecture. It's also nice to eat some traditional food in one of the local restaurants here, listen to street musicians, and buy souvenirs. Several museums are located on Arbat, and the Viktor Tsoi Memorial Wall is also situated here.
Viktor Tsoi was a legendary Russian musician, and his sudden death at the age of 28 came as a shock for millions of fans.
Highly Recommended Places for a 4-7 Day Trip (or Longer)
If you have four to seven days to stay in Russia, then you're lucky! There are plenty more places you can visit in Moscow with the extra time. 
Moscow-City
In Russian, this is called Москва-Сити (Moskva-Siti) or just (Siti). It's a modern architectural complex that consists of glass and concrete skyscrapers. The architecture of the buildings combines high tech and Neoconstructivism.
Moscow-City is a budget-friendly place where you can walk between skyscrapers and take wonderful pictures from an observation deck. If your budget isn't too limited, you can go shopping in a mall or dine in a restaurant in one of the towers.
Moscow is the city of contrasts, and this photo is proof.
The Moskva River
The Moskva River, or Москва-река (Moskva-reka), flows through the entire city. Many famous buildings are located near this river, so there's a high probability that you'll notice it while walking around the city.
If your trip is planned for summer and you would like to visit Moscow by night, we highly recommend that you roam the Moskva River on a tourist boat. The perfect way to do this is to book a late cruise and enjoy the night views of the city.
The State Tretyakov Gallery
In Russian, it's called Третьяковская Галерея (Tret'yakovskaya Galereya). As the foremost depository of fine Russian art, this is one of the best places to visit in Moscow if you like art and want to further explore Russian culture.
The State Tretyakov Gallery is composed of two buildings: the main one presents masterpieces from the early eleventh century up to the twentieth century, and the second building mainly contains works of Russian avant-garde artists from the twentieth and twenty-first centuries. In total, the gallery contains around 130,000 exhibits. It may take an entire day to see all of them.
Gorky Park
Among Russians, Gorky Park is known as Парк Горького (Park Gor'kogo). This historic park is located in the heart of the city and covers 275 acres. Several festivals and concerts take place in Gorky Park throughout the year.
Gorky Park is one of the greatest places to visit in Moscow in any season. During a summer trip, you'll be able to rent a bicycle or roller skates here; in winter, you can do ice skating.
The government takes care of Gorky Park, so every year it becomes more and more beautiful.
Sparrow Hills
Sparrow Hills is one of Moscow's highest points, where you can enjoy an outstanding panoramic view of the city. It's located near Gorky Park, so you can visit them one after the other.
In addition to the viewing place, there's also a beautiful park here in Sparrow Hills. In this park, you can get a closer look at one of the famous Stalinist skyscrapers, which is now the Moscow State University. Tours inside the building are also available.
Tsaritsyno
Tsaritsyno is a palace museum with a large park reserve located in the southern part of the city. Many years ago, Tsaritsyno served as the residence of Empress Catherine, but now the palace and other decorated buildings are open for tourists.
Tsaritsyno's enormous territory is filled with blooming gardens, greenhouses, ponds, bridges, and even mounds, so you can spend the whole day just walking around and exploring it. If you're traveling with your partner, then you should definitely arrange a romantic date here!
VDNH
VDNH is an enormous city area with various exhibition pavilions, alleys, and fountains. The abbreviation VDNH stands for the "Exhibition of Achievements of National Economy." In Russian, it's called: Выставка достижений народного хозяйства (Vystavka dostizheniy narodnogo khozyaystva), or simply ВДНХ (VDNH).
Besides walking around and discovering pavilions, you may also visit the oceanarium, check out one of the innovative exhibitions, or treat yourself to some food from the farmers' markets. In summer, there are many cyclists and roller-skaters here—and you can also be one of them!
Survival Russian Phrases for Foreigners
Unfortunately, not all Russian people can speak and understand English, so before traveling to Moscow, you should learn some basic Russian phrases. These ten expressions will suffice:
Здравствуйте. (Zdravstvuyte.) – "Hello."
Спасибо. (Spasibo.) – "Thank you."
До свидания. (Do svidaniya.) – "Goodbye."
Извините. (Izvinite.) – "Sorry."
Здорово. (Zdorovo.) – "Very good."
Я вас не понимаю. (Ya vas ne ponimayu.) – "I don't understand you."
Где здесь туалет? (Gde zdes' tualet?) – "Where is the restroom?"
Сколько это стоит? (Skol'ko eto stoit?) – "How much is it?"
Мне вот это. (Mne vot eto.) – "I want this."
Помогите! (Pomogite!) – "Help me!"
Conclusion
So, is Moscow worth visiting? We hope that this article gave you a positive answer to this question, and introduced you to plenty of great reasons to visit Moscow in the near future! 
Have you gotten your tickets to Moscow already, or would you still like to improve your Russian before your trip? You can sign up for our Premium PLUS service, MyTeacher, to have one-on-one tutoring with a native  Russian speaker. This will help you pick up the language much faster and gain additional insight into Russian culture. 
Before you go, are there any other Russian cities you would like to visit? We look forward to hearing from you!