The Russian language is rich not only with its own words, but also with words borrowed from other languages. For English speakers looking to learn the language, studying English loanwords in Russian is a great way to quickly expand your vocabulary and make Russian seem less daunting. 
We've prepared a list of English words in Russian that you can start using right away. We've also included a section about Russian words in the English language to further broaden your horizons. 
Let's get to it!
Table of Contents
Introduction to Runglish
Runglish, also known as Ruglish or Russlish, is a special form of pidgin language which combines both Russian and English elements. This term became popular in the early 2000s, when Runglish was widely used aboard the International Space Station. The thing was that all the crew members spoke English and Russian, so when somebody was short of words in one language, he or she would find equivalents in the other language. Finally, Runglish obtained its status as one of the onboard languages.
Runglish words are mostly used by two categories of people. The first category is Russian emigrants, particularly those who currently live in the U.S.A. The second are Russian teenagers who study English at school, listen to English and American music, watch movies in English, and so on. It's worth noting that old people don't understand Runglish and have a highly negative attitude toward it.
Judging by this photo, the need for Runglish aboard still exists.
Runglish Examples
So what exactly would speaking Runglish sound like? Here are a few examples to give you an idea. 
Ивент (ivent) – "event"
This is the Runglish version of the word "event," which originally refers to any occasion, such as a birthday party or meeting. In Runglish, it has a slightly different meaning. It's mostly applied to big and resonant public occasions. For example:
Ивент месяца: Дэвид и Виктория Бэкхем отмечают годовщину свадьбы.
Ivent mesyatsa: Devid i Viktoriya Bekkhem otmechayut godovshchinu svad'by.
"Event of the month: David and Victoria Beckham are celebrating their twenty-year wedding anniversary."
Боди (bodi) – "bodysuit"
While the English word "body" is not associated with wardrobe at all, the Russian word боди (bodi) is used for this female clothing item because it fits the body snugly. Let's look at an example:
Вчера я купила себе очень классное боди.
Vchera ya kupila sebe ochen' klassnoye bodi.
"Yesterday, I bought a very cool bodysuit for myself."
Фейс-контроль (feys-kontrol') – "doorman"
The Runglish word фейс-контроль (feys-kontrol') has two meanings: 
1. A man who works at public places like nightclubs or bars to provide security
2. The process of providing security itself
In both cases, you can see that Russian 'doormen' differ from American and English 'doormen.'
In Russia and other post-Soviet countries, фейс-контроль (feys-kontrol') may prohibit you from visiting a public place without any explanation, just because he or she doesn't like your appearance. It's not like in the U.S.A. or England, where a doorman can only stop you at the entrance if you're under the age of 21, intoxicated, aggressive, or if your clothing doesn't match the dress code.
Now that we've explained this a bit, let's look at an example of how this word is used in Runglish:
На входе в ресторан меня встретил серьёзный фейс-контроль.
Na vkhode v restoran menya vstretil ser'yoznyy feys-kontrol'.
"A serious doorman met me at the restaurant entrance."
Loanwords vs. Runglish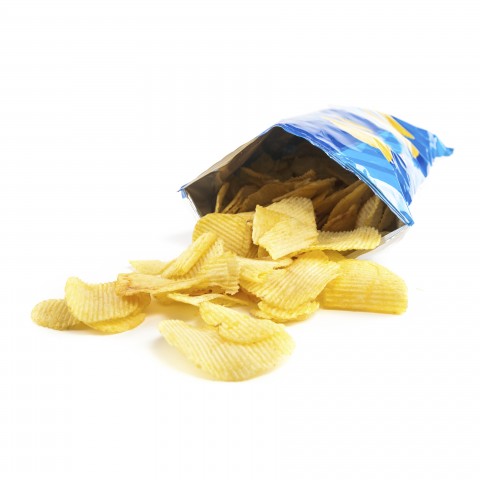 Unlike Runglish, loanwords are borrowed English words in the Russian language that are used without significant changes in their meaning. As a result, native English speakers can understand them easily. Most English loanwords in Russian appear in the spheres of social networking, computer technologies, finances, politics, sports, food, and clothing. 
Here is a brief list of basic English words in Russian:
блогер (bloger) – "blogger"
файл (fayl) – "file"
брокер (broker) – "broker"
президент (prezident) – "president"
теннис (tennis) – "tennis"
спикер (spiker) – "speaker"
ток-шоу (tok-shou) – "talk show"
ростбиф (rostbif) – "roast beef"
чипсы (chipsy) – "chips"
свитер (sviter) – "sweater"
How to Say These Names in Russian
Many Russian people are curious about Western culture and lifestyle. It comes as no surprise that famous English names and brand names are well-known not only in their respective countries of origin, but also in Russia and other Russian-speaking countries. And of course, these names have Russian equivalents. Let's have a look at some examples:
МакДоналдс (MakDonalds) – "McDonald's"
Волмарт (Volmart) – "Walmart" 
Найк (Nayk) – "Nike"
Конверс (Konvers) – "Converse"
Форрест Гамп (Forrest Gamp) – "Forrest Gump"
Джек Лондон (Dzhek London) – "Jack London"
Брэд Питт (Bred Pitt) – "Brad Pitt"
Бейонсе (Beyonse) – "Beyonce"
Мэрилин Монро (Merilin Monro) – "Marilyn Monroe"
Дональд Трамп (Donal'd Tramp) – "Donald Trump"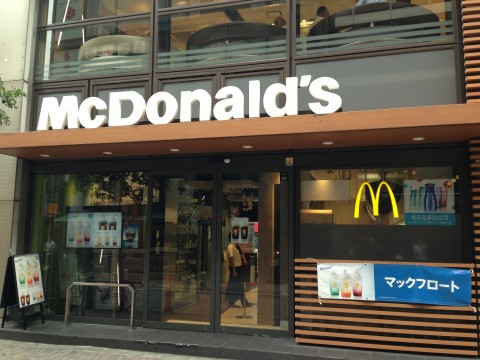 Russian people may not be as passionate about fast food as Americans, but they love it anyway!
English Words Derived From the Russian Language
English speakers don't even realize how many of the words they regularly use were borrowed from other languages. There aren't very many Russian words in the English language, but we've found some of them for you. 
"Intelligentsia"
When this word first appeared in English, it was only applied to Russians. "Intelligentsia" was borrowed from the Russian word интеллигенция (intelligentsiya). In both languages, it refers to a class of highly educated people. 
В Москве я познакомился с русской интеллигенцией.
V Moskve ya poznakomilsya s russkoy intelligentsiyey.
"In Moscow, I got to know the Russian intelligentsia."
"Babushka"
Unlike many other Russian words in the English language, this word is polysemantic in its host language but not its original language. In English, its first meaning is a scarf tied under the chin and the second meaning is an old woman. "Babushka" came from the word бабушка (babushka), which is an affectionate term Russians use to call their grandmothers. By the way, in Russian this word has nothing to do with scarves, so its first English meaning seems a bit funny to many Russian speakers. 
Моя бабушка печёт вкусные пирожки.
Moya babushka pechyot vkusnyye pirozhki.
"My grandmother bakes delicious pies."
We all love our babushkas!
"Mammoth"
Another English word derived from Russian, "mammoth" comes from the word мамонт (mamont) which, in turn, came from the Yakut language. The word mamma means "earth," from the notion that this huge animal was found in the ground. Besides this, the English word "mammoth" is also used to refer to something of enormous size. 
Мамонты вымерли из-за глобальных изменений климата.
Mamonty vymerli iz-za global'nykh izmeneniy klimata.
"Mammoths died out due to the global climatic changes."
English-Russian Paronyms
Some words exist in both English and Russian, but have absolutely different meanings in these two languages. However, they're not related to Runglish or English loanwords in Russian. Language learners call them "false friends of the translator." Let's look at some of these insidious words together!
"Artist" – артист (artist)
While the English word refers to painters, its Russian version артист (artist) has nothing to do with brushes and paints. In the Russian language, it refers to an actor, singer, or anyone who is performing onstage. Its English equivalent is "performer." For example:
Элтон Джон – хороший артист.
Elton Dzhon – khoroshiy artist.
"Elton John is a good performer."
"Killer" – киллер (killer)
In English, the word "killer" is applicable to any person who has comitted a murder. In Russian, the word киллер (killer) is used to describe someone who gets paid for killing other people. It has the same meaning as the English word "hitman." For instance:
Главный герой в фильме "Леон" – киллер.
Glavnyy geroyl v fil'me "Leon" – killer.
"The main character in 'Leon: The Professional' is a hitman."
This iconic frame needs no introduction.
"Smoking" – смокинг (smoking)
While English speakers associate the word "smoking" with cigarettes, Russian speakers use the word смокинг (smoking) to refer to a man's evening suit. Many years ago, there was a type of jacket for men to wear when smoking cigars, which was aptly called a smoking jacket. In English, this word has been replaced with "tuxedo" or "tux." Let's see how the Russian version would be used:
Этот смокинг ему идёт.
Etot smoking emu idyot.
"This tuxedo suits him."
Conclusion
In this article, you learned several English loanwords in Russian, how the language phenomenon of Runglish works, and much more. How attentive were you? List some of the words you remember in the comments section, or let us know if there are any others you know about. 
Now it's time for you to move forward and learn even more! RussianPod101.com provides a variety of learning materials for students at every level: themed vocabulary lists, free resources, engaging audio and video lessons, and the list goes on. 
If you don't have much time to dive into the finer points of Russian vocabulary or grammar on your own, you can use our Premium PLUS service MyTeacher and take private lessons with a native speaker. We can assure you that it'll save you countless hours you would otherwise spend struggling to memorize words or understand grammar points.
Happy Russian learning!